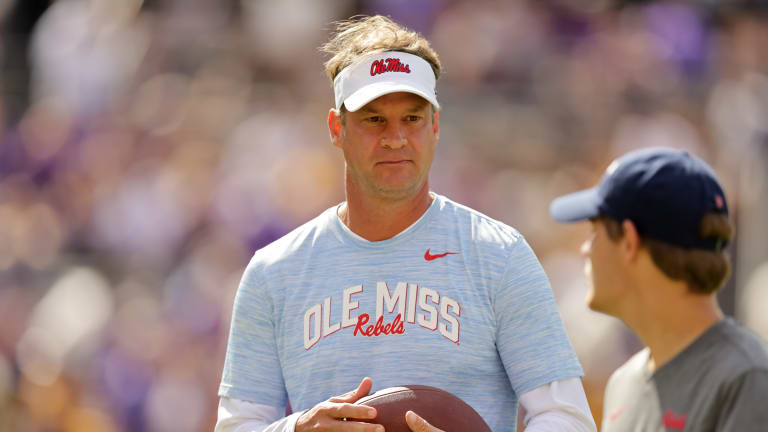 3-Point Stance: Auburn Vacancy, Coaches Under Fire, Teams We Shouldn't Have Believed In
National Columnist Mike Farrell is here with the 3-Point Stance looking at reasons why Lane Kiffin would never take the Auburn job, coaches under fire for their players actions and four teams we should have never believed in.
---
— The rumor is that Auburn is targeting Ole Miss head coach Lane Kiffin as their top choice for their coaching opening. But here's why he won't be interested.
1. Boosters 
— Kiffin can handle tough situations but why would he want a job where the boosters run the program and turn on coaches as quickly as they did Bryan Harsin? Yes Kiffin is a better fit and would be welcomed but for how long?
2. Saban 
— Kiffin may replace Saban one day but go into the same state and compete with him? Nah. He's no dummy.
3. Ole Miss 
— An argument can easily be made that the Ole Miss job is a better one than Auburn. They haven't won or played for a national title in recent history like Auburn has but Auburn is so far from being good it's kinda scary.
4. Future jobs 
— LSU? Texas A&M? Alabama? Those are jobs he'd probably take and maybe some more but the Auburn job is a sideways move and he's not that desperate.
---
— Some coaches are under fire for their players actions and it's becoming a trend.
1. Mel Tucker
Things just keep getting worse and worse in the fallout from the tunnel fight between the Spartans and the Wolverines. Some people think that the coaches don't have responsibility for the fight because it was the players who instigated it. I say that's complete BS. Culture starts from the top and a program with a good culture doesn't get into a melee where criminal charges are going to be pressed against multiple team members. The board of trustees has to be having a lot of second thoughts about that massive contract.
2. Jim Harbaugh
While most of the blame falls on Michigan State and Mel Tucker for the incident, the Wolverines are not completely innocent themselves. Harbaugh's team is feeling themselves for good reason - they're the reigning Big Ten champs, are ranked in the top five, have one of the most balanced teams in the country, and are poised to have an epic end of season battle with Ohio State. But this is the second incident in as many games in their own tunnel.
3. Nick Saban
Saban's handling of the Jermaine Burton situation is completely befuddling to me. It's a pretty open and shut case, yet Saban let the wide receiver play against Mississippi State with zero repercussions for assaulting a woman on the field in Tennessee. Saban almost always handles these kinds of things well, but this is a pretty big screw up.
4. Jimbo Fisher
There's not a ton else to say about Jimbo outside of the fact that it's looking less and less likely by the day that he will be the head coach of the Aggies in 2023. This isn't the first time he's mishandled a situation of this sort, and he's blowing this one as well. With money (both salary and NIL) comes expectations. And he's not meeting them.
— And finally these are teams we shouldn't have believed in at all.
1. Wake Forest
It couldn't last forever and the Demon Deacons are finally falling back to earth. Louisville completely exposed their already flimsy defense, and with games against four of the tougher teams in the ACC to finish up the year, they need to get something going on that side of the ball.
2. Syracuse
It always seemed like a bit of a fairy tale when Syracuse got off to their hot start - there wasn't any statistical backing for their hot 6-1 start. While their performance against Clemson was inspiring, what we saw against Notre Dame this past weekend is more indicative of the team that we'll see going forward. 
3. Oklahoma State
It happens seemingly every year - Oklahoma State gets out to a hot start, gets ranked in the top ten and has everyone thinking this is their year. And then every year they remind us why they're not an elite program. I'm not surprised they lost to TCU and Kansas State - I am surprised that Kansas State beat them down so thoroughly with their backup QB.
4. Kansas
Losing quarterback Jalon Daniels did not help, but I think everyone deep inside knew that the Jayhawks were never truly for real. Now on a three-game skid, they face the aforementioned Cowboys this weekend who have a litany of their own problems. But Oklahoma State still has way more talent than Kansas, and they, like Wake Forest, need to get their defense in line with three more high scoring offenses on the schedule to finish out the season.