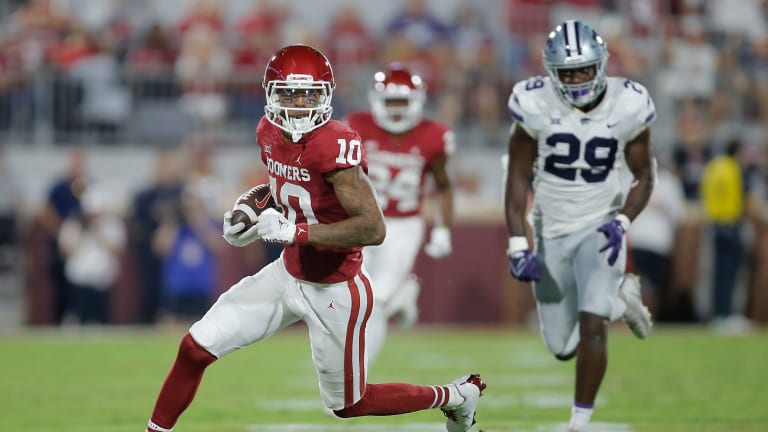 3-Point Stance: Best Portal Additions, Top Coordinator Hires, Best 2023 QB Situations
National Columnist Mike Farrell is here with the 3-Point Stance looking at my overall top commits in the portal so far, the top coordinators hired so far and five teams set up nicely for 2023 at QB.
---
Top Transfer Portal Pickups So Far
— The portal is a nightmare for college coaches but fun for fans. These guys are the best to choose new homes so far.
1. LB Dasan McCullough, Oklahoma
2. TE Jaheim Bell, Florida State
3. WR Andrew Armstrong, Arkansas
4. WR Theo Wease, Missouri
5. OT Logan Brown, Kansas
6. RB Caziah Holmes, Florida State
7. WR Ali Jennings, Virginia Tech
8. DL Jacob Lacey, Oklahoma
9. OL LaDarius Henderson, Michigan
10. LB Lavani Damuni, Utah
---
Best Coordinator Hires
— It's silly season as college coaches whine about the transfer portal yet leave jobs in a whim for better opportunities. Here are the best hires so far at the coordinator position.
1. Sean Lewis, OC, Colorado
Coach Prime made the former Kent State head coach a top priority when putting together a staff, and it's easy to see why. The 36-year old Lewis has already been a successful OC at the Power Five level and was a very good head coach for four seasons at KSU, leading one of the best offenses in the nation. He is the perfect compliment to Sanders in Boulder.
2. Will Stein, OC, Oregon
Losing Kenny Dillingham is a big blow, but the Ducks did a great job in replacing him with one of the best up-and-coming offensive minds in the game. He turned UTSA's offense into one of the best and most innovative in the country week in and week out, and he'll have to opportunity to do the same with better athletes in Eugene.
3. Tony White, DC, Nebraska
A Broyles Award finalist this season, White moves from Syracuse to Lincoln in what should be a huge upgrade for the Cornhuskers. His 3-3-5 defense will be a new look for Nebraska, but his no-nonsense approach will fit right in with Matt Rhule and the team culture.
4. Ron Roberts, DC, Auburn
Robert enjoyed three very successful seasons under Dave Aranda at Baylor where he helped turn their defense into one of the best in the conference. He heads to The Plains where they are desperate for a new defensive identity after being seemingly discombobulated most of the season.
5. Phil Longo, OC, Wisconsin
Longo led North Carolina's offense to new heights in his four years in Chapel Hill, never finishing lower than 15th nationally in total offense. His wide-open scheme (learned at the foot of the late Mike Leach) will be a big overhaul from what fans in Madison are used to, but Wisconsin desperately needed new ideas after becoming stale under Paul Chryst.
---
Best 2023 Quarterback Situations
— And as teams scramble for quarterbacks in the transfer portal, these teams are all set for next season.
1. USC
The Trojans have the reigning Heisman winner Caleb Williams for at least another season, making them the easiest choice on this list. They've also got five-star Malachi Nelson coming in this spring and he looks to be the next big thing for Southern Cal himself. They're in great shape.
2. UNC
Drake Maye had one of the best seasons from any quarterback in the nation this year, and he's returning for at least one more season. While there isn't a ton of depth behind him, it doesn't really matter because he's that good. 
3. Texas
Quinn Ewers, when healthy, has proven to be one of the best quarterbacks in the nation. He can make every throw with ease and has shown tons of poise behind center. Oh, and they've got some kid named Arch coming in this spring too.
4. Washington
Michael Penix is returning for a final season in 2023 after he had a huge 2022 after transferring to Seattle from Indiana. They've also still got former five-star Sam Huard behind him as well to take over once Penix moves on. They're sneakily one of the best teams at the position in the nation.
5. Michigan
JJ McCarthy has been oft-maligned this season due to some accuracy issues. But he's come on unbelievably strong in the second half of the year, and the former star from IMG Academy is proving why he was worthy of the hype. McCarthy was very calm against Ohio State, and has guided this team to the second seed in the playoff with aplomb.