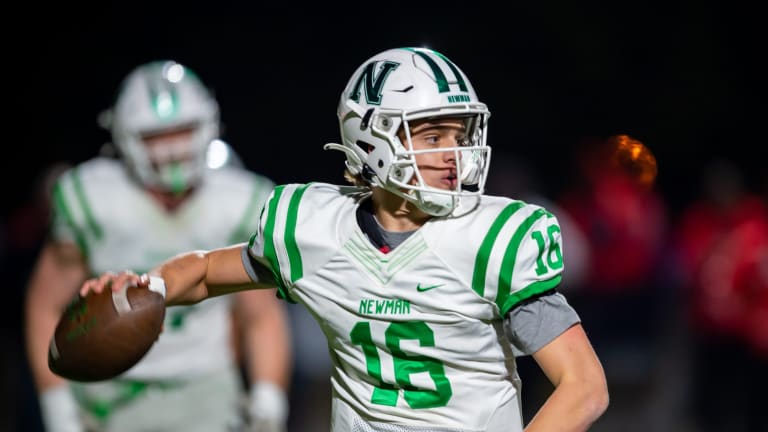 3-Point Stance: Biggest Freshman Expectations, 2nd Year Breakouts, Under-recruited Star QBs
National Columnist Mike Farrell is here with the 3-Point Stance looking at five players in the 2023 class with immense expectations, players who could break out next season and former three-star quarterbacks who could change college football next season.
---
2023 Recruits with the Biggest Expectations
— 2023 recruiting isn't done yet but these guys will have quite a bit of attention paid to them next season for different reasons.
1. QB Arch Manning, Texas 
— Do I need to explain this one? Quinn Ewers is the starter but "Arch" chants will be heard often and every pass will be evaluated. And no, he's not going to redshirt.
2. QB Jaden Rashada, unknown 
— The NIL fiasco with Florida makes him a household name and wherever he lands he will be talked about.
3. CB Cormani McClain, unknown 
— He's likely to land with the Buffs but wherever he lands many will look to see if he's worth all the drama.
4. DB Peyton Bowen, Oklahoma 
— Flipping from Notre Dame to Oregon to Oklahoma in the span of days makes you famous and his impact early at OU will be watched.
5. OT Kadyn Proctor, Alabama 
— He might not play a down at Alabama next season. But even if he doesn't many will say how many snaps he's missing at his home state school Iowa after the flip.
---
2nd Year Breakout Players
— Breakout player lists are easy right? Yep. But we do them anyhow and these guys could be under the radar.
1. WR Kaleb Brown, Ohio State
It's been 'next man up' in the Buckeyes' wide receiver room for a while now, and the former four-star is in line to be another stud for coach Brian Hartline. He's a bit of a different player than some of the other guys who have come through there, as he's more dynamic in the slot and with the ball in his hands than outside one on one with a corner. But he's got elite quickness that will be a great asset for whoever is taking snaps in the Horseshoe next fall.
2. TE Eli Raridon, Notre Dame 
With Michael Mayer off to the pros, it's time for another big-time tight end to step up for Notre Dame. Last year's top prep tight end, Raridon may split time early with Mitchell Evans, but he's the next big thing for an Irish program that has unequivocally become TE U.
3. DB Xavier Nwankpa, Iowa
The rare top-25 recruit to choose the Hawkeyes coming out of high school, Nwankpa played sparingly as a true freshman. But he's expected to take a big leap this offseason and emerge as the next in a long line of outstanding Iowa defensive backs.
4. WR Kobe Prentice/Isaiah Bond/Kendrick Law, Alabama
It's cheating a little bit to put all three names here, but any of these three guys could be a big-time contributor for the Crimson Tide and Jalen Milroe. I like Prentice the most out of the three, but Bond has a huge upside of his own.
5. RB TJ Harden, UCLA
One thing you can bank on in a Chip Kelly offense is that there is going to be a back (or backs) that puts up big numbers on the ground. Harden shined on limited carries as a true freshman and with Zach Charbonnet off to the league, he's the odds-on favorite to become the Bruins' next bell cow.
---
Under-recruited Star Quarterbacks
— And finally it's not always about the highest ranked quarterbacks leading teams to great things as we saw with Stetson Bennett and Georgia. Here are some QBs who could impact the college football playoff next season who were three stars.
1. Sam Hartman, Notre Dame
The former three-star was arguably the top quarterback in the portal this cycle and he's hoping to cap his career with a signature season at one of the most storied programs in college football history. He set all kinds of records under Dave Clawson's tutelage for the Demon Deacons, and it will be interesting to see how he meshes with Tommy Rees' offense. 
2. Collin Schlee, UCLA
I know everyone is penciling in Dante Moore to start as a true freshman, but in the words of the immortal Lee Corso — not so fast my friend. The former low three-star prospect established himself as a highly successful QB under Sean Lewis, which fits exactly what Chip Kelly wants. I'd be willing to bet he's the starter on opening day.
3. Jordan Travis, Florida State
As a three-star coming out of North Palm Beach, Travis originally committed to Louisville before transferring to FSU where he's made significant progress under center every season for the 'Noles. He's now leading a team that is widely considered to be one of the best in the ACC heading into 2023 and, with a strong campaign, could be in the Heisman discussion.
4. Will Howard, Kansas State
Another former three-star, Howard did an admirable job filling in for Adrian Martinez this season when needed, leading the Jayhawks to a Big XII title. With the job now firmly his and the Wildcats returning a ton of key pieces, they'll be right in the mix for a return trip to the conference championship game and another NY6 bowl appearance.
5. Michael Penix Jr., Washington
Penix had a comeback season for the ages for Kalen DeBoer and the Huskies this year after a tumultuous 2021. Back in 2020 at Indiana, he was one of the best quarterbacks in the country, and he reminded us of what made him special this fall, finishing second in the nation in passing yards.