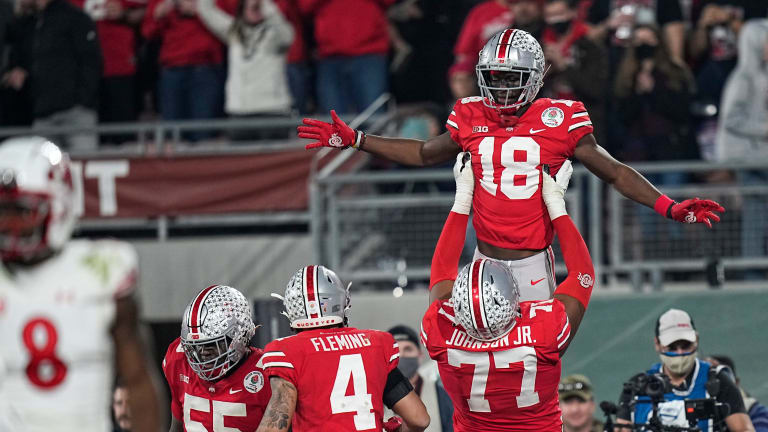 3-Point Stance: Breakout Players, Scott Frost, QB Transfer Debuts
National Columnist Mike Farrell is here with the 3-Point Stance, looking at why Scott Frost has failed, Big Ten, Big 12 and PAC 12 breakout players and the debut of massive QB transfers.
---
— Scott Frost to Nebraska seemed like the perfect marriage. He was coming off an undefeated season at UCF, was heavily coveted and chose to come back home to the Huskers where he was a star and link to the Tom Osborne era. Since then he's 15-30 and can't win a close game to save his life. But why? Here's why.
1. Tight coaching 
— Frost was never overly aggressive and that was a knock against him from the start. Now let's clarify — aggression is not an onsides kick up 28-17 with all the momentum on his side like we saw against Northwestern. Aggression is playing to win and he just didn't do that — to the point where opposing coaches knew it. Everyone bragged about how close Nebraska was in their 9 losses last season but the overlook that it seemed like a team trying to stay close rather than actually win games. This is a rut Frost got into early in his tenure and he overcompensated this past weekend with a foolish decision. I call this right coaching and Pat Fitzgerald read him like a book. And others have before him.
2. Loyalty
— Nebraska is about loyalty. Trev Alberts was loyal to Frost and has given him another season despite his failures. And Frost has been too loyal to defensive coordinator Erik Chinander. Chinander worked with Frost at UCF and followed him to Nebraska and has been his coordinator for every game. The defense hasn't been the main problem according to fans, but it hasn't helped a lot either. Giving up 31 points to a hapless Northwestern offense and making Ryan Hilinski look like Tom Brady at times is the latest example. When Frost was brought back the Blackshirts were supposed to be back with him but the defense has been average. The pass rush has lacked, tackling hasn't been great and they've given up just enough points to average teams to be a failure. While Frost has changed the offense to his dismay, he hasn't had the guts to make a change on defense. Chinander hasn't done a horrible job, but a change was probably needed in the off-season.
3. Physical play
— When Tom Osborne was winning with players like Frost there was one thing Nebraska fans could count on. Their team was going to be tougher and more physical than the other team. And it was never in question. Now? Northwestern bullied the Huskers around the field last weekend and this has been a pattern since the beginning of the Frost era. This team has to be physical to compete because they will be outmatched in speed in many matchups. And it's clear that Frost has been hearing this over and over again as his dumb "15-20 vomits per practice" statement showed. This team could honestly be labeled as soft compared to the Big Ten under Frost.
4. Adrian Martinez
— Martinez is the poster child for the offensive issues for Nebraska but more importantly he shows a lack of player development. Martinez showed promise as a true freshman and Frost's reputation as an offensive genius and QB developer was intact. Since then? Martinez regressed, Frost has replaced coordinators a couple of times and his reputation as an offensive genius is now fodder for social media trolls. Name an offensive player who truly improved under Frost? Wan'Dale Robinson and a few others are examples of talent who just weren't utilized properly.
5. Media stupidity
— This doesn't really lose you games on the field but let's face it, Frost has been awful in front of cameras since he arrived. And how does this impact a program? It leads to a general perception and opinion of buffoonery on a national stage which can bleed into the confidence of your players on the field. Outsiders respect the Kirk Ferentz and Paul Chryst types of the world who are deadpan but very calculated and smart about what they say and they love the rah-rah guys like PJ Fleck because of their enthusiasm. Frost is neither smart or enthusiastic and that's become the narrative for Nebraska football.

---
— Week one is upon us and I continue a look at breakout players by conference with the Big Ten, Big 12 and PAC 12.
Big Ten:
Jordan Turner, MLB, Wisconsin
Turner takes over in the middle for All-American Leo Chenal, and while he's got a completely different skillset, he's set to be the next great Badgers linebacker. In limited snaps in 2021, he snagged two interceptions, adding a new dimension to Wisconsin's defense.
Marvin Harrison Jr., WR, Ohio State
Someone is going to have to step up next to Jaxon Smith-Njigba, Harrison looks like he's that guy. He was one of the best high school wide receivers in the country in 2021, and now with Chris Olave and Garrett Wilson in the NFL, he gets his chance to shine.
Broc Thompson, WR, Purdue
David Bell's departure means that there are a lot of targets up in the air for Purdue's receivers, and while Iowa transfer Tyrone Tracy is sure to get some, Thompson should be the main beneficiary. He's going to be one of the leading receivers in the conference.
Jarek Broussard, RB, Michigan State
The Colorado transfer has been nothing short of spectacular in the offseason, taking the number one back spot for the Spartans. They hope they will recreate the magic they had with Kenneth Walker IV last season.
Mitchell Tinsley, WR, Penn State
The Western Kentucky transfer should see plenty of single coverage across from Parker Washington, and he's already proven he can put up huge numbers. Expect him to be on the all-conference team come the end of the season.
Big 12
Quinn Ewers, QB, Texas
What else needs to be said about Ewers? He's one of the highest-rated quarterbacks to ever come out of high school, and now he's back in his home state and expected to put up huge numbers in Sark's offense.
Adrian Martinez, QB, Kansas State
The Nebraska transfer is a great fit for Kansas State's offense, and he's got weapons to work with. With a better coaching situation and more stability than he had at Nebraska, he has a chance to cap his career with a really special year.
Dominic Richardson, RB, Oklahoma State
Richardson is now the main man in the Cowboys backfield, and we've seen in recent years that Mike Gundy is happy to run his backs 20-25 times a game. He could put up some big numbers.
Christian Morgan, S, Baylor
Jalen Pitre is gone and already making noise in the NFL, and someone will have to step up on the Bears' defense and take his leadership role. That's Christian Morgan, who has a chance to be one of the top safeties in the conference.
Kendre Miller, RB, TCU
Zach Evans is gone, and the position is all Miller's. Even though they'll be passing even more in Sonny Dykes' scheme, there should be plenty of touches for the talented back.
Pac-12
Corey Foreman, DE, USC
— He's missed time in the fall so he's an odd breakout player to choose but by mid season he will be in full swing and dominating as he's been expected to since he was one of the top recruits in the nation.
Michael Ezekie, TE, UCLA
Greg Dulcich is gone, and we know that the Bruins will utilize their tight end a lot in the passing game, as Dorian Thompson-Robinson isn't afraid to get the ball to his safety valve whenever necessary. Expect a big senior year from Ezekie.
Cameron Ward, QB, Washington State
One of the most electric players in FCS over the last two seasons, Ward and his OC from Houston Baptist have headed up to the Palouse, hoping to recreate the magic they had at the lower level. He's got a legitimate shot to throw for over 4,000 yards and rush for 1,000 as well.
Mohamoud Diabate, LB, Utah
The Florida transfer steps in for Devin Lloyd and should be the next great Utah linebacker. He's got all the tools and the range to cover from sideline to sideline.
Brandon Dorlus, DL, Oregon
Dorlus is now the unquestioned leader of the defensive line in Eugene, and while he might not have the freaky upside of Kayvon Thibodeaux, he's still a darn good player in his own right. He should dominate Pac-12 offensive lines this season.

---
— And finally here are 5 transfer QBs who need big debuts.
Spencer Rattler, South Carolina
Rattler was the Heisman favorite entering 2021. Since then, he lost his job to Caleb Williams, transferred to South Carolina, and is now in charge of one of everyone's favorite up-and-coming teams for 2022. If he struggles as he did at times last year, the Gamecocks don't have any depth behind him. Georgia State should be a nice, easy game to drop some major numbers.
Caleb Williams, USC
The most hyped transfer of the offseason, the pressure on Williams might be higher than anyone else in the country this season. He's got the talent (clearly), but anything short of a conference championship is a massive disappointment. Rice is not good and it should be a nice way to break in the new USC offense.
Jaxson Dart, Mississippi
Dart showed some serious potential as a true freshman in 2021, and now having transferred to Ole Miss, he's got a chance to go against the best in the SEC week in and week out. Lane Kiffin's offense should be a perfect fit for him, but if he falters, they've got options behind him. Kiffin hasn't named a starter against Troy but Dart will certainly play and needs to look good.
Kedon Slovis, Pitt
Slovis has already put a target on his back with his "F*** West Virginia" comments, so he's going to have to step up and prove it tonight.
Michael Penix Jr., Washington
Bit of an under-the-radar pick, but the Indiana transfer will have a short leash with former five-star Sam Huard pushing him. New coach Kalen DeBoer will have to handle the situation delicately. The Huskies have Kent State in the opener.