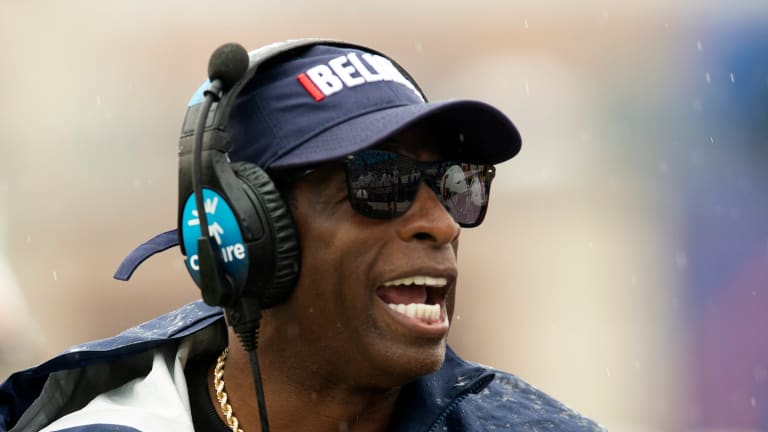 3-Point Stance: Coach Prime to USF, Most Disappointing Teams, QBs Who Should Return
National Columnist Mike Farrell is here with the 3-Point Stance looking at why USF would be perfection for Deion Sanders, five teams that disappointed this season and five quarterbacks that need another year of seasoning. 
---
— People laughed when I said USF would be the right fit for Deion Sanders. Why would he go to such a small job? Yada, yada, yada. Deion hasn't made any decisions about a move but it recently came to light that he was talking to USF and Colorado. The Buffs make zero sense, but USF is perfect and here's why. 
Taking the next step 
— People think just because he's Neon Deion and he had success at the FCS level he should just be granted a Power Five job like Auburn or even Georgia Tech. That's not the way this works. You don't throw guaranteed money at an unknown. Okay, that's wrong (Mel Tucker) but you get my drift. USF is a great place for Deion to prove he's a high level coach. 
Recruiting 
— Deion would be an amazing fit in Tampa and would recruit very well there. That would allow him to truly flex his recruiting muscles and show how his name and fame and legend can impact the recruiting landscape. 
The AAC 
— UCF, Houston and Cincinnati are all leaving the conference and it will be much weaker as a result. USF is a mess but with the transfer portal (part of recruiting) Deion could have them contending as early as next season. 
Learning to coach 
— Undefeated at Jackson State is great but let's be honest — Jackson State has a much more talented roster than anyone they play. Deion needs to learn to coach from behind or when he doesn't have the best players in a matchup and that would happen instantly at USF. 
Building a loyal staff 
— If and when Deion is hired in the Power Five he will be required to have a great staff as he's still a novice of sorts to being the CEO of a team. He can begin to assemble loyal assistants at USF and be readily equipped to move most of them over to the Power Five when the time comes.
— The pre-season polls had all of these teams having great seasons by their standard. Oooops.
1. Oklahoma
The preseason No. 9 Sooners were thought to be in a good spot despite breaking in a new head coach and quarterback. But things have unraveled quickly in Norman between an inconsistent offense, porous defense, and a Big 12 conference that is more competitive than expected. A losing record in conference for the first time since 1998 is not good. 
2. Miami
The U is not back, plain and simple. This has been a season from hell for Mario Cristobal in his return to Miami and the pollsters had them No. 16 in the nation. A culture change is needed for sure but many expected a smoother ride. It's been an especially rocky transition for OC Josh Gattis, whose scheme has not meshed with the talent on the roster.
3. Baylor
The Bears have struggled to defend their Big 12 crown in 2022, as an early season loss to BYU (another team that could be on this list as well) portended an up-and-down season in Waco. The defense has not played at nearly the same level as they did last season, and the offense seems to work in fits and spurts for the pre season Top 10 Bears. 
4. Michigan State
The portal giveth, and the portal taketh away. Mel Tucker parlayed his ability to strike gold in 2021 into a $95 million contract and a preseason No. 15 ranking. But lightning has not struck twice for the Spartans in the transfer portal and they've struggled throughout the season en route to a losing in conference season. 
5. Oklahoma State
After a hot start the Cowboys have lost four of their last six, including an all-time embarrassment when Kansas State blew them out 48-0. They haven't scored more than two touchdowns in a game in a month and are giving up chunk plays left and right. That's not good for the pre-season No. 12 team in the country. 
— And finally, I see all these NFL Draft boards at QB and it makes me wonder, which players should come back to school to improve before their NFL ready. Here are five. 
Will Levis, Kentucky 
This is easily the most controversial name on the list, as he somehow still has NFL potential to be a top 10 pick this spring based on his physical tools alone. But he has looked so bad in the second half of this season that he needs to come back. He's clearly pressing too hard and making some really bad decisions with the ball as the season goes on, which could be a huge red flag for evaluators. Once the foolishness of these latest NFL Draft mocks settles down, he has a third round grade at best for me. 
Anthony Richardson, Florida
One of the more polarizing prospects, Richardson flashes the tools that make NFL scouts drool. But he's as erratic as anyone, as evidenced by a mediocre performance against a poor Vanderbilt defense this past weekend that resulted in a Commodores victory. If Richardson chooses to come back and focus on consistency and his decision-making especially in the RPO game, he could be No. 1 overall in 2024.
Spencer Rattler, South Carolina
His annihilation of Tennessee this past weekend was the first time we've seen him live up to the hype and prodigious arm talent in nearly two seasons. Even with a strong performance against Clemson and a bowl game, he still needs to prove that he can be consistent week in and week out to get back in the early round conversation and another year would help. 
Devin Leary, NC State
Leary came into the season with borderline first-round hype, but an injury really hampered him and the Wolfpack from maximizing their season. He has one more year of eligibility and could use it to rebuild his stock to be a day-two pick.
Bo Nix
The former Auburn signal caller has one more year of eligibility, and while he's definitely taken a huge step forward in 2022, he could use another year of refinement. He still makes some boneheaded decisions, but Kenny Dillingham has done an incredible job of maximizing his dual-threat ability and giving him easy half-field reads to get the ball out of his hands quickly.