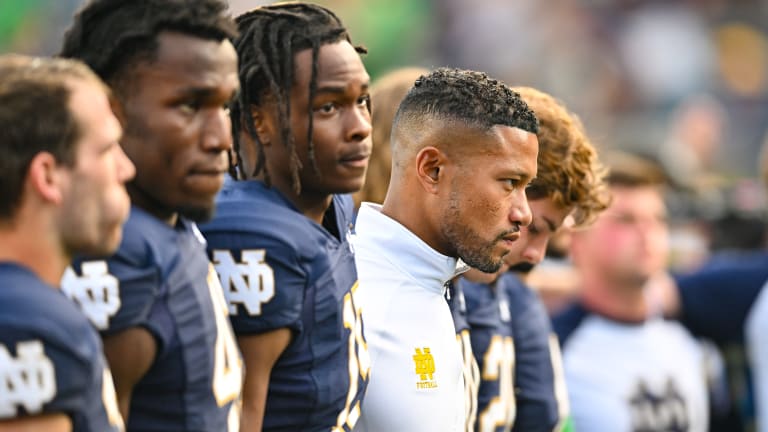 3-Point Stance: Coaches Set Up for Success, Tier 4 Coaches, Teams Needing a Bounce Back
National Columnist Mike Farrell is here with the 3-Point Stance looking at first-year coaches who inherited the most, programs with coaches who just aren't working out, and which teams need a bounce-back win the most.
---
— I wrote about the coaches inheriting the least in their new jobs, but what about the ones set up for success? It starts with a guy landing in LA.
1. Lincoln Riley, USC
— You could argue against this as USC needed work in the trenches but how many guys arrive with a Heisman QB candidate following them and add a Biletnikoff winner and an elite PAC 12 running back to the mix? Riley, hands down, has the most talent to work with in year one.
2. Dan Lanning, Oregon
— Mario Cristobal left him with a very good setup when it comes to the offensive line and defense as well as a talented group of wide receivers. Despite the UGA blowout this team was ready to win.
3. Marcus Freeman, Notre Dame 
— Jilted ND fans will scream that Brian Kelly left them in a tough spot but he didn't. The offensive line recruiting was always solid, there was depth at running back and solid wide receivers. On defense a solid unit was left as well. The QB recruiting can always be questioned but this wasn't a bad gig for Freeman to get.
4. Tony Elliott, Virginia 
— The defense was a mess I'll give you that but Brennan Armstrong and one of the deepest WR rooms in all of college football isn't bad for an offensive coach to handle right? It hasn't gone well.
5. Brent Venables, Oklahoma 
— Hard to believe right? Caleb Williams, Spencer Rattler, Jadon Haselwood, Austin Stogner and others all gone? Let's not get it twisted. This is a roster with arguably more talent than any other in the Big 12 and this was an easy 9-3 transition season. So far that hasn't been the case.
---
—The bottom tier of coaches is never where you want to be. Luckily for most power five programs these are interim situations. But not for all. This is the bottom of the bottom.
SEC
Bryan Harsin, Auburn
It's only a matter of time before Harsin is out on the Plains. He's never been a fit.
ACC
Scott Satterfield, Louisville
Brent Key, Georgia Tech
Satterfield has the Cardinals trending in the right direction on the trail with some big verbals, but on the field, they're among the most inconsistent teams in the nation. Key has done a nice job picking up a couple of wins as the interim in place of Geoff Collins, but he's likely not the long-term answer and would be a risky retain for the new athletic director.
Big Ten
Mickey Joseph, Nebraska
Cornhuskers interim coach Mickey Joseph has a chance to get the full-time job, but it's going to take a miracle turnaround. Nebraska needs to clean house and start their rebuild from the ground up.
Big 12
Neal Brown, West Virginia
Despite a surprising win over Baylor last Thursday, Brown is still in deep trouble in Morgantown without an unlikely winning streak to close out this season.
Pac-12
Mike Sanford, Colorado
Shaun Aguano, Arizona State
Two interims that are all but guaranteed not to be back next season.
---
— And finally here are teams that need a bounce back win in order.
1. Alabama
The Tide still have everything to play for, but their margin of error got much smaller from that loss to Tennessee. Mississippi State can air it out, but they don't have the same vertical passing game as the Vols, so I expect Alabama to take care of business. 
2. Oklahoma State
A highly-ranked Mike Gundy-coached Cowboys team squandered a huge opportunity to take control of the Big 12. But they can't let that second-half letdown against TCU carry over to this weekend because Quinn Ewers and Texas' potent offense will be at full throttle from the opening kick.
3. Penn State
Losing to Michigan effectively puts them two games behind both the Wolverines and the Buckeyes in the Big Ten East. But they face another physical team in Minnesota in Happy Valley on Saturday, which will not be an easy test.
4. USC
The playoff hopes could be dashed due to the collapse at Utah but to keep hope alive a win over Arizona is a must and should happen following a bye week. But they need to shore up their defense quickly.