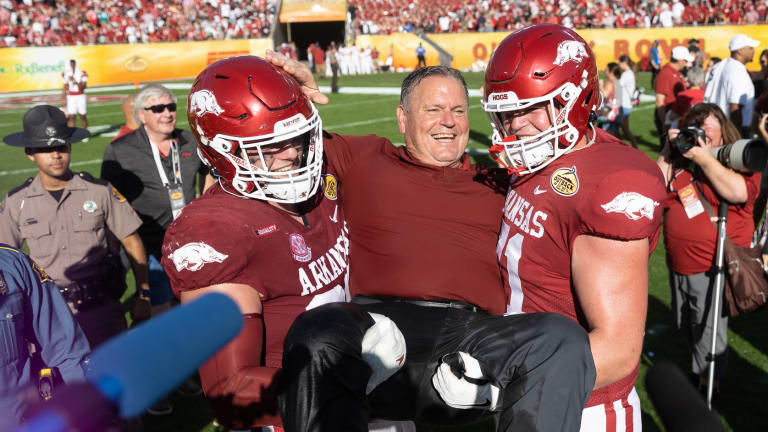 3-Point Stance: Coaching Fits, Pac-12 Brands, Underrated Coaches
National Columnist Mike Farrell is here with the 3-Point Stance, looking at who should get the recent and soon-to-be coaching openings, PAC 12 brand rankings and coaches in each Power Five conference who are simply better than a bigger name.
---
— Let's solve some issues here. A couple of Power Five jobs are open and a few more are just a matter of time. Here are the perfect fits for each.
Nebraska
— Lance Leipold from Kansas is the solution. Why? They don't need a big name or an elite recruiter they need a good coach. This guy has won as the team to beat at a lower level and rebuilt Buffalo and now Kansas in short order. He can make 3 star play like 4 stars.
Arizona State
— Jeff Traylor from UTSA would be my pick. He can coach, he can recruit Texas which is arguably even more important than California for ASU and he will figure out west coast recruiting.
Auburn
— Hugh Freeze from Liberty is the man here. After what he went through and learned at Ole Miss he's emotionally stable and mature enough now to handle the pressure cooker Auburn job and he's had success in the SEC West.
Colorado
— Barry Odom deserves a second chance after he was screwed at Missouri. He's a masterful defensive coach who can recruit Texas with the best of them and make Colorado good again.
Georgia Tech
— Jamey Chadwell from Coastal Carolina is my guy here. He's built up a program in tough circumstances and he's energetic and can recruit and sell NIL in Atlanta.
Perfect fits for open (or almost open) jobs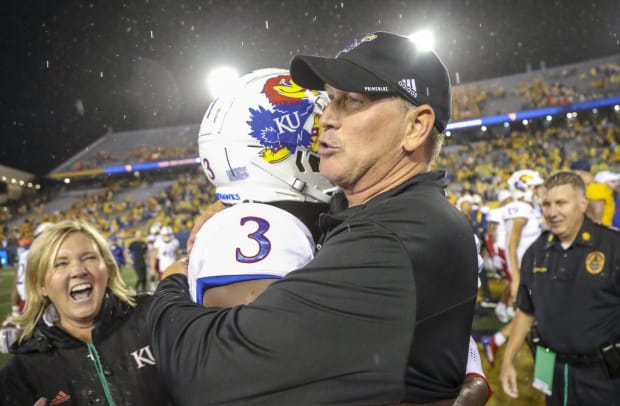 ---
— Brand rankings continue as we head to the PAC 12. Brand ranking is again a combo of recognition, recruiting, national prominence and reputation.
1. USC
The Trojans always have and always will be (at least until they depart for the Big Ten) the class of the league when it comes to brands, and that hasn't changed despite some lean years under Clay Helton. They're one of the blueblood programs in college football with one of the richest traditions, and have always found a way to be relevant. 
2. Oregon
Phil Knight has done more for Oregon as a brand than any one person ever has or will at any other program. His Nike money has almost single-handedly made their program not only relevant, but trend setting. 
3. Utah
Kyle Whittingham has built one of the most consistent winners in college football. Add in one of the sports' great rivalries in the Holy War with BYU, and you've got a really good operation from top to bottom.
4. UCLA
The Bruins have always been one of the pre-eminent schools in the country when it comes to sports, but that hasn't always translated to football. Still, they have a history of Hall of Fame players, one of the great stadiums in the sport (even if it's nowhere near campus), and a huge alumni base.
5. Stanford
Between Jim Harbaugh and David Shaw, Stanford has established itself with a smart and tough brand of football. So while the results on the field haven't been there the past two seasons, they have plenty of cache built up.
6. Washington
The Huskies are the last non-USC school from the conference to win a national title (1991), but you wouldn't necessarily know it. They have been up and down on the field, but have a strong tradition of putting really good defensive backs into the league. The early returns are strong for Kalen DeBoer, and the pacific northwest is a growing recruiting base, They have potential to rise up fast.
7 & 8. Arizona & Arizona State
Both of the Arizona schools are effectively the same when it comes to their brand, at least nationally. Arizona State just hit rock bottom and fired Herm Edwards, Arizona is in year two of a rebuild, and both programs will be 7-5 to 9-3 again in the next 2-4 years, then they'll fall off, rinse, and repeat.
9. Cal
The Bears have had their moments and had a few players really pop in the national spotlight, but for the most part, they've been the definition of middle-of-the-road for the better part of 20 years. Never bad enough to gut the program, but never at the top of the conference. It's tough to recruit because of academic standards as well, and their stadium is in major need of some upgrades.
10. Washington State
You're splitting hairs when picking between Washington State and Oregon State, but I'll give the Cougars the upper hand based on their more recent success and their propensity for high-scoring games. But it's tough to recruit out to the Palouse.
11. Oregon State
The Beavers are always going to have a hard time getting any shine when their in-state rivals get all of the attention. They've had fits and spurts of good football in their history, but nothing sustainable has ever truly been built in Corvallis.
12. Colorado
It's strange to think that 30 years ago, Colorado was one of the powerhouses in the sport. Now, they are the worst team in the Power 5. Karl Dorrell is a dead man walking at this point, and they need a miracle to turn things around.
---
— Big name coaches are big names for a reason. They won in the past at a high level and have earned their reputation. But for each of these coaches there is someone in their own conference who is actually a better coach. Here are examples in each Power Five league.
SEC: Sam Pittman over Jimbo Fisher
Jimbo Fisher would kill for his lineman to line up and play the same kind of physical ball that Pittman gets his kids to do week in and week out. Pittman may not have the recruiting chops (or the NIL resources) to compete for the five-stars, but he can get the most out of every last one of his players.
Big Ten: PJ Fleck over Paul Chryst
Sorry Badger fans, but PJ Fleck is simply better. His tactics and methods may not be for everyone, but you can't argue with the results. He's 27-12 over his last 3 full seasons and they're off to a fast start again this year. And they're beating Wisconsin on the recruiting trail too. Fleck took a moribund Western Michigan program from one win to a New Year's Six game in just four years before getting to Minnesota while Chryst was going .500 at Pitt with Aaron Donald and James Conner on the roster.
PAC 12: Kyle Whittingham over Lincoln Riley
It's hard for me to fathom why people are still sleeping on Kyle Whittingham as if he isn't one of the best coaches in the country. All he's done is take a school that has geographical recruiting restraints, a lot of in-state kids who take two years off to go on mission, and a handful of JUCO kids and turn them into an eight to ten game winner every single season. Riley is a great offensive mind, but he doesn't have the grit to build and sustain a program in that way given those restraints.
ACC: Dave Clawson over Mack Brown
Clawson has taken Wake Forest - the smallest school in the Power 5 - to six consecutive bowls on one of the smallest recruiting budgets in the country. I love Mack Brown for all he does for college football and how he represents it but his UNC team has stepped backwards a bit in the last two seasons and Clawson continues to succeed with many less advantages.
Big 12: Dave Aranda over Steve Sarkisian
Sark is the much bigger name who's led much bigger programs, but Aranda is clearly the superior coach tactically. Not only was he a generational talent as a defensive coordinator, but he has also turned into a very good talent evaluator, turning under-recruited kids into draft picks.