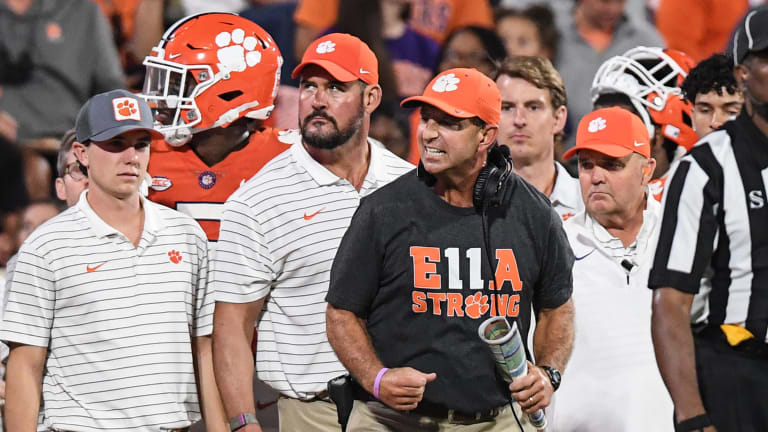 3-Point Stance: Cooling Hot Seats, ACC Brands, Worst Week 3 Losses
National Columnist Mike Farrell is here with the 3-Point Stance looking at three coaches off the hot seat, ACC brand rankings, and the worst losses from the weekend.
---
— Hot seats can heat up and they can cool down. These guys are now sitting on much more comfortable temperatures.
1. Mike Norvell, FSU
— What a 3-0 start will do for you. The win over LSU looks better now after they defeated Mississippi State and Louisville is a key in conference win. I said he needed to win six to keep his job and he's halfway there.
2. Dino Babers, Syracuse
— Babers was all but written off by many and now he's 3-0. He hasn't beaten great teams and his big wins are against an up and down Louisville team and an odd Purdue team that seems to beat themselves but it doesn't matter, 3-0 takes him off the hot seat.
3. Steve Sarkisian, Texas
— He's third on this list because he'll always be on at least a warm seat at Texas. It's just the nature of the beast. But the close loss to Alabama sure helps things and they could have fallen in a trap game against UTSA and didn't.
Coaches off the hot seat (for now)
---
— Brand power continues with the ACC. Brand ranking is again a combo of recognition, recruiting, national prominence and reputation. Let's throw Notre Dame in here for fun.
1. Clemson
With six recent conference titles and appearances in the college football playoff, and two national titles in the past decade, there is zero doubt about who runs the ACC.
2. Notre Dame
The Brian Kelly era was the best run of football that the Irish have seen since Lou Holtz patrolled the sidelines. Now with Marcus Freeman and the recruiting run that he's off to, you could see Notre Dame ascending back to the mountain top in the very near future, even if it is off to a bit of a rocky start.
3. Miami
The U may not be entirely back, as we saw this weekend in College Station, but their brand is still strong. Mario Cristobal has them on the right track on the recruiting trail as well.
4. Florida State
Despite all of the turmoil in the past few years - especially the Willie Taggart era - the Seminoles still have a strong brand built on the back of their success under Bobby Bowden and their recent title under Jimbo Fisher. With a 3-0 start this season, the tide could be turning back toward seeing the 'Noles routinely among the sport's elite.
5. UNC
North Carolina will always be, first and foremost, a basketball school, and they're not the only school on this list where that's the case. But the difference here is that a) they've got a national championship-winning head coach, b) they have a long history of putting impact players into the pros (Lawrence Taylor, anyone?), and c) they get ancillary benefits just from being so closely associated with the Jordan brand.
6. Louisville
This is one of the tougher programs to rank, because while they've had legendary players - like the most recent ACC Heisman winner Lamar Jackson - and occasional success, they've also seen very lean times. It's pretty clear at this point that Scott Satterfield isn't the answer to take them to where they went to be, but their NIL could take them to the next level.
7. Pitt
You could argue for Pitt to be higher here with their recent success and the amazing amount of NFL talent they've produced but they are in an NFL city where the Steelers rule.
8. NC State
The Wolfpack have always lived in the shadow of their in-state rival Tar Heels, but they've been a much more stable program under Dave Doeren than UNC. They'll never be sexy, but they're more than solid.
9. Virginia Tech
There was a point in time where Virginia Tech was one of the elite programs in the country, but in the past 20 years, the Hokies have fallen off a good deal. The waning years of Frank Beamer brought a lot of low-scoring, ugly games, and the Justin Fuente era dragged them even further down. There's a legacy and tradition there, but it's going to take a lot of work to get back to where they were in the 1980s and 90s.
10. Boston College
The Eagles suffer from being located in a place where college football doesn't matter nearly as much as it does in the rest of the country. Still, they have a devoted fan base in and around Boston and at least some success.
11. Wake Forest
Dave Clawson has done wonders for a program that was among the worst in the country before his arrival. But they still suffer from being the smallest school in the Power Five and tough academic standards for recruiting.
12. Virginia
UVA can potentially be a big-time player in football if they pour resources into it, but they've been second fiddle in their own state to Virginia Tech for so long that it feels like an insurmountable hill to climb.
13. Syracuse
The Orange suffer from their geography more than anything else. Upstate New York is neither a talent hotbed nor a place that has a lot of rabid college football fans. And the Carrier Dome, sorry the JMA Wireless Dome, leaves a lot to be desired.
14. Georgia Tech
It's hard to believe that 30 years ago the Yellow Jackets were national champions and one of the consistently best programs in the country. The Paul Johnson era, while successful on the field at times, put the program behind the eight-ball when they went back to a more modern offense. They're in talent-rich Atlanta, but there's simply no juice in the program.
15. Duke
Moreso than any other school in the conference, Duke is a basketball school, and that will be the case forever. There is zero history of success in Durham, and there's not a ton of hope that there will be in the future.

---
— And finally we saw some bad, bad losses this past weekend. Here are the worst.
Michigan State (at Washington)
Yes, the Huskies were actually a short favorite at home, according to Las Vegas. But the 11th-ranked Spartans were expected to put up much more of a fight. The defense was especially concerning, as they gave up a ton of big plays.
Auburn (vs. Penn State)
It wasn't just that the Tigers lost at home to the Nittany Lions; it was how they lost the game. They were dominated in every phase by a Penn State team that, while good, is definitely flawed. This may have been the final nail in the coffin for the Bryan Harsin era.
Miami (at Texas A&M)
The U is not quite back. Tyler Van Dyke had his worst game as a starter and the offense could not finish drives at all. Five field goal attempts for the game and zero touchdowns does not instill confidence.
Colorado (at Minnesota)
I think we can safely say at this point that Colorado is the worst program in the Power Five. They were simply manhandled by Minnesota 49-7, and now have been outscored on the season 128-30 by TCU, Air Force, and Minnesota. It was so bad that their AD had to release a statement basically apologizing for the state of the program. Karl Dorrell's days are numbered - potentially in the single digits.
Arizona State (vs. Eastern Michigan)
This will forever be remembered as the game that got Herm Edwards fired, but it was so much worse than just a loss to a MAC team. EMU is by no means a conference power and they completely bullied the Sun Devils, rushing for 305 yards. 
Worst Losses of the Weekend