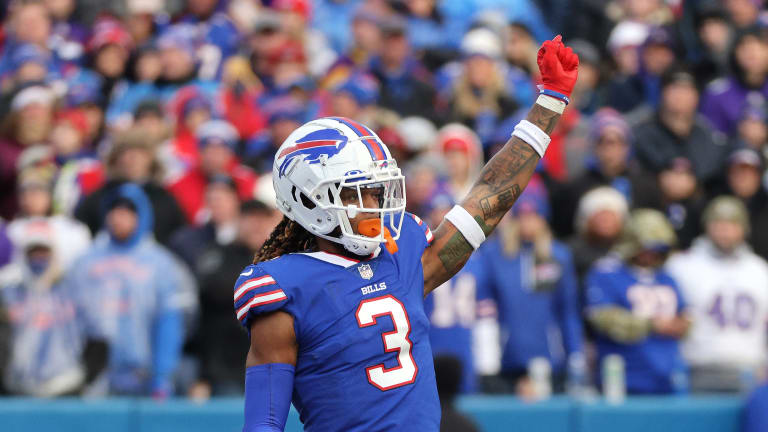 3-Point Stance: Damar Hamlin as a Prospect, New Starting QBs, Overshadowed Coaches
National Columnist Mike Farrell is here with the 3-Point Stance recalling five memories of Damar Hamlin as a high school player, some next-up QBs not from the portal in college football, and five coaches overshadowed in their home state.
---
Damar Hamlin as a Prep
— Prayers continue for Buffalo Bills defensive back Damar Hamlin as he fights for his life after a horrific and scary situation on Monday night. I didn't know Damar well but do have some memories of him as a player out of high school…
1. A kind kid 
He was always polite. He didn't come to any of our camps that I can remember but I did get to interview him in person once and once over the phone. Most of the conversation with players at that time was through text and DM but I always remember him as a kid who wanted to know what he needed to do to get better and never complained about a ranking ever. Doesn't sound rare right? It kind of is and it's endearing when players are like this. I didn't know him at all but he was always responsive and polite.
2. NIL would have been all charity
If NIL were around in 2016 when he came out of high school I know he would have used any and all NIL earnings for charity. That's just how he was, a high character kid who wanted to help others. I didn't know this from him specifically but character always comes up when I talk to coaches about players and he was heavily recruited. Everyone I spoke to about him talked about his leadership, humble nature and want to help others. This doesn't make him rare, many kids are like that, but in this day and age of NIL asks he's different than that. He would have never left Pitt for a better NIL deal.
3. Hard worker
He was a worker. He wasn't a camp kid and often kids who don't go to camps get labeled as lazy and not hard workers or worse afraid of competition. But that wasn't the situation here. He preferred competition in pads and was almost a shy kid it seemed when it came to showcasing his skills outside his team.
4. He was long and could hit
As a player his length as a corner stood out as did his aggressive nature. He loved to hit and loved to man up. His team played an aggressive style of defense and let corners lock down and stay on an island, thus his Twitter name @HamlinIsland.
5. Loved his hometown
Damar could have gone to schools like Auburn, Michigan or Notre Dame and chose Pitt over Penn State and Ohio State in the end and a lot of it came down to staying at home and play for Pitt. The Central Catholic star had great pride for the WPIAL and loved his hometown area and felt a great sense of pride to represent Pittsburgh at Pitt and beyond.
Prayers up for Damar.
---
New Non-Portal Starting Quarterbacks
— New QBs across the county will be suiting up for new teams next year but what about teams promoting from within? These are five to watch for.
1. Drew Allar, Penn State
A big kid with a big arm, the five-star freshman from the 2022 class has as much hype around him as we've seen in State College since Christian Hackenberg. But while the former Bill O'Brien protegé didn't quite pan out as expected, Allar has a much better chance at success. 
2. Kyle McCord, Ohio State
The next guy up in the Columbus quarterback factory, McCord's game is very similar to CJ Stroud, who was outstanding for the Buckeyes despite some big game failures. He's extremely accurate in the middle of the field and has sneaky athleticism to keep plays alive.
3. Jalen Milroe, Alabama
We got a taste of Milroe's dual-threat ability earlier in the season when he replaced an injured Bryce Young. So while he won't be able to replicate the 2021 Heisman winner's decision-making, he brings the big play threat with his legs on every snap.
4. Cade Klubnik, Clemson
The five-star freshman impressed in the ACC title game after another poor performance from now Oregon State Beaver DJ Uiagalelei. Klubnik has a huge upside, but the Tigers need some serious upgrades on their offensive line if he's going to be able to maximize that talent.
5. Brock Vandagriff, Georgia
Let's face it, we're not entirely sure if it'll be him or Carson Beck, but I would bet that the former 5-star redshirt freshman is the guy taking snaps on opening day. I loved his game out of high school, and he's the type of kid that Kirby Smart likes. He's not going to turn the ball over but still has the arm strength to push it downfield when necessary.
---
Great Coaches Overshadowed in Their Own States
— And finally, some overshadowed coaches in their own home states.
1. Troy Calhoun, Air Force
Obviously, Coach Prime is the shiniest object this coaching carousel season, and rightfully so. Hate him or love him, he's going to get people's attention. But Troy Calhoun has been one of the most consistent winners in college football in the past two decades, and the Falcons are peaking in recent seasons. They've won double-digit games in each of their last three full seasons.
2. Willie Fritz, Tulane
The fact that Brian Kelly was able to win the SEC West in his first season in Baton Rouge is a phenomenal accomplishment. But Willie Fritz led Tulane to their first conference title in nearly a quarter century and got them to - and won - a New Year's Six game. 
3. Jonathan Smith, Oregon State
Oregon State has long been the "little brother" program in the state of Oregon. And all of the hype around Dan Lanning's great class has made people quickly forget that Jonathan Smith and the Beavers just won the Civil War and are on an upward trajectory themselves. 
4. Gus Malzahn, UCF
The Gus Bus clearly won his divorce from Auburn, as the Tigers have already had to fire his successor. Meanwhile, he's gone 18-9 in two seasons in Orlando, making it to the AAC title game this year. In a year where Billy Napier and Mario Cristobal sucked up all the oxygen, it's actually Malzahn and FSU's Mike Norvell who are doing the best work in the Sunshine State. 
5. Ty Helton, Western Kentucky
Jeff Brohm gets to return as the prodigal son in Louisville, but down in Bowling Green, Ty Helton has gone 32-21 in four seasons while cycling in all sorts of offensive coordinators and quarterbacks. The reason? They keep getting bigger and better jobs. That's a testament to how good of a coaching talent evaluator Helton is, and why his teams keep on winning.