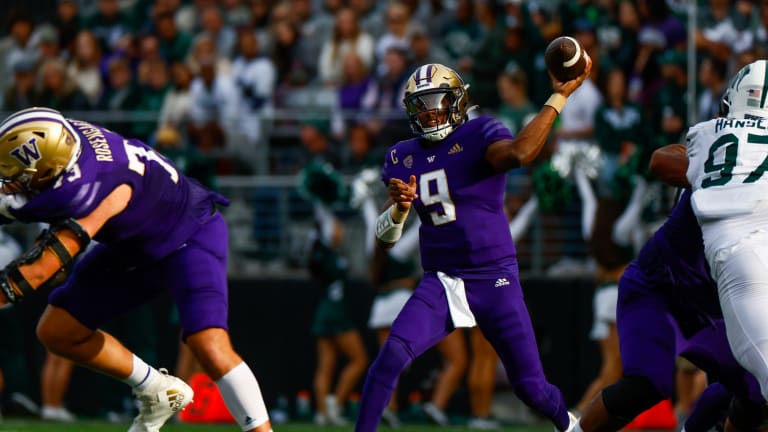 3-Point Stance: Emerging Stars, Big XII Brands, Under-the-Radar Performances
National Columnist Mike Farrell is here with my 3-Point Stance looking at emerging stars in the Top 25, Big 12 brand rankings, and some under-the-radar performances from the weekend.
---
— It's no surprise that players like Brock Bowers, Will Shipley, and Blake Corum are having great starts to the season for highly rated teams. But what about these surprises…
QB Michael Penix Jr., Washington
— If you told me he'd be the nation's passing leader after week four I'd have told you that you're crazy.
RB Israel Abanikanda, Pitt
— Pitt has a more balanced attack this season and the talented back has benefitted.
WR Braydon Johnson, Oklahoma State
— There are bigger names at WR in the Big 12. But Johnson is averaging more than 20 yards a catch and no one knows him.
LB Shane Lee, USC
— ASU transfer Eric Gentry gets a lot of press but the Alabama transfer has as many tackles and a pick six.
LB Laiatu Latu, UCLA
— Very few UCLA players get national props but with 5 sacks already he's one of the best pass rushers in the country.
CB Aydan White, NC State
— He has 3 pass breakups and two interceptions including one for a TD and not many know of the sophomore for the Pack.
---
— Let's round out the brand rankings with the Big 12. Brand ranking is again a combo of recognition, recruiting, national prominence and reputation.
1. Oklahoma
Sorry Longhorns, but the Sooners are the clear number one brand in the conference. Not only have they been much more consistent over the past quarter-century, but their litany of Heisman trophy winners and record setting offensive players make this a no-brainer.
2. Texas
Despite the lack of recent success on the field, there are few programs that can rival the tradition passion of Texas. The jury is still out on Steve Sarkisian as the steward of the program, but no matter who is at the helm they're as big a brand as anyone.
3. Oklahoma State
The Cowboys have had as much consistent success as any program in the conference over the past two decades as anyone except their in-state rivals. And therein lies the problem for Oklahoma State - they'll never be Oklahoma.
4. Iowa State
It's a testament to Matt Campbell that the Cyclones are so far up this list. He took over one of the most moribund programs in the country and turned them into a consistent winner that produces NFL talent and plays an exciting brand of football. The administration in Ames has been able to fend off the suitors for a few years now, but sooner or later someone is going to write a check that he can't say no to.
5. Baylor
Dave Aranda has done a remarkable job of resurrecting the Baylor program. Yes, Matt Rhule laid down some of the groundwork necessary after the repeated Title IX violations under Art Briles resulted in serious sanctions against the program. But Aranda has the reigning conference champion Bears in a place where they can push to be top dogs in the conference once Texas and Oklahoma bolt for the SEC.
6. Kansas State
Kansas State has played a consistent, reliable brand of football under Bill Snyder and now Chris Klieman, with tough-nosed players and overlooked athletes. They'll do well to keep Klieman long term, as he's clearly a perfect culture fit for them as well.
7. TCU
The last couple of seasons under Gary Patterson were not vintage, but for two decades you could rely on the Frogs to have a good defense and a competitive offense. They peaked in 2010 with their Rose Bowl victory over Wisconsin, but won double-digit games 11 times in 21 years under Patterson.
8. West Virginia
There was a time in the mid-2000's when the Mountaineers were one of the premier programs in the country, landing five-star talents like Noel Devine, and producing a litany of exciting pro players. But it's been downhill since the hiring of Bill Stewart to replace Rich Rodriguez and they haven't gotten back to being a consistent winner since.
9. Texas Tech
It's hard to believe that one of the most exciting players the NFL has ever seen came from such a non-descript program. Yes, there's been video game offensive numbers coming out of Lubbock for two decades, but no one has ever really taken them seriously as a program since Michael Crabtree was making a case for the Heisman as a redshirt freshman in 2007.
10. Kansas
If this were a straw poll of how things are today, this would be a different result. But let's not get away from the big picture - this is still Kansas football, and it's going to take a lot more than the novelty of a 4-0 start before the Jayhawks are a real football brand.
---
— And finally, these players had great games under the national radar this past weekend.
RB Jaydn Ott, Cal
The true freshman ran all over Arizona in the Bears' conference opener to the tune of 274 yards and 3 touchdowns. He's averaging 8.3 yards per carry through four games and leads all freshmen in rushing. 
QB Will Rogers, Mississippi State
We shouldn't be surprised when a Mike Leach quarterback throws for 400 yards. But what stands out is the six touchdowns and zero interceptions. For the season, Rogers has 16 TD passes to only three picks, a huge improvement on TD/INT ratio to go along with his highest yards per attempt for his career.
QB Drake Maye, North Carolina
The Tar Heels lost to Notre Dame, but the freshman was incredible once again throwing five picks without any interceptions. While his completion percentage might not be where Mack Brown wants to see it, he's hitting big play after big play.
WR Tyler Scott, Cincinnati
Scott hauled in 10 balls for 185 yards and 3 scores in a game where the Bearcats ran out to an early lead Scott and new quarterback Ben Bryant clearly have a great connection - he's already got 423 receiving yards and five touchdowns through four games.
QB Kurtis Rourke, Ohio
Yes, it was against FCS Fordham, so we'll take it with a grain of salt, but the statistics are still mind-boggling. Rourke was 41 of 50 for 537 yards, four touchdowns, and zero interceptions through the air while adding an additional 45 yards and a touchdown with his legs. The Bobcats should not have allowed the Rams to score 52 points, but at least it gave us this incredible performance.