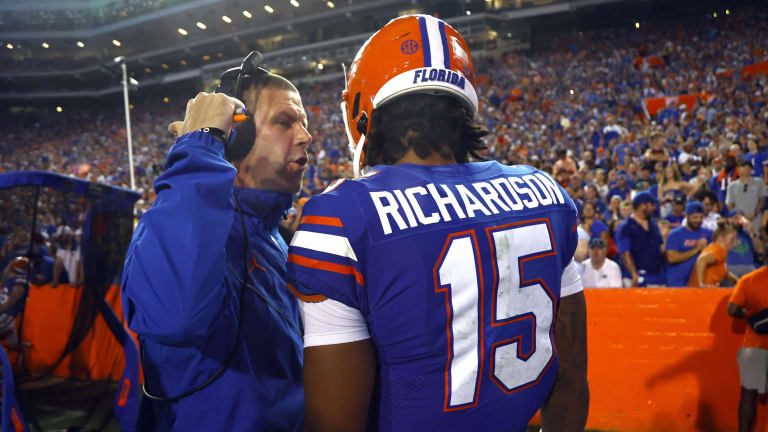 3-Point Stance: Grading Coaching Debuts, Impact Transfers, Worst Things from Week 1
National Columnist Mike Farrell here with the 3-Point Stance looking at five horrible things from week one, grading some new coaches on their debut and the biggest impact transfers early on.
---
— Week One was amazing. But there were also a few really unfortunate things that happened. These were the bummers.
ECU Kicker Owen Daffer
Daffer missed an extra point to tie the game late in the fourth quarter and then missed a field goal as time expired to win the game for the Purple Pirates as they tried to pull off a massive upset over 13th-ranked NC State. He was coming off of an outstanding redshirt freshman season, so for him to miss too relatively easy kicks was a shock. At least his teammates have his back.
Maason Smith's Injury
2021's top recruit will miss the rest of the season because of a freak injury he suffered while celebrating a play he made in the game. Tearing your ACL while celebrating is a really tough look - just ask Bill Gramatica.
Iowa's Offense
The Hawkeyes may have beaten FCS South Dakota State on Saturday, but there isn't a single Iowa fan who left that stadium feeling good about the team. They managed to score only seven points - without scoring a touchdown - against the Jackrabbits. Spencer Petras looked awful, completing 44% of his passes for 4.4 yards per attempt. As a team, the Hawkeyes averaged 1.6 yards per game and totaled 166 yards from scrimmage.
Oregon's Defense
We knew that the Ducks would most likely struggle to move the ball on Georgia - the Dawgs still have one of the best defenses in the country. But the fact that they couldn't stop a nosebleed against Stetson Bennett and company was very disconcerting. This is a unit that was supposed to be up there with Utah for best in the Pac-12, and they looked out of sorts all afternoon.
UCLA's Crowd
The shots of the Rose Bowl were damning over the weekend as UCLA kicked off their season against Bowling Green. It was the lowest UCLA opening game crowd in history, with barely 27,000 showing up to support the Bruins, who have a real shot at winning the Pac-12 South. I doubt the Big Ten is very excited to see the lack of fans.
3-Point Stance: 5 Worst Things from Week 1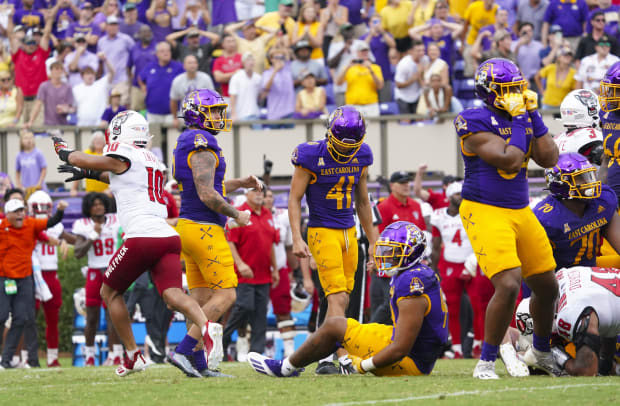 ---
— Let's become professor Farrell and hand out some grades for the coaching debuts of these men.
Billy Napier, Florida: A
The Gators pulled off a pretty big upset over the No. 7 Utes in front of a rocking crowd in the Swamp. Anthony Richardson lived up to the hype, going an efficient 17 for 24 passing and rushing for over 100 yards and three scores. But even more important than the stats he looked calm and in command the entire game. They got a little lucky here and there but that's what it takes to win. They played physical football.
Marcus Freeman, Notre Dame: A-
Wait - didn't the Irish lose? Yes, but Notre Dame was far more competitive than anyone expected in Columbus, holding the Buckeyes to 21 points and being close the entire game. The Irish played with an edge, and despite not having as much talent as Ohio State they were in it the whole way. If their offensive playmakers are able to take a couple of steps forward during the season, they could be very dangerous.
Mike Elko, Duke: A-
The Blue Devils had a much easier opponent than our previous two teams, but it's important to remember just how awful Duke was last season. Yes, Temple is probably one of the worst teams in FBS this season, but Elko's defense held the Owls to 179 total yards and forced two turnovers in the 30-0 shutout. The Blue Devil offense showed signs of life as well, totalling 500 yards and seeing some very positive things from quarterback Riley Leonard. They're not going to compete in the ACC anytime soon, but it's a huge step in the right direction.
Mario Cristobal, Miami: B+
The 'Canes offensive line looked dominant against Bethune-Cookman as they ran for 305 yards and seven touchdowns against the FCS Wildcats. The only blemish was the pass defense that, although coming up with three interceptions, still gave up 12.2 yards per attempt and 243 yards to Jalon Jones. Still, to have the running game going strong already is a good sign for the Hurricanes.
Lincoln Riley, USC: B+
Everything here obviously has to be taken with a huge grain of salt because the Trojans opened against Rice, but nonetheless, they looked solid, putting up 66 points and forcing four interceptions. Caleb Williams was incredibly efficient, as expected, while Jordan Addison added two receiving touchdowns. Rice was able to move the ball a little in the first half, especially on the ground, but for the most part the Trojans defense looked in sync.
---
— And finally there were so many impact transfers from week one and while I have my professor's glasses on, all of these men deserve an A Grade.
DE Jared Verse, Florida State
— The step up from Albany and FCS was no problem as he was dominant against LSU
WR Jacob Cowing, Arizona
— A great debut against a tough San Diego State team. Cowing had eight receptions for 152 yards and three of those scores.
WR Mitchell Tinsley, Penn State
— the Western Kentucky transfer had seven receptions for 84 yards and one touchdown and was a major factor in a big win against Purdue.LB Khari Coleman, Ole Miss
DE Lonnie Phelps, Kansas
— Five tackles for a loss and two sacks for the TCU transfer in his debut.
WR Charlie Jones, Purdue
— After totaling 22 receptions during the 2021 season with the Iowa Hawkeyes, he finished his first game at Purdue with 12 receptions for 153 yards and one touchdown. He also returned punts and kickoffs.
WR Jermaine Burton, Alabama
— Two scores in his debut from Georgia. Not too shabby.
WR Nikko Remigio, Fresno State
— The Bulldogs already returned a potent offense, so if Thursday night's performance by Remigio (Cal) is a sign of things to come, Fresno State could be in store for a fun season. Remigio had nine receptions for 100 yards, plus two carries for 26 yards and a touchdown as the Bulldogs breezed to victory against Cal Poly.  
QB Connor Bazelak, Indiana
— The Missouri transfer wasn't publicly named the starter until pre-game warmups and shined while completing 28 of 52 passes for 330 yards and one touchdown. This was especially important during the victory over Illinois as the running game struggled mightily.
QB Michael Penix, Washington
— The Indiana transfer shined in his first game with the Huskies while completing 26 of 39 passes for 345 yards and four touchdowns.