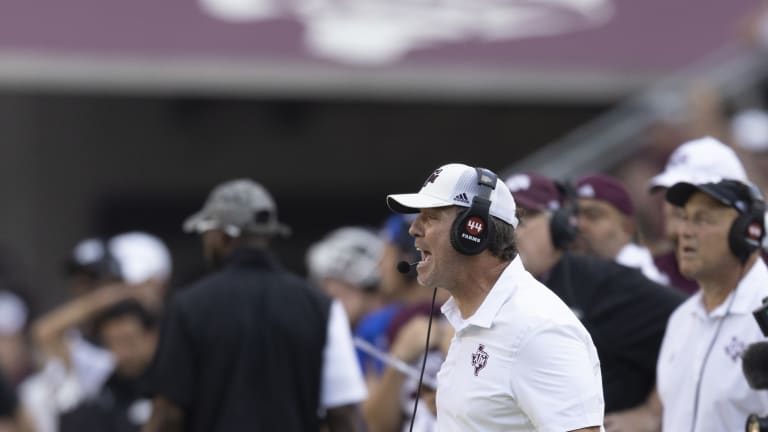 3-Point Stance: Jimbo Fisher, Big Ten Brands, Worst Hires
National Columnist Mike Farrell is here with the 3-Point Stance, digging into good and bad of Jimbo, Big Ten brand rankings, and the five worst recent hires.
---
— Jimbo Fisher doesn't suck. Let's kill that narrative right away as many are saying that he's overrated, he sucks, he's a failure and all that after a loss to Appalachian State. That's ridiculous. Jimbo Fisher is 118-38 as a head coach at two major programs. He won a national title with Florida State and just missed the college football playoff with Texas A&M in 2020. But naysayers will say he just lucked into Jameis Winston for that national title right? Without Jameis he's still 91-37 and that's damn good.

But on the flip side, he wasn't hired for $100 million plus at Texas A&M to just miss the playoff. And he certainly wasn't hired there to lose to App State.

Jimbo has been a disappointment at A&M there's no way around that. His record is 35-15 which translates to about nine wins a season. That's good and all but not what is needed in a division with Alabama, LSU and others. And with Texas and Oklahoma coming to the SEC, that regional advantage in recruiting will be tempered. That means no more No. 1 recruiting classes by all accounts and suddenly this hire doesn't look so good.

A win over Alabama and a run to the playoff once in four seasons isn't what the Aggies want. They want national titles. Alabama, Georgia, Florida, LSU and Auburn have all won national titles in the last 20 years while Texas A&M remains the embarrassment of the conference with their last natty in 1939. Jimbo is a good coach, but things are trending backwards in year five and with Miami, Arkansas, Ole Miss, Alabama and Florida on the schedule things could get ugly.

---
— The Nebraska job is open. And that made me think about brand ranking in the Big Ten and nationally. Where does the Huskers job stand when it comes to brand — a combo of recognition, recruiting, national prominence and reputation — in the Big Ten?
1. Ohio State
The gold standard. The Buckeyes are the biggest and most successful brand in the conference over the past quarter century and that's been doubly true in the past decade. 
2. Michigan
Jim Harbaugh and co. are trending in the right direction after a Big Ten title last season. They're recruiting well and still have a truly national brand.
3. Penn State
Yes, maybe they haven't achieved to the highest levels under James Franklin, but they're right below that. Penn State football is still a national brand and can throw their weight around.
4 & 5. Iowa and Wisconsin
You're splitting hairs here between two programs that are nearly mirror images of each other. Outstanding defenses, suspect offenses, and consistent winners but never to the level where they are scaring anyone. Will either team ever win a national title? Unlikely. But they're in the mix every year to win the west.
6. Michigan State
Mel Tucker has done wonders in his first few years and has proven to be a true master of the transfer portal. They're on the rise as well, and it wouldn't be shocking to see them jump Penn State in the next couple of seasons. And they've made the college football playoff, something teams like Penn State, Iowa and Wisconsin can't touch.
7. Nebraska
The lore of the Huskers has completely passed, and this is a program in serious trouble. There's not a whole lot more that can be said than has been over the past few days. It's going to be a very long road back. That being said, the old national titles and the fan support keeps them alive.
8. Minnesota
The rah-rah antics don't work for everyone, but PJ Fleck has done a great job making that program a consistent winner.
9. Purdue
The Cradle of Quarterbacks has another great one in Aidan O'Connell, and they've been putting impact players in the NFL every year. It's a program with a clear identity.
10. Maryland
Maryland has always been and will always be a basketball school. There have been blips on the radar of success, but nothing sustained for a very long time. Mike Locksley is recruiting at a higher level than anyone there in a while, we'll see if it translates on the field.
11. Northwestern
For the past half-decade, it's been one good season followed by one bad, but nonetheless, Pat Fitzgerald does more with less than just about anyone. But the brand is kinda meh.
12. Indiana
Like Maryland, Indiana is a basketball school with a football team, and they've had even less success as a football program. Outside of their one magical run in 2020, they've been at or near the bottom of the east for a decade.
13. Illinois
The Illini haven't been relevant since 2007 in football and unless there's some sort of massive change, they're not going to be for a while. Bret Bielema is a step in the right direction in terms of bringing attitude and toughness, but there's still a huge talent gap.
14. Rutgers
Greg Schiano is a fantastic coach and they've improved by leaps and bounds, but they're still far and away the least relevant program in the conference.
---
— And finally, Scott Frost's failure stings more than most because of his previous ties to the program. Here are five awful recent hires led by the former UCF coach.
1. Chad Morris, Arkansas (4-18 in just short of 2 seasons)
Despite a 14-22 record at SMU, Arkansas decided that Morris was the person to replace Bret Bielema after his tenure came to an unceremonious end. Morris was an unmitigated disaster in Fayetteville, going 4-18 and failing to win a single SEC game in two seasons. He goes down as one of the worst coaches not just in program history, but SEC history.
2. Scott Frost, Nebraska (16-31 in 4+ seasons)
What an unmitigated disaster. It's a miracle he made it through last season, and somehow the team managed to get even worse.
3. Willie Taggart, Florida State (9-12 in just short of 2 seasons)
Florida State hired Taggart away from Oregon after only one season where he went 7-5. He then led the 'Noles to their first losing season in 42 years and then the team managed to get worse the next year. It was so bad that Mike Norvell is still digging out.
4. Jimmy Lake, Washington (7-6 in 2 seasons)
Lake, who had been an assistant to Chris Petersen for a decade before he took over, should have been a no-nonsense hire that would have kept the Huskies moving in the right direction. Instead, the team had a bumpy 2020 season, and then he was suspended without pay for shoving a player and subsequently fired after the season.
5. Jeremy Pruitt, Tennessee (16-19 in 3 seasons)
Pruitt replaced Butch Jones after the 2017 season, but not before the entire campus revolted against the news that Greg Schiano was going to be hired. But between diminishing results on the field and the McDonald's bag recruiting scandal, Pruitt left the program in a bad way.
Worst Hires in Recent Memory