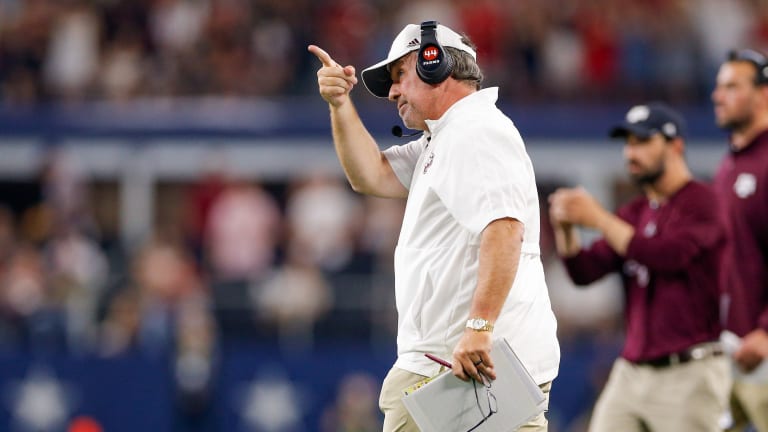 3-Point Stance: Jimbo, Potential Dumpster Fires, 1st Year Coordinators
National Columnist Mike Farrell is here with the 3-Point Stance looking at reasons why Jimbo Fisher is failing, some programs that are close to being dumpster fires, and some great first year coordinators.
---
— It's not working out for Jimbo Fisher at Texas A&M that's clear. But here's why….
1. QB development 
— This is obvious as Kellen Mond never took the next step and Zach Calzada, Haynes King and others have all been average. This has also been the case since he had Jameis Winston at FSU as he wasn't developing signal callers there either. Maybe he was given too much credit for the talents of Jamarcus Russell and Winston and clearly everyone overvalued Christian Ponder and EJ Manuel.
2. NIL 
— I didn't know this would happen but I suspect it is. While the simplified reasoning that A&M had the best recruiting class in the country in 2022 because of money and NIL bothers me, perhaps the money has jaded some? I believe the staff did hard work for years to land that class but in the end if these kids are making a ton of money, perhaps they are lacking incentive or the ability to be motivated or disciplined.
3. Stubbornness and narcissism 
— Jimbo is stubborn and he's all about Jimbo, that's what I've heard and been told for over a decade. Maybe even longer. I don't know the man on a personal level but I can tell you this, if it walks like a duck and quacks like a duck it's a duck. Jimbo needed to give up play calling duties long ago and he also needs to humble himself in many ways for this team to move forward. It starts at the top.
4. Inability to adapt 
— This is a new world we live in with NIL, the portal and other things in college football. Based on the mess I hear this team is, he hasn't done a good job adapting to things. When older players are disciplining younger players and cliques are created on a team, that's awful for chemistry. And this locker room is an absolute mess, trust me.
5. Karma 
— Do you believe in such things? Florida State fans do as he left that program ill equipped to move forward when he left. Perhaps Karma, which has no deadline, is rearing its head.
---
— So A&M is a potential dumpster fire if things continue to fall. Here's my worry list for dumpster fire status.
Texas A&M
Underwhelming performance on the field, players getting suspended for issues in the locker room, impact players hitting the portal, an overpaid coach, the Aggies have it all. Jimbo Fisher and his mouth have gotten them into this mess, and boosters are starting to regret that $100 million contract. If they continue to lose games on the field and players to the portal, don't be surprised when they blow it all up and this program could be left in the mess FSU was when he bolted.
Hokies
The first year of the Brent Pry era has not gone as expected. It started ominously with a loss to Old Dominion, and the Hokies now sit at 2-5 on the heels of a four-game losing streak. The defense has been okay but not great, but the offense has been simply horrendous. They rank at or near the bottom of the ACC in every important metric and it doesn't feel like there's any juice in the program whatsoever.
Boston College
Losing stalwart OL Christian Mahogany to an ACL injury just before the season did not help things, but even without him, things should never have been this bad in Chestnut Hill. Their only wins are a 38-17 victory over FCS Maine and a one-point victory over a Jekyll-and-Hyde Louisville squad. Jef Hafley was considered one of the coaches in line to take a big position, but now he's in jeopardy of ending up on the hot seat.
Northwestern
Yes, we've seen Northwestern have really bad football under Pat Fitzgerald and bounce back to win the division before. But something feels different this time. The offensive line anchored by potential top-10 pick Peter Skoronski was supposed to be the elite unit on this team and they've struggled mightily all season to keep whoever is behind center upright. They still have yet to win a game in the United States this season and will partake in a game this weekend that has the chance to be one of the ugliest games in the modern era. 
Arizona State
How on earth Ray Anderson has a job - and a vote of confidence behind him - is mind-boggling. The man who hired Herm Edwards and subsequently ran the program into the ground gets another chance to do it again. There's a chance they really bottom out for a long time if he messes up this hire.
---
— And finally I spoke of bad coordinator hires on Tuesday but here are some great first year guys.
1. Wes Goodwin, Clemson DC
Goodwin inherited a really strong unit, don't get it wrong, but he's done a great job of keeping it rolling. They're giving up 88 yards per game on the ground and 332 yards per game overall. And all of those numbers factor in the Wake Forest game where the Demon Deacons were able to put up 45 points in double overtime. They're just going to continue to rise for the rest of the season.
2. Jesse Minter, Michigan DC
There were a lot of questions about Minter when he took over for Mike McDonald, as his defense at Vanderbilt last season was questionable at best. All he's done is turn the Wolverines into a top-five defense in the nation. Michigan is in the top five of scoring defense, total defense, rushing defense, passing defense, and passing efficiency against. They're truly elite this year.
3. Ryan Grubb, Washington OC
While a lot of the credit goes to head coach Kalen DeBoer, Grubb deserves a lot of accolades for his work with Michael Penix Jr. and the rest of the Huskies' offense. They lead the nation in passing offense and are top 20 in total offense, scoring, passing efficiency, and, somewhat surprisingly, time of possession. He's going to start to get some looks to be a head coach sooner rather than later.
4. Garrett Riley, TCU OC
I did not see this one coming. Sonny Dykes and Riley have created a juggernaut in Fort Worth, and stumbled into the perfect quarterback in Max Duggan, who wasn't even the starter at the beginning of the season. They're putting up 45 points and 520 yards per game. Dykes and Duggan will get the lion's share of the credit but Riley has been fantastic in his own right.
5. Jim Knowles, OSU DC
Coming over from Oklahoma State, there were a lot of expectations on Knowles to fix a defense that underperformed in 2021. Well, he's done just that with the Buckeyes number two in the nation in total defense and fifth in scoring defense. And DB Tanner McCalister who followed him to Columbus from Stillwater is very happy he made that decision - he's leading the team with three interceptions and rocketing up draft boards.