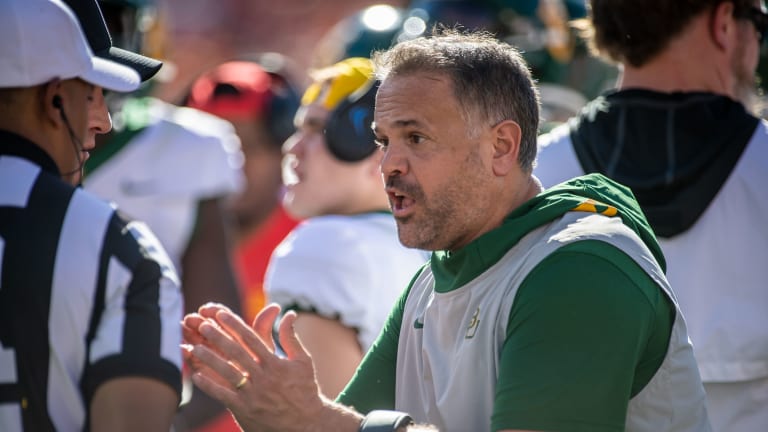 3-Point Stance: Matt Rhule for Nebraska, Best Recent Hires, Worst CFP Teams
National Columnist Mike Farrell is here with the 3-Point Stance, looking at why Matt Rhule would be a home run for Nebraska, the best hires (still at their school) since Kirby Smart landed at UGA, and the worst playoff teams we've seen.
---
— Matt Rhule seems to be mentioned more and more regarding the Nebraska coaching job, and I think it would be an amazing fit. He could take them to a New Years Six Bowl within four seasons. Why? Here's why.
1. He rebuilds 
— He inherited a team at Temple that had awful talent left by Steve Addazio and inherited an absolute mess at Baylor with Art Briles and a slew of awful off-field issues. After a 2-10 season in his debut at Temple, he won 10 games in his last two seasons there and led Temple to a win over Penn State for the first time since the 1940s. At Baylor after losing much of the roster he was 1-11 his first season. Two years later he was 11-1 and playing for the Big 12 title and a playoff berth and lost in OT to Oklahoma. The man can rebuild.
2. He evaluates 
— Rhule hasn't recruited five and four stars at his stops but doesn't need to. And the key to success at Nebraska isn't luring 4 and 5s. It's finding underrated talent who have a chip on their shoulder. Rhule finds them.
3. He develops
— Rhule has proven he can get 3 stars to play like 4s at Temple and Baylor and his player development skills are well known and revered in college football.
4. He can recruit anywhere 
— I love this about him. He's a Northeast guy so recruiting at Temple wasn't unexpected. But a New York dude with no experience down south landing in Waco, TX and killing it? That's amazing. And Rhule did it all over with successful recruiting in Texas but also tapping into his east coast roots. He will recruit all over for Nebraska if he's the guy.
5. He's in the right division 
— The Big Ten West has no dominant team now or in the future. There are questions at Wisconsin and Iowa and while Purdue and Minnesota are solid and Illinois is a nice surprise, winning this division can be done. And you win the division you have a chance to New Years Six.
— Speaking of hires lets look at best hires since Kirby Smart landed the UGA job back in 2016. These are only guys still at the same school.
1. Lance Leipold, Kansas
Leipold moved from Buffalo to Kansas after spring ball of 2021 and was left with a team completely decimated by the transfer portal and recovering from the Les Miles scandal. After upsetting Texas near the end of 2021, he's got the Jayhawks bowl eligible for the first time since 2008 in only his second season. 
2. Josh Heupel, Tennessee
Another coach hired late in the carousel cycle before 2021, the former Oklahoma quarterback has the Vols offense running as well as any team in the country. Tennessee leads the nation in total offense, scoring offense, and passing efficiency and they look poised to be a true contender to Georgia in the SEC East moving forward. 
3. Lane Kiffin, Ole Miss
You can't argue with the success that Kiffin has had in his first two plus seasons in Oxford. They brought the former Alabama OC and FIU head coach in to jumpstart the offense, and they've done just that. Jaxson Dart was a great portal pickup and has fit right into his scheme.
4. Ryan Day, Ohio State
Day's Ohio State teams made the College Football Playoff in his first two seasons, and he followed that up with a dramatic Rose Bowl victory last year. To be fair, he was set up for success as well as anyone could hope for with the amount of talent on the roster, but he's done an excellent job of continuing the Buckeyes' dominance in the Big Ten.
5. Dave Aranda, Baylor
The former LSU and Wisconsin defensive coordinator wasn't the first choice for the Bears when he took over for Matt Rhule after the 2019 season. But Aranda got Baylor their first conference title since 2014.
Best coaching hires since 2017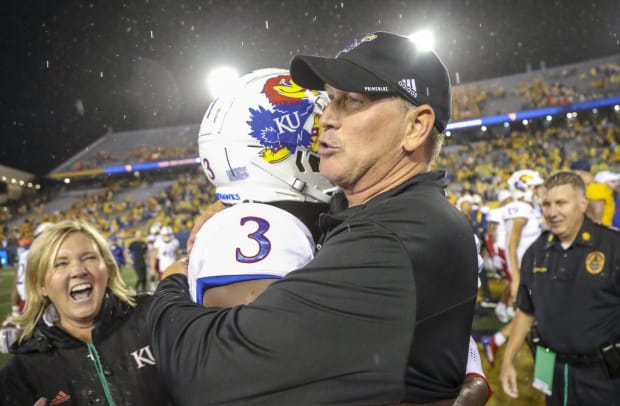 — And finally as we head towards the end of the college football season I wonder if we will have a playoff team as disappointing as these.
1. 2015 Michigan State
Anyone who watched the 2015 Michigan State team knew that their 12-1 record was a bit fraudulent heading into the playoff. But on the back of beating Ohio State in Columbus and a previously undefeated Iowa Hawkeyes team in the Big Ten title game (by a combined six points), they made it — and proceeded to get manhandled by Alabama 38-0. That's the worst shutout in the CFP era.
2. 2016 Washington
The Huskies were another team that was clearly out of their league once they had to face Alabama in the CFP. We should have seen some of the struggles coming when they lost to USC at home earlier in the season, but after routing eighth-ranked Colorado in the Pac-12 title game, hopes were high once again. It did not end well, and they remain the last Pac-12 team to make the CFP.
3. 2021 Cincinnati
This is in no way a knock on what Luke Fickell and the Bearcats did last season - they were tremendous. But the talent discrepancy between them and Alabama was on full display early and often in the Crimson Tide's 27-6 beatdown. As long as there's a four-team playoff, there will never be another Group of 5 team.
4. 2018 Notre Dame
In a lot of ways, this was Brian Kelly's best coaching job in South Bend as this was one of his least talented teams, yet they managed to finish the regular season undefeated. However, there should have been at least something suspect when they could barely beat a USC team that had a losing record in their regular season finale. Trevor Lawrence had a field day against them.
5. 2016 Ohio State
Because of their head-to-head loss to Penn State, the Buckeyes did not even win their division in 2016 finishing 11-1. So even though the Nittany Lions went on to win the Big Ten title over a strong Wisconsin team, the committee, in their esteemed judgment, decided to take the Buckeyes over a Penn State team that had losses to Pittsburgh and Michigan early in the season. That Ohio State team couldn't even come close to keeping up with eventual national champion Clemson, losing 31-0 in an embarrassing fashion.
6. 2019 Oklahoma
The Sooners took advantage of a historically weak Big 12 to roll through the regular season with only one loss at unranked Kansas State. But that one loss should have been a bigger deal, as the Wildcats put up 48 points. And that porous defense, which got worse as the season went on, was completely exploited by Joe Burrow and an LSU offense that scored a CFP record 63 points in their semifinal matchup.