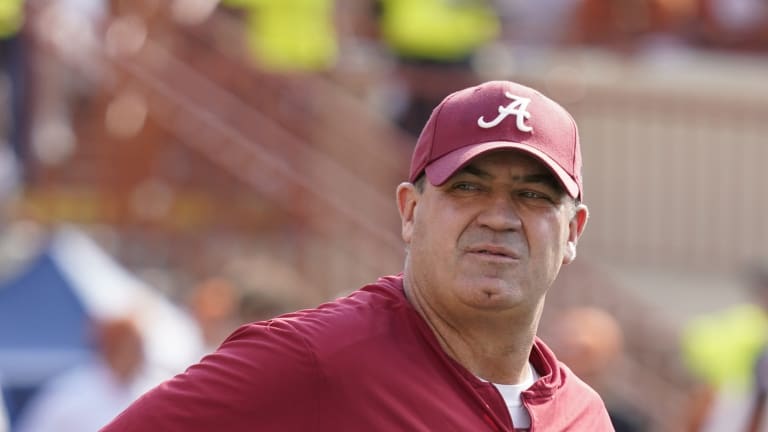 3-Point Stance: Next Auburn Coach, Ranking Open Jobs, Teams Gaining Momentum
National Columnist Mike Farrell is here with the 3-Point Stance looking at some bad fits for Auburn, ranking the open Power Five jobs by recruiting and teams getting momentum for next season.
---
— Auburn needs to make the right hire. These guys are good but can they do the job? I'm not sure even if they are on my top 10 list for the opening, and here's why…
1. Bill O'Brien
Alabama OC 
— He's had difficult jobs before with Penn State and did a great job there but he's also a control freak of sorts and wouldn't play nicely at Auburn. This could be a great success or more likely a disaster.
2. Jeff Grimes
Baylor OC 
— He's a great offensive mind and has experience at Auburn but is this the job for a first time head coach? Would he crumble?
3. Jamey Chadwell
Coastal Carolina HC
— His success at Coastal is amazing and impressive and his offense is hard to defend but this is a massive step up and he might not have the cache or swagger to make it work.
4. Deion Sanders
Jackson State 
— Deion has cache and swagger, it's his thing. But he's also a man who doesn't need millions or to battle weekly if things don't go well. That might happen anywhere he lands but this fit doesn't seem good.
---
— Let's rank the open Power 5 jobs in terms of recruiting
1. Auburn
Auburn is in the heart of SEC country and has a booster base that has shown that they are willing to pony up some serious money. Despite being little brother in their own state, there's still more talent to work with close by than any other open position.
2. Wisconsin
The Badgers are in a unique position as they're the most stable program on this list, and have always won with the same recipe: big, burly linemen, skill position players from the east coast and Florida, filled out with midwest kids that Ohio State and Michigan didn't want. But they've become much more of a national brand recently and can even pull in the occasional five-star.
3. Nebraska
It's definitely not the heyday of the Cornhuskers' dynasty anymore, but with the Malachi Coleman commitment the program has shown that they can still land some big fish even with only an interim coach in place. But it's becoming harder and harder to get guys to go to Lincoln despite their deep pockets.
4. Georgia Tech
You could make a very strong argument that Georgia Tech should be number two on this list simply due to its geographical location in the heart of Atlanta. But between difficult academics, little recent history of success, and no real permeating culture, recruiting for the Yellow Jackets is no easy task. Oh and everyone comes into Georgia and UGA kind of dominates.
5. Arizona State
The Sun Devils for years have relied on players from California that were typically overlooked by the USC's and UCLA's of the world. But Arizona is a growing power in high school football, with five stars coming out of the state seemingly every year. They need to rebuild the culture from the ground up, and I'm not sure how well they're going to be able to accomplish that with the same AD in place.
6. Colorado
Boulder is one of the most beautiful cities for a college campus. But outside of that, there is not a ton to sell to recruits about the program. It's been 30 years since they were relevant, and with the Pac-12 in limbo, they may be conference-less sooner rather than later. It's an uphill battle.
---
— And finally, these teams are gaining momentum for next season after tough starts.
1. UNC
Mack Brown has done it again. He has yet another true freshman quarterback who is absolutely slinging it. Drake Maye gives the Tar Heels a ton of juice not only on the field right now but on the trail as well as recruits see the kinds of numbers he's putting up. And the defense has certainly improved.
2. LSU
The Tigers have made huge strides on-field since their opening day loss to Florida State and put on a clinic against Ole Miss recently. That momentum has carried over to the recruiting department, as Brian Kelly and company are amassing a really strong class. In two seasons, this is going to be a team to contend with at the top.
3. Notre Dame
It may have taken a few weeks to get going, but the Irish seem to have finally found some footing. With that being said, Clemson this weekend is a much bigger test than a Garrett Shrader-less Syracuse. But Marcus Freeman seems to have found his mojo and the Irish are continuing to clean up on the trail.
4. Texas
Once Quinn Ewers came back from injury, the Longhorns immediately turned into one of the most potent offenses in the country. Steve Sarkisian has parlayed that success into landing not only Arch Manning, but a number of big pieces for a potential top-five class.
5. Louisville
They've been more up than down on the field recently, as evidenced by their demolition of Wake Forest this past weekend, and there continues to be a ton of buzz around Scott Satterfield and the rest of the Cardinals on the trail. Rueben Owens is the big name obviously, but there have been a number of notable recruits on campus for visits recently, and we could see one of their best classes ever if things keep trending in this direction.