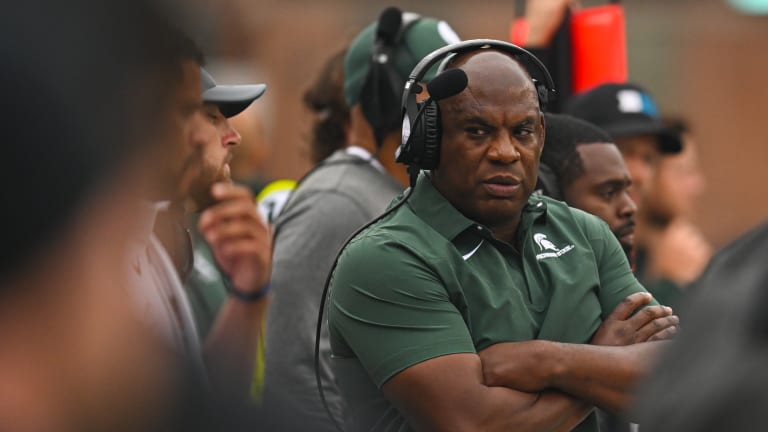 3-Point Stance: Overpaid Coaches, Open Jobs, Strange Stats
National Columnist Mike Farrell here with the 3-Point Stance looking at overpaid coaches, ranking the open jobs, and some odd stats you never thought you'd see.
---
— A great coach is worth his weight in gold. An overpaid coach? He can derail your program for years and years. These guys aren't earning their keep.
1. Mel Tucker, Michigan State 
— $95 million guaranteed over 10 years looks foolish after a bad loss to Maryland and a 2-3 start. This could get embarrassing very quickly.
2. Jimbo Fisher, Texas A&M 
— The $85 million buyout is talked about often and Fisher makes $9 million a year for what? A top ranked recruiting class but pedestrian results on the field and a below average offense.
3. David Shaw, Stanford 
— Shaw never gets talked about but he's receiving $9 million a year by most estimates and the Stanford team hasn't been dangerous since CMC was there.
4. Steve Sarkisian, Texas 
— He's making more than $5 million a year and the ups and downs have been rough. Well, the ups have been rare and losses to teams like Texas Tech continue.
5. Dana Holgorsen, Houston 
— He makes $4 million a year at a Group of Five program that is 2-3 and under performing badly.
---
— So obviously hiring the right coach is key and not overspending to do it is important. Here's how I rank the open jobs based on their projected ability to lure or a great coach.
1. Wisconsin
Sorry Husker fans, but this isn't even close. Wisconsin has gone bowling in 20 consecutive seasons, has been to a New Year's Six game five times in the past dozen years, and is top ten in the nation in wins since 2000.
2. Nebraska
While I'm not in the group of people that believes that the 'Huskers can return to the glory of the Tom Osbourne years, it's still an above-average program in one of the two conferences that really matter. Their fans are as passionate as any, and they've continued to invest in their program. But their location and lack of success in recent years puts them behind the eight ball.
3. Georgia Tech
This is all about upside and location. Atlanta is one of the best metroplexes in the country when it comes to density of football talent, and Georgia Tech is at the heart of it geographically. However, the combination of tougher academic standards and lack of elite facilities makes it a bigger hole to dig out of.
4. Arizona State
Arizona State has a couple of things going for it - there's a growing number of high-level prospects coming out of Arizona every year, it's geographically close to talent-rich California, and they've had winners there in the past. But between the deterioration of the Pac-12 as a conference and the sanctions you know will be coming in the wake of all the scandals under Herm Edwards, it could be a long road back.
5. Colorado
The Buffaloes have had a pretty woeful past two decades. Their last conference title was 2001 in the Big XII, they've won one division title in 11 years in the Pac-12, and have been to two bowls since they joined. Boulder is a beautiful town, but it's tough to recruit there, and there's not a huge, passionate fan base behind them. It would be incredible to see another Kordell Stewart, but I'm not holding my breath.
---
— And finally, can you believe these stat lines from the weekend? I had to look twice.
1. Illini Rush Defense
Illinois held Wisconsin to 2 yards on 24 carries, less than .1 yards per carry. Star tailback Braelon Allen had 2 yards on 8 carries and was stymied all day. For a football brand known for toughness and running the ball behind strong offensive line play, it was the exact opposite of what everyone expected.
2. Air Raid
There were not one but two different quarterbacks this weekend who threw for 450 yards, 6 TDs, and zero INTS, which is incredibly rare. Arizona's Jayden de Laura and ECU's Holton Ahlers combined for 949 yards, 12 TDs, and zero turnovers. 
3. Diaper Dandy
Drake Maye is up to a nation-leading 19 TDs and only one pick on the season. The true freshman is having one of the best seasons for a player at his position, and it's going relatively unnoticed. This weekend he had another great game with 363 yards, completing more than 75% of his passes and not turning the ball over again against Virginia Tech. It's something to behold.
4. Workhorse
Kent State running back Marquez Cooper rushed the ball 40 times on Saturday for 240 yards and is the first player this season with more than 40 carries in a game. He's averaging over 100 yards a game against very good competition out of conference, and is making the most of his opportunities in Sean Lewis' system.
5. Sack Masters
The Cincinnati Bearcats had 11 sacks over the weekend, tied for the most in FBS over the past 3 years. Jabari Taylor led the way with 2.5 sacks, but 10 different players registered at least half a sack. They got after it in a serious way against Tulsa.