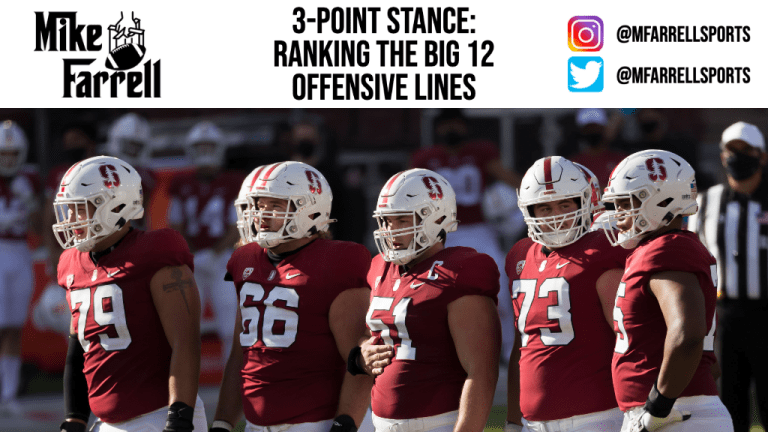 3-Point Stance: Pac-12 OL Tiers, TE Recruiting, G5 Tight Ends
National Columnist Mike Farrell is here with the 3-Point Stance, looking at offensive line tiers in the PAC 12, the best TE recruiting programs in recent years, and Group of Five tight ends to keep an eye on.
---
 The big uglies up front deserve attention. Here's how the PAC 12 offensive line tiers break out for this season.
Elite: Utah, Stanford, Oregon
At this point, we can pretty much count on the Utes to have at minimum an above-average offensive line, so long as they're coached by Kyle Whittingham. So despite losing Nick Ford - one of the best linemen in program history - and Bam Olaseni, they should still be among the best in the Pac-12. All-conference tackle Braeden Daniels is back and, depending on how Jaren Kump has recovered from injury, could move to protect Cam Rising's blindside. If Kump isn't ready, there's a wide-open race between Zereoue Williams and Falcon Kaumatule. Keaton Bills returns at left guard, as does RG Sataoa Laumea, but the latter is locked in a battle with redshirt freshman Michael Mokofisi. Paul Maile is the most likely to take over at center, as he did three times last season due to injuries along the line. Assuming Kump is full-go, this is going to be a dominant unit once again.
Stanford is another strong unit, with their entire starting line from last season returning. The linchpin for this unit, though, is third-year tackle Myles Hinton. The former five-star hasn't quite put it all together yet but has all the physical tools you could want. If you don't believe that he can take the next step, then you're probably looking at this unit as a tier two group. But I believe in the raw talent and think he's going to put it all together in 2022. The rest of the line is loaded with upperclassmen, starting with Walter Rouse on the blindside. He's an all-conference talent and, with another step forward as a senior, should see himself rise to at least a mid-round NFL pick next spring. Drake Nugent is one of the best centers in the country that no one talks about, while Barrett Miller and Branson Bragg are solid at guard. But it all comes back to Hinton - if he's at least above-average, this could potentially be one of the best lines in the country.
New head coach Dan Lanning has walked into a really good situation at offensive, as they return five of their top six players from last year's unit. Now, that was an Alex Mirabel-coached unit, so there's naturally going to be some regression after losing one of the best line coaches in the business. However. they get back TJ Bass, who split time at left tackle and left guard last season, and he was excellent at both. Coming out of spring, he looks to be the man at guard, with Steven Jones returning from injury at left tackle. They've got veterans at the rest of the positions, as Alex Forsyth, Ryan Walk, and Malaesala Aumavae-Laulu are all back for their last seasons of eligibility at center, right guard, and right tackle, respectively. New line coach Adrian Klemm comes straight from the pros and should be able to get the most out of this group.
Good but not Great: USC, Washington, Oregon State
You can make a pretty strong case that USC's Andrew Voorhees is the best lineman in the conference, and I probably wouldn't argue much. He's as technically proficient as anyone in the country on the interior yet still excelled at left tackle when he was needed last season. He'll absolutely be in the mix for the Outland Trophy. Three-year starter Brett Neilon returns at center as well, next to Justin Dedich at right guard. Dedich started the last four games of 2021 and saw a significant amount of snaps during the season. The Trojans have effectively three tackles for two spots, with Courtland Ford, Jonah Moheim, and Virginia transfer Bobby Haskins set to battle it out. Haskins missed spring ball with an injury, but he's back at 100% strength for fall camp. The question marks at tackle are the only thing preventing this group from being elite, but if Ford can live up to his athletic potential, they could be very, very good.
You could definitely make a case for the Huskies to be a tier lower, but I'm betting on the talent of Jaxson Kirkland bubbling back up after a rough 2021 where he never looked like he was fully back after a mid-season injury that cost him a couple of games. He could end up being one of the top left tackles in the country if he comes back 100%. Right tackle Victor Curne returns after a strong junior campaign, as does sixth-year guard Henry Bainivalu. The issue for Washington is that they're replacing two starters on the interior of the line, both of whom were above-average last season. Former JUCO transfer Corey Luciano appears set to take over at center, but left guard is more of a mystery with Nate Kalepo, Julius Buelow, and Troy Fautanu all battling it out.
The Beavers have a solid group returning, headlined by Joshua Gray. He was outstanding as a redshirt freshman in 2021, and has massive upside. He could end up being one of the best in the conference when all is said and done. Last year's part-time starter at left guard, Marco Brewer, is back and will be the man full-time, and it's not a big stretch to imagine that he will do well. he was very good and very consistent in his role last season. Last year's starter at right tackle, Brandon Kipper, will move inside to right guard to accomodate the growth of Taliese Fuaga, who emerged this spring as a very strong player. The big question mark for Oregon State is at center, as it's going to be difficult to replace Nathan Eldridge, and there's a battle between Jake Levengood and true freshman Dylan Lopez. Lopez was a revelation in spring ball, and he could push for playing time immediately. The Beavers also added a couple of transfers for depth in the offseason. Jonathan Smith has done a great job rebuilding this unit.
That'll Do: UCLA, Arizona State, Washington State
The Bruins have to replace some of their key components from last season, most notably all-conference left tackle Sean Rhyan. Coming out of spring, redshirt freshman Garrett DiGiorgio seems to be the guy, but he's only seen 88 snaps in his collegiate career. That was also without Rutgers transfer Raiqwon O'Neal, who started the last two seasons for the Scarlet Knights. Don't be surprised if O'Neal is the guy on opening day. The Bruins also need to replace left guard Paul Grattan Jr. and right tackle Alec Anderson, so there are a lot of battles to be fought this fall. Atonio Mafi is all but a lock to take over at LG, but RT is still wide open, with Josh Carlin, Tyler Manoa, and Brad Whitworth all in the mix. RG Jon Gaines II and C Duke Clemens are both back, but they were the two weaker links on the line last year. In a season of high expectations for the UCLA offense, they're going to need this unit to gel very quickly.
With the departure of not only all-conference tackle Kellen Diesch, but also center Dohnovan West, and guards Henry Hattis and Spencer Lovell, the Sun Devils have a lot of spots that are in need of replacing. Fortunately for them, left guard LaDarius Henderson is back, and he started every game at that position in 2021. Right tackle Ben Scott also returns, but he's moving down to center to take over for the now-departed West. Both Henderson and Scott were above average last season and should continue to grow, and SDSU transfer Chris Martinez will be more than solid filling in the other guard spot. The tricky part for Herm Edwards and company comes at the tackle position, where they'll be fielding two new starters to protect transfer quarterback Emory Jones. Coming out of the spring game, sophomore Isaia Glass was holding down the left tackle spot while there was a competition between transfers Des Holmes (Penn State), Joey Ramos (Iowa State), and Emmitt Bohle (Northern Iowa). If they can get all of their transfers up to speed quickly, this unit could end up being one of the better ones in the conference, but for now, there's too much unknown at tackle to be higher than tier three.
Wazzu has had some very good linemen come through in recent years, but this year's group is not quite as strong as some of those groups. All-conference tackle Abraham Lucas is gone at right tackle, and the Cougars turned to the portal to bring in Grant Stephens from Northern Colorado to replace him. He was outstanding at the FCS level, but it will be a big step up playing in the Pac-12. Jarrett Kingston moves from left guard to left tackle to replace the departed Liam Ryan. Kingston is definitely the leader of this group and has the highest upside. Konner Gomness returns at center, but he got bullied at the point of attack too much last season. Right guard Ma'aka Fifita also returns, but he also struggled last season. The biggest battle heading into camp is who takes the vacated left guard spot, and that's a battle between true sophomore Rodrick Tialavea and redshirt freshman Jernias Taia. If Kingston adapts quickly to LT and Stephens can get up to speed at a higher level of competition, they can be solid, but there is some cause for concern.
Cross Your Fingers and Pray: Arizona, Colorado, Cal
Surprise, surprise, Arizona is in the bottom tier. They bring back 60% of the starters from last year's team that was, shall we say, porous. The only player who was above average at that position for the Wildcats in 2021 was All-Pac 12 honorable mention center Josh McCauley, and he graduated. Both of their starting tackles, Jordan Morgan and Paiton Fears, are back, but they're going to really need to step up as they gave up 54 combined QB pressures in 2021. Josh Baker also returns, but it looks like he'll kick inside from guard to center, leaving the two other interior spots open. True freshman Jonah Savaiinaea looks like he's going to be a lock to start at one spot, while Josh Donovan and JUCO transfer Joseph Borjon should be in the mix. A long way to go for this unit to be anything above mediocre.
The Buffs will struggle again this season on the offensive line as they not only performed poorly last season but also lost three starters off of that unit. They were able to land Alabama transfer guard Tommy Brown, who should start immediately at one spot while returning starter Casey Roddick mans the other. Noah Fenske will step up to replace departed starter - and arguably best player on the unit - Colby Pursell at center. Both starting tackles - Jake Wiley on the left and Frank Fillip on the right - return. However, both struggled mightily last season and will be pushed by JUCO transfer Alex Harkey and Arizona transfer Luke Eckardt.
A lot to replace for the Golden Bears, as they lose three starters, including standouts McKade Mettauer and Valentino Daltoso. Matthew Cindric returns at center, while Ben Coleman kicks out to left tackle from guard. But the other spots are very much up for grabs. Junior Brian Driscoll should get one starting spot, most likely at right guard, while Brayden Rohme is the only other guy on the roster with any significant experience, and he's most likely to slot in at right tackle. The big question then is left guard, where redshirt freshman Bastian Swinney and sophomore Colin Hamilton have emerged in a battle. Swinney, the former four-star, should have the inside line, but no matter who wins, this unit is going to have to make huge strides in 2022.[/vc_column_text][vc_separator][vc_column_text]— Let's head to the tight end recruiting shall we? This isn't about development Iowa fans, this is about recruiting the best of the best and winning those battles. This includes the portal.
1. Georgia
— It actually isn't even close with Arik Gilbert, Darnell Washington, Brock Bowers all on the roster.
2. Notre Dame
Michael Mayer is just the most recent big recruiting win at tight end to flourish.
3. Texas A&M
— While they haven't developed as well as hoped, the Aggies still won huge battles for guys like Jalen Wydermyer, Baylor Cupp and others.
4. Oregon
— The Ducks low key own tight end recruiting out west going back before Mario Cristobal.
5. Washington
— The Huskies land them and develop them with Cade Otton the latest.[/vc_column_text][vc_separator][vc_column_text]— And finally here are some very, very good tight ends at the Group of Five level to watch for.
1. Zach Kuntz, Old Dominion
— The former Penn State Nittany Lion has found a home at ODU and had 73 catches last season.
2. Khaleb Hood, Georgia Southern
— The former wide out doesn't get in the end zone a ton but he's productive and moves the chains.
3. Josh Whyle, Cincinnati
— He could be the best NFL prospect on this list with his length and red zone ability.
4. Kemore Gamble, UCF
— The Florida Gators transfer could put up monster numbers in Gus Malzahn's system.
5. Ryan Jones, East Carolina
— From linebacker at Oklahoma to five touchdowns last season as a tight end at ECU.[/vc_column_text][/vc_column][/vc_row]