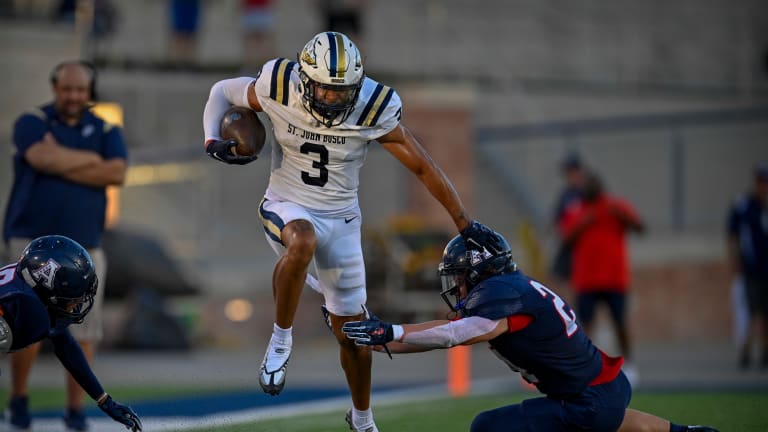 3-Point Stance: Recruiting Misses Turned Gains, CFP What Ifs, Underrated Transfers
National Columnist Mike Farrell is here with the 3-Point Stance looking at a few misses in the 2023 class that might not be so bad, some recruiting misses that could have changed the playoff this season and some underrated transfers to watch.
---
Dodging a Bullet
— Sometimes a recruiting miss works out for the best and these losses could end up being gains in the end.
1. Miami and Florida for QB Jaden Rashada
— This is an obvious one as he de-committed from Miami and Florida and it now seems it was all about money. It will be interesting to see how this plays out for these two and wherever he lands.
2. Florida and Miami for CB Cormani McClain 
— McClain was supposed to commit to Florida and then chose Miami in a surprise. Now he's off to Colorado for what appears to be an NIL issue. He's a likely portal entry down the road.
3. Georgia and Alabama for QB Arch Manning 
— Manning is talented and all that even though he's vastly overrated as a top five overall recruit. But the drama that comes with the name? Georgia and Alabama don't need fans calling for a Manning to play whenever their quarterbacks throw a pick.
4. Oregon and QB Dante Moore 
— UCLA won this one in an NIL finish and Oregon lands Austin Novosad from Texas. I love Moore but this could end up best for both parties.
5. Louisville and WR DeAndre Moore 
— Moore flipped to Texas at the last minute but with their WR numbers he could be a portal candidate while Louisville perhaps avoided that headache.
---
Recruiting What Ifs
— UGA won again but what if these commitments had actually happened? Things could have been different.
1. Ohio State and RB Bijan Robinson
The unquestioned best tailback in the country over the past two seasons, Robinson was long considered an Ohio State lean during his recruitment. But the five-star from Tucson, AZ, was ultimately swayed to Austin and has been the focal point of the Longhorns' offense since. TreVeyon Henderson has been great but missed most of the year. What if the Buckeyes had Bijan?
2. TE Brock Bowers and UCLA
The Bruins made the final eight for Bowers and made a late push for the four-star tight end out of Napa. As great as he's been at Georgia (and he's been as good as anyone), Bowers playing for Chip Kelly as the complete focal point of the passing game could have resulted in receiving records for the position and perhaps been the missing key to the playoff. And UGA wouldn't have won it all without him.
3. Xavier Worthy and Michigan
Worthy committed, decommitted, and recommitted to the Maize and Blue, even signing with them and saying he was going to enroll early. But issues with admissions forced him to sign elsewhere, and after choosing Texas he's been one of the best receivers in the Big XII. The Wolverines could have used a true game-breaking receiver in the CFP the past two years and this year against TCU it could have made the difference.
4. WR Jalin Hyatt and Clemson
Tigers never offered the four-star in-state product from Irmo, which was very puzzling at the time. They're certainly regretting their decision now as Hyatt turned into a Biletnikoff winner under Josh Heupel and might have made things easier on the Clemson QB situation.
5. CB Kelee Ringo and Oregon
The Ducks were widely known to be Ringo's favorite team growing up and he was considered an Oregon lean for a long while. But Kirby Smart closed strong on the five-star Arizona product and has reaped the rewards since - most notably in last year's title game when Ringo's pick-six sealed the championship for the Dawgs. Without Ringo do the Dawgs win two? And does Oregon get to the playoff with him?
---
Underrated Transfers
— And finally, keep an eye on these under-the-radar transfer portal additions.
1. DB Jabbar Muhammad, Washington
The Huskies have had a talent drain at defensive back over the last two seasons, so they were forced to hit the portal this season. The Oklahoma State transfer had a breakout redshirt sophomore season and should be the next guy in a very long line of outstanding Washington cornerbacks.
2. TE Jack Bech, TCU
The one position that you could argue on the offense that could use an upgrade for the Horned Frogs is tight end, and they picked up one of the best pass catchers at the position in Bech. I'm predicting a big bounce-back season for him after a down year as a sophomore. 
3. DL Mosiah Nasili-Kite, Auburn
Hugh Freeze has done a solid job putting together a strong transfer class, especially on the defensive line. The Maryland transfer isn't the biggest name that Auburn is bringing in, but he's a versatile piece that can be used on any down and distance.
4. WR Kevin Coleman, Louisville
It wasn't but a year ago when we were talking about how much of a coup it was for Coach Prime to reel in not only Travis Hunter but also the highly-regarded receiver Coleman. However, unlike Hunter, Coleman elected to go to a different system and he found a great fit under Jeff Brohm in Louisville. He's a darkhorse to lead the conference in receiving in 2023.
5. WR Bryson Green, Wisconsin
The true freshman led Oklahoma State in touchdowns and was second in yards last season, and his entry into the portal was a bit of a surprise. He's one of four wideouts who have joined up with Phil Longo in Madison and should put up big numbers in the Badgers' new Air Raid.