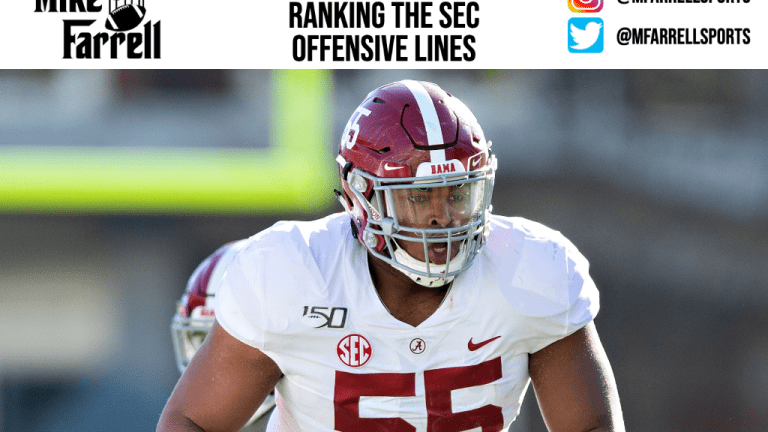 3-Point Stance: SEC OL Tiers, QB Recruiting, Group of 5 QBs
National Columnist Mike Farrell is here with the 3-Point Stance looking at the offensive line tiers in the SEC, the best QB recruiting programs in recent years, and Group of Five quarterbacks to keep an eye on.
---
— The SEC produces some great offensive linemen and once again the conference is loaded. Here's how I break them out in tiers.
Elite: Alabama
Another year, another outstanding Alabama offensive line. The Crimson Tide landed one of the best linemen in the portal in Tyler Steen (Vanderbilt) to fill their gap at left tackle. He's already proven at the SEC level and still has upside. Emil Ekiyor, Darrian Dalcourt, and Javion Cohen all return to their starting roles on the interior of the offensive line, which paved the way for record-breaking performances for Bryce Young last season. The only real question mark is right tackle, where 2021's top prep offensive lineman JC Latham will step into a full-time starter role. There's zero question about his potential - he's one of the most athletic tackle prospects to come along in a very long time. It's only whether or not he's ready between the ears. But all signs point to him being the next Outland Trophy winner for the Tide.
Good but not Great: Georgia, Arkansas, Florida, Ole Miss, Mississippi State, Texas A&M
The Bulldogs lost a ton of talent - most notably Jamaree Salyer - from last year's national championship-winning squad, but they've still got elite-level potential. However, they're breaking in a new offensive line coach in Stacy Searles, and they've got some injuries they need to deal with. Broderick Jones takes over as the full-time starter at left tackle where the former five-star has the potential to be a first-rounder. Rimington watch list center Sedrick Van Pran returns, as does junior tackle Warren McClendon on the right side. But there are unknowns at both guard spots. Former five-star Tate Ratledge looks to be a lock at one of the spots if he can get back to 100% health, while Warren Ericson has at least a tentative grip on the other. But there's a good chance that Amarius Mims kicks down to guard to see if they can get their best five linemen on the field at once.
Once again, the Hogs should be one of the stronger units in the conference. It all starts in the middle with all-SEC center Ricky Stromberg, who is one of the best in the country. Veteran starters Brady Latham and Beaux Limmer return at guard as well, forming a rock-solid interior of the line. They have a massive right tackle in 6'9 Dalton Wagner, who started 10 games last season and seemed to really come on in the second half of last season after returning from injury. The question mark for the Razorbacks is at left tackle, where there is an open battle heading into fall camp. Former Notre Dame transfer Luke Jones seems to have the inside track, but don't discount redshirt freshman Devon Manuel. He's even bigger than Wagner, also standing 6'9 but listed at 366 pounds. But he's surprisingly agile for his size, and if he gets down to 330 or even potentially 340, he could be a real force.
One of the added benefits of hiring Billy Napier is that he brought along some key transfers with him from Louisiana, and none more important than the two offensive linemen. O'Cyrus Torrence is in the running for best lineman in America and elevates this group just by himself. Fellow former Ragin' Cajun Kamryn Waites is in an open competition with Michael Tarquin at right tackle, who saw limited action last season. The left-hand side of the line returns both starters in Richard Gouraige at tackle and Ethan White at guard, with veteran center Kingsley Eguakun in the middle. Napier's offense is really contingent on winning at the line of scrimmage in the run game, and this unit has the potential to be very strong in that area.
Ole Miss has a veteran-laden line, bringing back three full-time starters from last season, as well as Western Kentucky transfer Mason Brooks. Brooks was outstanding as a Hilltopper at protecting record-setting quarterback Bailey Zappe in their pass-happy, up-tempo offense, and he should fit right in with Lane Kiffin's system. The rest of the line features the four players that started the Rebels' last four games of the season. Jeremy James returns at left tackle, Nick Broeker and Eli Acker at guard, and center Caleb Warren rounds out a group that has a ton of experience.
Despite losing top-10 pick Charles Cross to the draft, the Bulldogs still bring back plenty of talent on the offensive line. They've got an outstanding center in LaQuinston Sharp, who is one of the top players at his position in the SEC. Kwantrivous Johnson and Kameron Jones are both making the leap from their starting guard spots to the tackle spots on the left and ride sides respectively. Nick Jones played well at guard in limited snaps last season and has the inside line on starting at on spot while Cole Smith and MTSU transfer Steven Losoya - and potentially JUCO recruit Percy Lewis - will battle it out to start.
Texas A&M returns three quality starters, most notably Bryce Foster, who was outstanding at center as a true freshman in 2021. Right guard Layden Robinson and right tackle Reuben Fatheree both return as well in their starting roles, with Fatheree holding up very well in his true freshman season last year. Former JUCO transfers Jordan Spasojevic-Moko has the daunting task of taking over for first round pick Kenyon Green, but he was very highly touted coming out of Snow College in Utah after coming over from Australia where he was an outstanding rugby player. He's got massive upside. 2021 four-star recruit Trey Zuhn is primed to start at left tackle, and is the biggest question mark for this group.
That'll Do: Auburn, Kentucky, Tennessee
The Tigers lost a lot of players at a lot of positions this year, and it was no different on the offensive line, where Tashawn Manning left via the portal to go to Kentucky. They bring back their trio of starters on the interior, however, and that all starts with Nick Brahms, the best player on their line. Guards Brandon Council and Keiondre Jones have a lot of experience as well. However, the Tigers have to break in two new tackles, neither of whom has seen a lot of action in their career. Kilian Zierer got four starts last year as a backup but moves into a full-time role at left tackle, while Alec Jackson takes over on the right side.
For the first time in quite a while, there are a lot of questions on the Wildcats' offensive line. They lost their three top players from last season's squad, and are left with question marks at both tackle spots. The good news is that left guard Kenneth Horsey is back, and last year's starter at right guard, Eli Cox, will kick down to center to replace Luke Fortner. Kentucky brought in Auburn's Manning to fill the other guard spot. But without Luke Kinnard and Dare Rosenthal, it is still very unclear who will start at the tackle spots. Coming out of spring camp, Sophomore Deondre Buford and junior Jeremy Flax had the first team nods, but five-star true freshman Kiyaunta Goodwin is physically ready to play already.
Although the unit as a whole struggled at times last season, Tennessee's line - like the rest of the offense - are on an upswing. Darnell Wright returns at left tackle after taking every snap there last season, and they brought in Gerald Mincey to back him up. Jerome Carvin played center and guard interchangeably last season and seemingly struggled with all of the changing responsibilities. Sticking at guard should improve his game. Javontez Spraggins returns at the other guard spot, and he's a mauler. Jeremiah Crawford didn't see the field a ton last season, but really stood out when he was on it. The former JUCO player still has room to grow and should be a middle-of-the-road at worst starter at right tackle. Cooper Mays is set to return at center where the former top-100 recruit has huge upside.
Cross Your Fingers and Pray: LSU, Vanderbilt, Missouri, South Carolina
Brian Kelly has a lot of work ahead of him if he's going to get this rag-tag group of linemen ready for SEC play. The Tigers return zero of their regular starters from last season, but that may be a blessing in disguise, as last year's offense, especially on the ground, was one to forget. Tackles Cameron Wire and Garrett Dellinger got spot starts down the stretch in 2021, and one of them will likely win the battle for the right tackle spot. Two transfers, Miles Frazier from FIU and FCS All-American Tre'Mond Shorts from ETSU, add a veteran presence at the guard spots. Junior Charles Turner took first team reps at center this spring as well, but the real story is at left tackle, where four-star true freshman Will Campbell looks set to open the season on the blindside for whoever plays quarterback. That's a lot to ask.
Surprise, surprise. Vanderbilt is in the bottom group. So although they return four starters, those starters were responsible for an offense that ranked 100th or worse in every single statistical category in the country last season. And it doesn't help that they lost their one elite player in the group (Tyler Steen) to the portal. OL coach AJ Blazek has his work cut out for him. New left tackle Gunnar Hansen is going to be tested early and often. The right side of the line had trouble holding up last year, but guard Delfin Xavier Castillo is a huge body who could be an impact player but needs to learn how to leverage his size. Bradley Ashmore, Julian Hernandez, and Ben Cox round out the staters, but it's going to be another long season for whoever is taking snaps for the Commodores.
I struggled to decide between tiers three and four for the Tigers but ultimately opted for tier four because after tackle Javon Foster, there's not much there. However, let's start with Foster, who is one of the best tackles in the country that no one tackles about. Connor Wood proved to be an above average SEC player at guard last season as well. But it gets dicey pretty quickly after that. They brought in Bence Polgar from Buffalo to take over at center, but he struggled with MAC competition at times last season. Xavier Delgado gets a second chance at left guard after he was benched midway through last season. Zeke Powell is a relative unknown at right tackle, and not much depth behind him.
The Gamecocks are a lot of people's dark horse to win the SEC East. But what's going to hold them back eventually is their offensive line, which will need to improve by leaps and bounds just to be league average. To be fair, they had more injuries than most teams last year, but even when all of their starters were healthy, they still were not a good unit. They bring back Jovaughn Gwyn, Eric Douglas, and Vershon Lee on the interior, all of whom played the vast majority of snaps at their position last year. Left tackle Jaylen Nichols moved over from guard midway through last season and struggled to keep up with edge rushers in the SEC. Dylan Wonnum and Tyshawn Wannamaker split time at right tackle last year and look poised to do so again this season. Without any late portal additions, this is a dangerously thin unit.[/vc_column_text][vc_separator][vc_column_text]— Recruiting and development are two different things. You can recruit the best at each position but they might not develop or they can leave in the transfer portal. But elite recruiting usually leads to good things. Here are the best programs at recruiting QBs recently.
1. Clemson
From DeShaun Watson to Trevor Lawrence and DJ Uiagalelei, Clemson recruits the best of the best. Cade Klubnick is the latest five-star and Christopher Vizzina has a chance to earn a fifth star as well.
2. Ohio State
UGA landed Justin Fields, but Ohio State took him away in the portal. Quinn Ewers was a great get from Texas even if he's gone, so the Buckeyes are an interesting one from a recruiting standpoint. Remember, they recruited Joe Burrow as well. CJ Stroud was obviously a big get, and Dylan Raiola in 2024 keeps the momentum going.
3. Alabama
Tua Tagovailoa was a 5 star to some while Mac Jones was a 4 star on at least one site. They pulled Jalen Milroe away from Texas, landed Ty Simpson, and have two 4 stars in this class.
4. USC
I count Caleb Williams as a recruiting win here, and you can't forget JT Daniels was a 5-star when he chose USC. Malachi Nelson is the latest in a long line of big-time recent commits.
5. Oklahoma
I went with the Sooners over Georgia here as the Bulldogs have landed some elite talent, but Oklahoma has done amazingly well with transfers and high school players. Spencer Rattler and Williams may be gone, but they were massive recruiting wins, and Baker Mayfield and Kyler Murray were huge transfers. Jackson Arnold is the latest in massive recruiting wins.[/vc_column_text][vc_separator][vc_column_text]— And finally, I'll start my Group of Five look at the best quarterbacks to keep an eye on a tier below the Power Five.
1. Grayson McCall, Coastal Carolina
He's so efficient and accurate it's sometimes a shame to see him run with the ball, and he does that very well.
2. Clayton Tune, Houston
My pick for the guy NFL scouts will fall in love with at some point this season.
3. Frank Harris, UTSA
Do yourself a favor, watch a UTSA game and see how well Harris creates.
4. Hank Bachmeier, Boise State
Many feel Jake Haener should be here but I love Bachmeier's upside and think he's further from his ceiling.
5. Tanner Mordecai, SMU
He could put up the best stats of any of these players as SMU is dangerous.