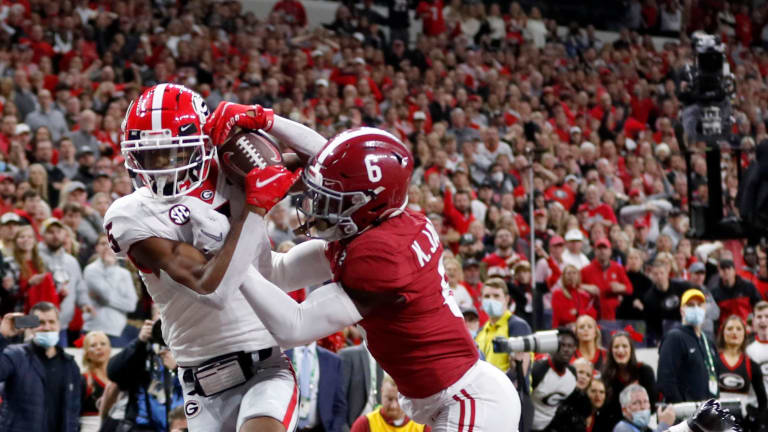 3-Point Stance: TAMU Problems, SEC Brands, Upset Alerts
National Columnist Mike Farrell is here with the 3-Point Stance looking at what Jimbo hasn't done right, SEC brand rankings and some potential upsets this weekend.— A win over Miami would make everyone happy for a minute in College Station but in some ways it would enhance the sting of the loss to Appalachian State. He's in a bad spot unless he runs the table. So what has gone wrong?
1. QB Development
— This is kinda easy. Jimbo inherited Kellen Mond when he arrived and never made him any better and now Haynes King looks like another miss. Zach Calzada had one good game last season and the QB whisperer hasn't done his job.
2. Overall player development
— What worries me is this — heading into last season guys like Isaiah Spiller, DeMarvin Leal and Jalen Wydermyer were all hot names for the NFL Draft. Each either regressed or tested very poorly or both and plummeted in the draft. That's bad.
3. Playing down to opponents
— App State is only the latest example of this as Fisher has lost games to inferior teams like Mississippi State, Auburn, Arkansas and LSU when ranked higher. These aren't bad teams but letdowns have occurred to often.
4. Persona
— Jimbo is hated by FSU fans for obvious reasons but he's also generally disliked by most college football fans because of his smug and arrogant ways, his defensiveness and the way he carries himself in the media. It helps to be liked if you're going to underachieve.
5. Recruiting
— What? He brought in the top 2022 recruiting class in the country right? Yes, but how about a QB? He didn't win big battles for Calzada or King and he better hope Connor Weigman pans out as that's his biggest recruit at the position by far. With what's supposed to be a loaded roster, he hasn't found a QB and that's puzzling.
---
— Let's continue our brand ranking look as we head into the the SEC. Brand ranking is again a combo of recognition, recruiting, national prominence and reputation.
1. Alabama
The gold standard across college football and the undisputed king.
2. Georgia
Nipping right at 'Bama's heels, the reigning national champs and Kirby Smart have built a program that is going to be at the top for a very long time to come.
3. LSU
The end of the Ed Orgeron era may have been ugly, but it doesn't change the fact that the LSU brand is still extraordinarily strong, especially with all of the success former Tigers are having at the next level.
4. Florida
Despite not winning (or recruiting at) the same level as they did during the peak of the Tim Tebow-Urban Meyer era, the Gators still have one of the strongest brands in college football.
5. Texas A&M
The money is there, but the consistent winning hasn't been. With the latest debacle against Appalachian State, there's more concerns than there have been in a long time. The brand is still clearly strong as they were able to bring in the top class in the country this past season, but they've still got a long way to go to get up to the Alabama/Georgia level.
6. Tennessee
As little as a year ago they might have been a couple of slots lower, but Josh Heupel has done yeoman's work to get the program back to respectability. And they've still got a huge, passionate fanbase. Along with Texas A&M, they're the most likely to take the leap to being considered an elite-level football brand.
7. Ole Miss
Lane Kiffin helps the brand immensely as his offense is exciting to watch and you never know what he's going to say or do. Ole Miss is fun again.
8. Kentucky
Mark Stoops has done an incredible job of turning the Wildcats into a contending program year in and year out and they are trying to erase the basketball school monicker.
9. Arkansas
The program with the widest variance on this list, Arkansas could easily have been 13th had they hired the wrong person. But Sam Pittman has already improved their brand by leaps and bounds not only on the field but off it as well, creating a culture of toughness that permeates everything around the program.
10. Auburn
Auburn has turned into a running joke lately, as they have a coach on the hot seat seemingly every season and boosters with an itchy trigger finger. That national title in 2010 seems like a lifetime ago.
11. South Carolina
It's been a rough few years for the Gamecocks, who are still searching for an identity. They've got a passionate fanbase, but the fact that they are second fiddle in their own home state to a team from a lesser conference says a lot.
12. Mississippi State
Mike Leach and Dan Mullen before him both did an excellent job of turning one of the perennial losers in the SEC into at least a competent squad. But they've still got a long way to go before their brand is at the same level as even their in-state rivals, much less the rest of the SEC West.
13. Missouri
It's hard to make hay when you're so geographically (and to a lesser extent culturally) separated from the rest of the league. There isn't a real identity to the program at this point.
14. Vanderbilt
Even when they were winning nine games a year under James Franklin, they were still wholly irrelevant. Unless we're turning the clocks back 100 years, this program simply will never have the caché of the rest of the league.
---
— And finally here are five ranked teams on upset alert this weekend from unranked teams.
#22 Penn State at Auburn
If last year's game is any indicator, it will be a close one where it could go either way. Penn State's offense should be able to put up tons of points with their high-powered passing attack, but I don't know if they'll be able to slow down Auburn's rushing attack at all. It's going to come down to the last couple of minutes, and it would not surprise anyone if the Tigers pulled off a big victory for Bryan Harsin.
#21 Texas vs. UTSA
Everyone has been blowing smoke up the butt of the Longhorns after they had a moral victory in their loss to Alabama. But they should not overlook UTSA, who won 12 games last year and have a heck of a player in Frank Harris at quarterback. And Roadrunners running back Trelon Smith led Arkansas in rushing against Texas last season in their 40-21 domination last season. This is not a game that the Longhorns can afford to take lightly.
#7 USC against Fresno State
The Bulldogs pulled off a massive victory at UCLA last year after the Bruins were coming off of a big win against LSU. Jake Haener is one of the best Group of Five quarterbacks, and they can really air it out. It would definitely be surprising for them to be able to outscore Caleb Williams and co., but stranger things have definitely happened.
#11 Michigan State at Washington
Don't look now, but Michael Penix looks like 2020 Michael Penix again, and he's got Washington's offense rolling under new coach Kalen DeBoer. The Huskies still have loads of talent on defense as well despite losing multiple DBs to the draft. The Spartans will need to be on their A-game to come out of Seattle with a win.
#16 NC State vs. Texas Tech
The Wolfpack escaped week one by the skin of their teeth against ECU, but they're going to need to be much cleaner than they were against the Pirates to dispatch Joey McGuire's crew. They've already taken down Top 25 Houston and are brimming with confidence. However, the Red Raiders will also need to clean up the turnovers - Donovan Smith can't afford to throw three picks again like he did last week. But they've got the ability to put up points in bunches and make NC State sweat it out.