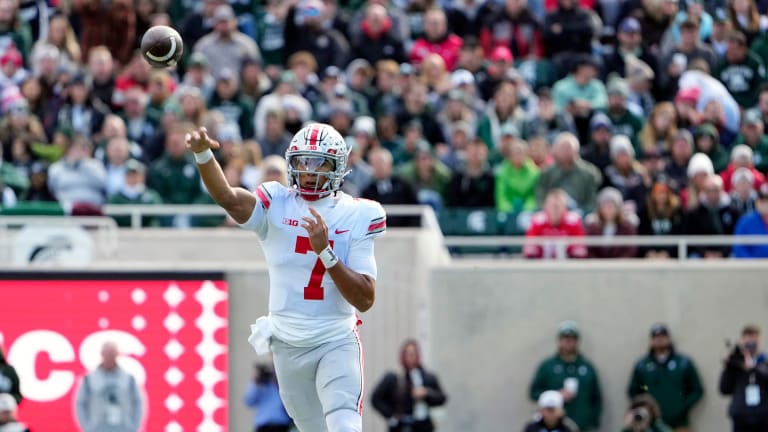 3-Point Stance: Title Odds, Teams with Coaching Stability, Quarterbacks Who Deserve More Love
National Columnist Mike Farrell is here with the 3-Point Stance looking at updated college football title odds, teams in great shape with coaching stability in the Power Five, and some quarterbacks who don't get the love they deserve nationally.
---
— The latest odds to win it all are out at Caesar's and Ohio State is the favorite followed by Georgia and Alabama. Here are my odds however.
1. Alabama (2-1)
I'm not giving good odds against Nick Saban despite the struggle against Texas and now Texas A&M. The wide receivers worry me a bit but they still have Bryce Young and that defense.
2. Ohio State (4-1)
CJ Stroud has the Heisman all but locked up and this offense is scary but a defensive letdown is always a worry in the playoff.
3. Georgia (5-1)
UGA's offense has shown some weaknesses and a run to the title is less likely with emerging teams in the SEC like the Vols who could win the East.
4. Clemson (10-1)
The offense is coming together and the defense is very good but the lack of competition could hurt down the line when they get to the playoff.
5. USC (15-1)
Do we believe yet? I'm not sure. They have a clear path to the playoff if they continue to play well but UCLA, Utah and Oregon look tough.
6. Michigan (20-1)
The offense is a concern and we saw how they got handled last year in the playoff so they are a long shot.
7. Tennessee (25-1)
The Vols are interesting but with Alabama and Georgia on the schedule getting to the playoff won't be easy.
8. Oklahoma State (25-1)
They have a great chance to run the Big 12 and make it to the playoff but will they get throttled there?
9. Ole Miss (40-1)
Can they beat Alabama? They have a chance and even with these long odds I'd take a chance.
10. Penn State (50-1)
Worth a shot right? But with Michigan and Ohio State looming it looks unlikely.
---
— Which Power Five teams should be thrilled with their coaches? These teams.
SEC:
Nick Saban, Alabama
Kirby Smart, Georgia
Mark Stoops, Kentucky
Josh Heupel, Tennessee
Lane Kiffin, Ole Miss
Mike Leach, Mississippi State
Saban is the GOAT, Kirby just won the title, Kentucky hasn't had a better coach than Stoops since Bear Bryant, and Heupel's first year and a half in Knoxville are going better than even the most die-hard Vol fans could have ever imagined. I can't imagine the two Mississippi teams being happier with what they have now as well. What will be interesting is who the next tier is, which comes Thursday.
ACC:
Dabo Swinney, Clemson
Dave Doeren, NC State
Pat Narduzzi, Pitt
Dave Clawson, Wake Forest
Dabo has as much job security in the country as anyone not named Saban, while Doeren has turned NC State into a really solid program. Narduzzi's Panthers are the reigning ACC champs while Clawson continues to show that he can do more with less. 
Big Ten:
Ryan Day, Ohio State
Jim Harbaugh, Michigan
Pat Fitzgerald, Northwestern
PJ Fleck, Minnesota
The only thing missing from Day's resume is a national championship, and the Buckeyes look like they might take care of that this year. Harbaugh just signed an extension after making it to the CFP last season, so he's not going anywhere unless it's back to the pros and Michigan fans should be thrilled. Even if they finish 1-11 this season, Northwestern will never fire one of their most beloved alums, while PJ Fleck is an interesting case, but he's got the interest in that program at a 20+ season high.
Big 12:
Mike Gundy, Oklahoma State
Dave Aranda, Baylor
Matt Campbell, Iowa State
Chris Klieman, Kansas State
Lance Leipold, Kansas
Surprisingly the conference with the highest ratio of "happy to have" guys, The Big 12 has a lot of quality coaches. Gundy is not only an alum but arguably the most successful coach in program history. Aranda showed just how good of a coach he is last season leading the Bears to the Big XII title, while Campbell has made ISU relevant again. Klieman has done a magnificent job making KSU a real threat, and we've waxed poetic plenty about the job that Leipold has done at Kansas. 
Pac-12:
Lincoln Riley, USC
Chip Kelly, UCLA
Kyle Whittingham, Utah
I'm a bit reticent to put coaches in their first year at a school on here, but the early returns are pretty darn good for Lincoln Riley at USC. Kyle Whittingham is a stalwart and isn't going anywhere for the Utes. And after a couple of tough seasons to open up his tenure at UCLA, Chip Kelly has the Bruins in a great spot and the recruiting is starting to follow too.
---
— And finally here are a few quarterbacks who aren't getting the national attention they deserve mainly because they play for schools that aren't often in the news.
Dorian Thompson-Robinson, UCLA
The fifth-year senior is doing so much for the Bruins, not only through the air but with his legs as well. He's the biggest reason that they're in the top 15 and have a legit shot at the playoff.
Sam Hartman, Wake Forest
After missing the first two weeks of the season, all Hartman has done is come back and picked up right where he left off last season. He has 16 TDs in five games and is top five in passer efficiency despite losing one of his top receivers to the draft and missing so much time in August.
Grayson McCall, Coastal Carolina
McCall continues to be one of the most underappreciated quarterbacks in the country. Despite losing all-American Isaiah Likely to the draft, he's come back and put up phenomenal efficiency numbers yet again. He's fourth in the nation in passer rating and has 15 touchdowns to only one pick.
Max Duggan, TCU
He had his national coming out party against Oklahoma last week, but he's been lighting it up al year in Sonny Dykes' new scheme.. He's using his legs really effectively and has 14 touchdowns through the air to just one interception. 
Garrett Shrader, Syracuse
The Orange are off to one of their best starts in years and a lot of it has to do with the dual threat ability of Shrader. He was instrumental in their big victory over Purdue a few weeks ago with both his arms and legs, and now has 15 total touchdowns on the season.