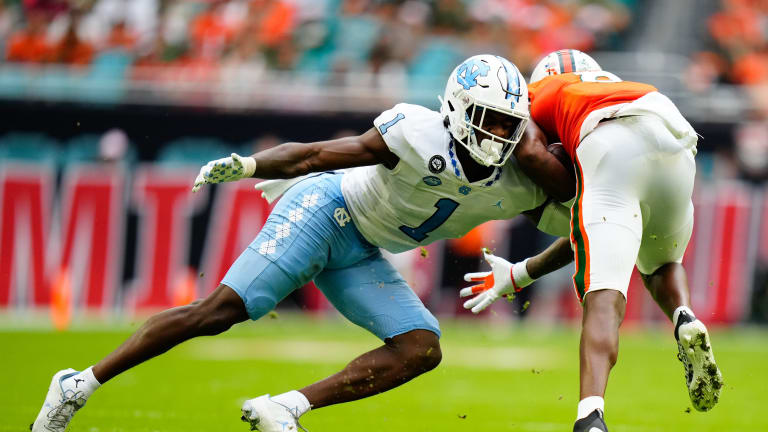 3-Point Stance: Top Non-QBs in the Portal, Portal QB Landing Spots, Well-Positioned Teams
National Columnist Mike Farrell is here with the 3-Point Stance looking at my overall Top 10 non-QBs in the portal, the top five at the most important position, and five teams ready for portal success.
---
Best Non-Quarterbacks in the Transfer Portal
— The best players aren't always quarterbacks, but there are some in the top 10. Here's my personal top 10 non- QBs available. This will change as new additions arrive and after future scouting evaluation.
1. WR Dominic Lovett, Missouri
2. WR Dorian Singer, Arizona
3. LB Dasan McCullough, Indiana
4. DE Tunmise Adeleye, Texas A&M
5. WR RaRa Thomas, Mississippi State
6. DB Fentrell Cypress II, Virginia
7. TE Kyle Morlock, Shorter University
8. DB Denver Harris, Texas A&M
9. DB Tony Grimes, UNC
10. WR Dante Cephas, Kent State
---
Best Portal Quarterbacks and Where They Should Land
— Okay, we all now quarterbacks move the needle and move the ball. Here are my top five and where they could land.
1. Hudson Card, Texas
The former four-star has had interest from darn near every team with a pulse, and it's easy to see why. Despite being beaten out by Quinn Ewers, Card still has the arm talent to make all the necessary throws and the requisite athleticism needed to escape the pocket. If Alabama comes knocking, it's going to be hard for him to turn down the Crimson Tide, but watch out for Oregon here.
2. Devin Leary, NC State
Injuries cut his 2022 campaign short, but Leary was one of the best and most efficient passers in the nation in 2021. He has great anticipation and doesn't turn the ball over much while being able to do more with his legs than most people think. He'll have a litany of offers, but Illinois and Missouri are two to watch.
3. Spencer Sanders, Oklahoma State
A bit of a surprising entry into the portal, the now-former Oklahoma State signal-caller has a couple of years of good play under his belt and will no doubt have plenty of offers. The Dallas native should garner interest from around the country and keep an eye on Florida.
4. Brennan Armstrong, Virginia
Coming into 2022, Armstrong was a dark horse Heisman candidate after an astounding 2021, where he accrued over 4,400 yards passing and 40 total TDs. But he and new head coach Tony Elliott's system did not click, and he's now in the portal. His ability to extend the play and take off with his legs makes him a versatile scheme fit, and he'll garner a lot of attention. He'd be a great fit at Wisconsin under new OC Phil Longo but Notre Dame is watching as well.
5. DJ Uiagalelei, Clemson
While 'Big Cinco' didn't quite live up to the hype as the number one overall prospect from the class of 2020, he's also shown at moments why he was so highly regarded as a prep. It has been long rumored that he and his brother Matayo are a package deal, and the latest rumors have the two California natives ending up at UCLA.
---
Teams Best Set Up for Transfer Portal Success
— And finally here are 5 teams I think are positioned for portal success.
1. Colorado
Call it the Prime Effect. Call it whatever you want. But Deion Sanders and the Buffs are already hitting the portal like mad, and they're the odds-on favorite to not only have the most players enter (and exit) via the portal but also to have some of the highest impact players, given Sanders' pull as a recruiter. They're going to bring in at least two dozen players, if not more.
2. Alabama
Nick Saban hasn't been shy about using the portal to fill needs, and this season will be no different but he will be more active. With more Tide players looking for new homes than usual, that means more roster spots are also available in Tuscaloosa. Alabama could be looking to add talent at all of the skill positions on offense as well as to help fill holes on the back end of the defense. 
3. Georgia
For a team that didn't bring in any transfers in 2022, the Dawgs are a bit of a curious entry into this category. But at this point, Kirby Smart and his staff are as adept at finding talent as anyone, and there will be plenty of spots for them to fill after what they are hoping to be a second consecutive national title run.
4. Florida State
Mike Norvell and the Seminoles landed some of the most high-impact edge rushers in the past two cycles, with Jermaine Johnson in 2021 and Jared Verse in 2022. Novell's willingness to give big roles to transfers early and get the most out of them. 
5. USC
The Trojans had one of, if not the best, transfer classes in the country coming into this season, and that paid off with a likely Heisman trophy for Caleb Williams and huge production from guys like Jordan Addison and Travis Dye. But Lincoln Riley needs to work some of his portal magic on the defensive side of the ball if he's going to get them over the hump and into the CFP.