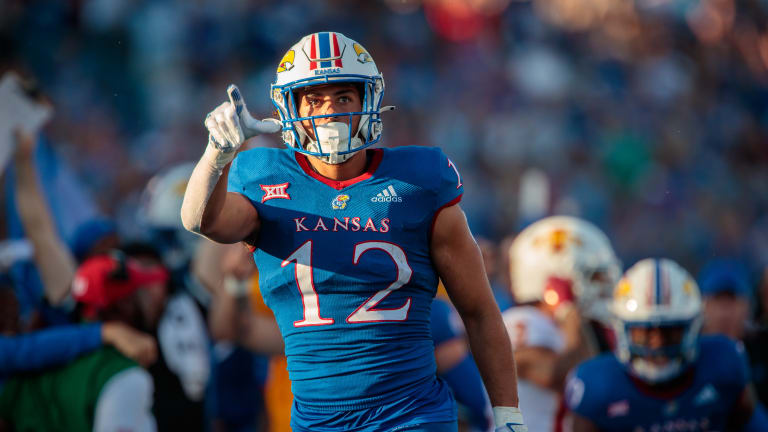 3-Point Stance: Who Needs Respect, Potential Firings, 2022 Surprises
National Columnist Mike Farrell is here with the 3-Point Stance, looking at teams not getting enough respect, five scenarios for surprise firings, and things we didn't think we'd see at this stage of the season.
---
— RESPECT. Aretha Franklin sang of it and college teams are seeking it but these schools aren't getting it.
Kansas
— They are finally ranked but c'mon? Behind TCU? Behind one loss teams like BYU? Kansas has beaten four solid opponents and are the feel good story of the college football season. A top 15 ranking should be in place by now, not No. 19.
LSU
— A one point loss to a solid FSU team in a game they could have won with an extra point and overtime and a solid win over Mississippi State should have them higher than No. 25.
Syracuse
— They are undefeated and have beaten mostly solid opponents and yet they are No. 22 in the country. They should be top 20.
Oregon
— The loss to UGA was horrible. I get that. But they've beaten Top 25 BYU and a solid Washington State team. No. 12 sounds high and it's probably right but they still don't get much national love.
Cincinnati
— The Bearcats ran the table last year and stumbled to a good Arkansas team in the opener but they've been really good since. No. 24 seems low.
---
It's still a bit of a shock that Wisconsin fired Paul Chryst this weekend. But let's spin it forward and figure out five more coaches who could be in for a surprise firing.
— 1. David Shaw, Stanford
The Cardinal haven't had a winning season since 2018 and there's a growing sense of complacency around the program. They haven't had the same level of toughness on their team in quite some time. They just aren't competitive in the PAC 12 and a change could occur if he has a 4-8 season.
2. Jimbo Fisher - Texas A&M
The Aggies will almost definitely be 3-3 after this weekend when they head to Tuscaloosa to take on the Tide, and some fans in College Station are starting to get impatient. All of the millions of dollars spent on him and all of the recruiting successes are still ending with the same results - Texas 8 & 4. And that's at best this season. It could be worse.
3. Eli Drinkwitz, Missouri
Despite coming close to knocking off top-ranked Georgia last weekend, the Tigers are still a work in progress and Drinkwitz is at the center of it. So even though they're improving on the recruiting end, it feels like if the season really gets away from them he could be gone. The Auburn loss really hurt his status and he needs to have a winning season after a 2-3 start.
4. Scott Satterfield, Louisville
Like Drinkwitz, a guy who is getting it done on the recruiting trail but not so much on the field. But at least Drinkwitz can fall back on the fact that he plays in the SEC, while Satterfield has a much softer ACC schedule. Louisville is maddening to watch and winless in the ACC.
5. Steve Sarkisian, Texas
Would it be a surprise? It sure would especially with Arch Manning in this recruiting class and all the hype around him. But a close loss to Alabama is the highlight of this season and a few more surprise losses like the Texas Tech one might make some boosters think twice.
---
— And finally, here are some things I didn't expect to see at this stage of the season.
College Gameday at TCU - Kansas
I was very vocal about how much I questioned the Sonny Dykes hiring and I can say that I have been very wrong about that so far. But the surprise here isn't that I'm wrong about Dykes. The surprise is that Kansas has gone from laughingstock of the college football world to cute story to plucky underdog to genuine threat in the Big XII conference under Lance Leipold. He's performing miracles at that program in short order.
Neither team ranked for the Red River Rivalry
You have to go back to 1998 for the last time between these classic rivals met when neither was ranked. And on top of that, the game feels like it has lost some of its juice. Despite not a great slate of games for week six, it still doesn't really feel like it's on the radar this weekend.
There are two winless teams in college football... and they're both in Colorado
We knew that this would not be a banner year for either the Buffs or the Rams. But I don't think anyone had it being this bad. Colorado has already fired Karl Dorrell, and Colorado State lost by 31 points to FCS Sacramento State just the other week. Thank goodness for Air Force.
Illinois' Dominant Defense
We all saw what they did to Wisconsin this past weekend, but they've been an outstanding unit all season. They're second in the nation in scoring defense, allowing 8.4 points per game, as well as fourth in total defense and rushing defense, and first in passing efficiency defense. Bret Bielema is proving yet again that he can still coach with the best of them.
Drake Maye torching the country
We've seen plenty of redshirt freshmen quarterbacks come in and have plenty of success, but rare is it that a true freshman comes in and is this good this fast. Maye leads the nation in passing touchdowns with 19 and has thrown only one interception. He's blown away all expectations.