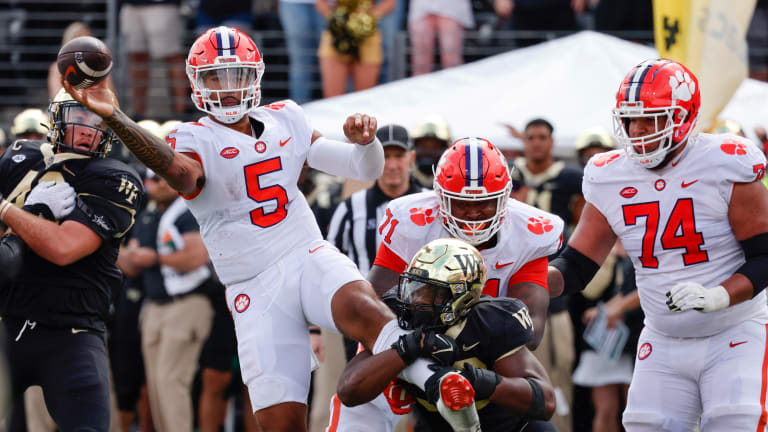 3-Point Stance: Who's Overrated, Guys Who Need More Touches, Teams on Upset Alert
National Columnist Mike Farrell here with the 3-Point Stance looking at overrated teams, five players who need more touches and teams on upset alert this weekend.
---
— Overrated. It's one of the best chants in all of sports. And these teams are overrated to me and will be exposed soon enough.
1. Clemson
— They are undefeated yes but that defense, especially on the back end, isn't as good as I expected. If you can contain the pass rush you can score on them and their offense is just so hit and miss. This doesn't look like a top five team.
2. Michigan
— The Maryland game was concerning. They have an easy schedule but proved, as I suspected, that Jim Harbaugh can have his team play down to competition. I had them at 8-4 this season and they will probably surpass that, but is this a 10 win team? Unlikely.
3. USC
— I expected a struggle on the road against Oregon State. Why? This is a still a team with a ton of new players and questions in the trenches. A loss or two on the road is inevitable.
4. Utah
— I had them as a playoff team at the start of the season and then they lost to Florida. And as we see, the Gators aren't that great and should have lost to USF. No. 12 in the country is a little heady.
5. Texas A&M
— The Miami win doesn't look good now. The Arkansas game likely should have been a loss and the offense doesn't look good. How are they No. 17 in the country with a loss to App State?
---
— Mizzou super freshman Luther Burden didn't get a touch in the Tigers loss to Auburn. However, an injury early in the game likely contributed to the lack of action and we will see if he plays this weekend. But if he does, you can bet he will get the football. Let's look at some other guys who need to get the ball in their hands more often for their teams to succeed.
1. Roman Wilson, WR, Michigan
Wilson is one of the most explosive players in the country, yet he's only got 8 catches on 12 targets through four games. He leads the nation with a staggering 18.9 yards after catch per reception, and has yet to drop a ball all season.
2. Brian Thomas, WR, LSU
The nation's leader in QB rating when targeted, all he does is catch balls. Despite this efficiency, however, he only has 13 targets for the season.
3. Keaton Mitchell, RB, ECU
I was going to keep this to just Power 5 players but Mitchell has been so good on so few snaps for the Purple Pirates that I had to add him in. He's already broken off 14 runs of more than 10 yards on only 46 attempts - those are staggering numbers.
4. Kaytron Allen, RB, Penn State
Much of the buzz has been around Nicholas Singleton, but Allen has arguably been better than Singleton, having earned a higher PFF grade through four games. Singleton has the big play ability, but Allen is so strong between the tackles.
5. Johnny Wilson, WR, FSU
We saw what he is capable of against Louisville when he almost single-handedly won the 'Noles that game. Yet, he's still only got 13 targets despite being top ten in yards per route run in the country.
---
— And finally these ranked teams could be in trouble this week.
1. #15 Washington (at UCLA)
The Huskies are everyone's darling right now after knocking off Michigan State and then decimating Stanford this past weekend. But they can ill afford to overlook the Bruins, who are rounding into shape and have the capability of grinding Washington down with their ground game.
2. #4 Michigan (at Iowa)
Yes, the Hawkeyes are about as anemic on offense as anyone in the country. But they can defend with the best of them, and they're insanely effective against Top 5 opponents at home - they've won seven of their last eight against opponents ranking in the top five in Kinnick.
#17 Texas A&M (at Miss. State)
We've seen the Aggies struggle offensively this season at times, but it is going to be critical that they pick it up in Starkville. Everybody knows that if Will Rogers and Mike Leach's offense can find a rhythm, they're hard to keep up with.
4. #25 Kansas State (vs. Texas Tech)
The Wildcats can ill-afford to rest on their laurels after their upset victory in Norman last weekend, as they've got a dangerous Texas Tech team coming into the Little Apple this weekend. We just saw the Red Raiders take down Texas, so it's going to be incumbent upon Adrian Martinez to not turn the ball over and give them extra opportunities to score.
5. #18 Oklahoma (at TCU)
I think this is the least likely of the matchups to turn into an upset, as the Sooners are going to be chomping at the bit to get back out after their loss to Kansas State. But TCU can put up some points and have the best wide receiver that Oklahoma has faced all season in Quentin Johnson.