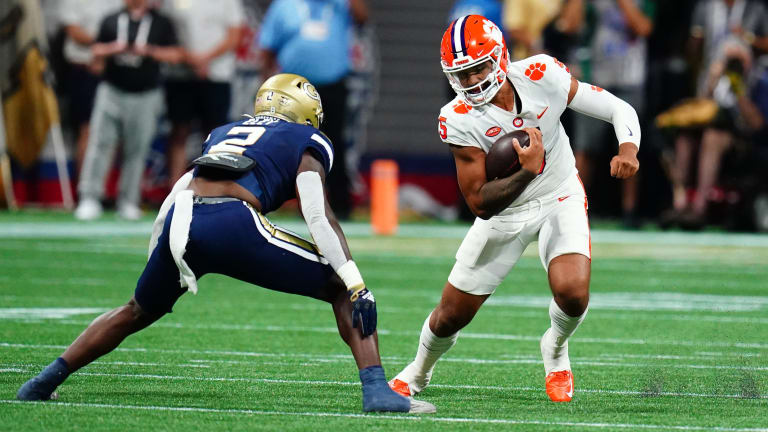 3-Point Stance: Worst Debuts, Brian Kelly, QBs Who Could Lose Their Job
National Columnist Mike Farrell is here with the 3-Point Stance, looking at the five worst coaching debuts of week one, why Brian Kelly won't work out at LSU, and some QBs that are about to lose their jobs. 
---
— Week one wasn't so great for some first year coaches. Here are the worst.
Brian Kelly: F
The Tigers looked lost for large swaths of their showcase against Florida State yet still somehow managed to be in it at the end. Their offensive line was not ready, and their special teams were simply a disaster. It could have gone worse, but not by much. But let's be real, is this gong to work out? More below.
Brent Pry: F
Pry and the Hokies lost to Old Dominion for the second consecutive season, and were extraordinarily sloppy. Five turnovers and 14 penalties for 100 yards is not the result Virginia Tech fans expected when they hired the blue-collar Pry.
Dan Lanning: F
Lanning's return to the state of Georgia turned ugly fast on Saturday afternoon as the Dawgs ran roughshod over the Ducks. What was particularly disconcerting was the fact that Oregon's defense was run off the field by Georgia's offense. It could be an anomaly, but it was not the way he wanted to start his tenure.
Jake Dickert: C-
Dickert coached his first game without the 'interim' moniker, and it did not go nearly as smoothly as it should have against FCS Idaho. Washington State eked out a 24-17 victory over the Vandals after going down 10-0 early in the game. They've got a tough road trip to Wisconsin this weekend and will need to hold on to the football better after fumbling three times against Idaho if they're going to have a shot at upsetting the Badgers.
Tony Elliott: C
The Cavaliers started a bit sluggish and let Richmond stick around far too long in their opener. Brennan Armstrong is clearly still getting used to Elliott's new scheme, and there may be some more growing pains along the way.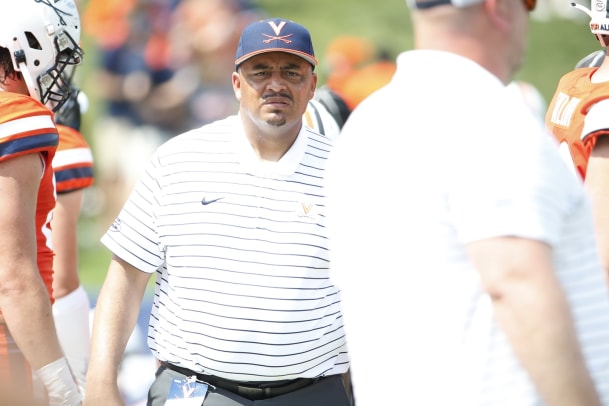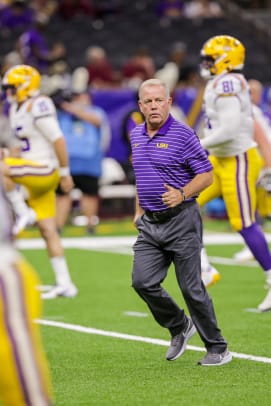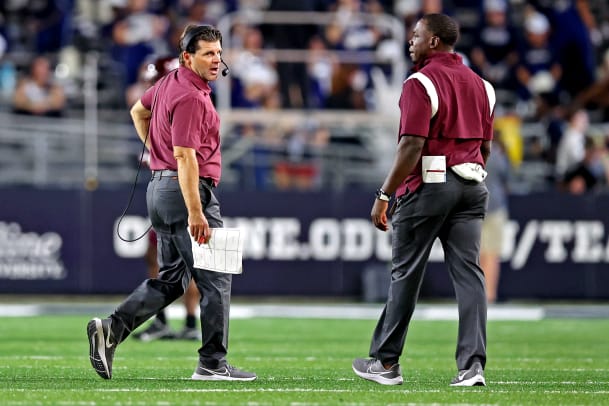 ---
— Ok let's talk Brian Kelly. I like him as a coach, he's very good. He's had success wherever he's gone and what he did at Cincinnati and then Notre Dame is astonishing in different ways. He took the Bearcats on the road to national prominence and took Notre Dame to the title game and two playoff appearances despite academic restrictions in recruiting. So why the heck won't it work out at LSU? Here's why…
Culture — Kelly is from Massachusetts and all his jobs have been up north. As a fellow New Englander I know how hard it can be to initially fit in down south. It's not that LSU fans won't want him to be successful, it's that if he isn't they won't have his back as much as they did for Ed Orgeron. Heck even Ohio born Les Miles transitioned better as he coached at Oklahoma State and the Dallas Cowboys before arriving at LSU. It can be done, we know this because Nick Saban came from Michigan State and had success. But is Kelly Nick Saban? His attempts to fit in from embarrassing recruiting videos to fake accents has made this hire somewhat of a joke nationally. And that's not good.
Roster management — Let's take Notre Dame as an example. ND players often make their decisions to attend as a 40 year decision and not a 3 year off to the NFL decision. LSU is different. There would be no Kayshon Boutte antics at Notre Dame and this is the tip of the iceberg. Kelly inherited a roster deplete of bodies because so many jumped into the portal after Ed O left. It's an easy place to recruit to but not easy to keep them on board and happy.
The portal — I referenced it above. Kelly is hard on his players and doesn't take a lot of crap. He's also a guy who has been known to throw players under the bus. In this day and age of NIL and easy transfers, Kelly could lose more talent than he lands. It's a fine line here. The portal could be amazing for them or it could be a disaster.
Media — Kelly has already had one spat with the media and he's played one game. This is a guy who can get rattled and upset quickly if things aren't going well and media perception is crucial to head coaches these days. If things get bad on the field, things will get worse in the media.
Stubbornness — We all know Kelly is stubborn and sticks to what he knows. Notre Dame fans are spoiled by his success and honestly don't appreciate him enough but they have a good point when it comes to his recruiting and lack of QB development. Kelly wants what he wants and won't waiver. 
---
— And finally here are some QBs on the verge of losing their jobs.
DJ Uiagalelei, Clemson
Clemson rolled against Georgia Tech, but Uiagalelei still made some of the same mistakes he made last season, despite having better protection. With Cade Klubnik seemingly ready to go behind him, it's just a matter of when, not if, Dabo Swinney hands the keys over to the five-star freshman.
Spencer Petras, Iowa
Petras was already in hot water with Iowa fans before the debacle against South Dakota State, but that was a new low. Backup Alex Padilla at least offers something with his legs, and in week one, the Hawkeyes' line did not look like a vintage unit.
Bo Nix, Oregon
Week one did not go as planned for Nix and the Ducks, and with 2021 five-star Ty Thompson behind him, there's obviously a lot of clamoring to see what he can do on the field. With FCS Eastern Washington coming to Autzen this weekend, it's the perfect time to get him some reps before they have to take on the teeth of their schedule.
Cade McNamara, Michigan
In effect, McNamara has already been quasi-benched for JJ McCarthy for week two in one of the more bizarre ways to open a season we've seen. McCarthy can do more on the ground than McNamara, and gives the Wolverines a higher upside. McNamara isn't technically a starter but he was last year and won't be after this weekend.
Grant Wells, Virginia Tech
Wells was awful in the Hokies' opener, throwing four interceptions en route to a loss to Old Dominion. The problem, though, for Virginia Tech is that there is almost zero depth behind him. Brent Pry may have a more significant rebuild than most people thought.
TJ Finley, Auburn
The Tigers easily dispatched FCS Mercer, but Finley made it more difficult than it should have been, throwing two picks and seeming a bit out of sync with his receivers. Oregon transfer Robby Ashford looked good in limited action and could push for the starting job sooner rather than later.