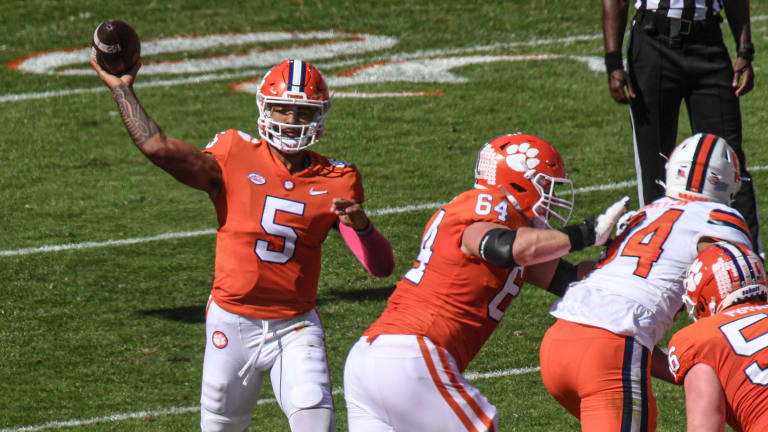 Fact or Fiction: Jermaine Burton, DJ Uiagalelei, Desmond Howard
In today's Fact or Fiction, I look at three big recent topics in football recruiting and decide whether the statement is indeed FACT or if it's FICTION.
---
1. Jermaine Burton should have been suspended.
Farrell's take: FACT
The Alabama WR was seen taking a swipe at a Tennesee female student after the loss to the Vols as fans rushed the field. It was unwarranted and unacceptable and head coach Nick Saban should have done something about it. Even if Saban has a history of being lenient on his players from his days way back at Michigan State, he should at least make an effort to look like he cares. Suspend him for a game at least, anything. The fact he was playing this past weekend speaks to Saban's want to win at all costs and how bulletproof he is as the best college coach to ever roam the sidelines.
2. DJ Uiagalelei should remain the starter at Clemson.
Farrell's take: FICTION
Dabo Swinney made a gutsy call to bench his starting QB for freshman Cade Klubnick in the third quarterback trailing Syracuse 21-10. And it worked as Clemson kept their playoff hopes alive with a comeback win. So with an undefeated season on the line, they should stick with Uiagalelei and his experience right? Nope. This won't be a popular take at all as DJ has improved quite a bit since an awful season last year and Klubnick barely threw the ball in the comeback win. But I saw a different energy from the Clemson team on both offense and defense when Klubnick got in the game and it's just a hunch but I have a feeling this Clemson team needs a shot in the butt. Notre Dame, Louisville, Miami, and South Carolina aren't a tough end to the schedule but the effort I saw with Uiagalelei on the field won't lead to an undefeated season.
3. Desmond Howard did it on purpose.
Farrell's take: FACT
His playoff predictions had to have been for attention and no one can convince me otherwise. The College Gameday analyst chose Michigan, Texas A&M, Pitt, and Baylor to make the four-team playoff and only a couple even come close to making sense. I can see Michigan because he's a former great for the Wolverines and their schedule is easy perhaps an argument can be made for Baylor in the unknown that was the Big 12. But honestly even picking Michigan is a stretch with Ohio State looking so strong in the pre-season. But let's give him a pass on that one since Michigan is undefeated and beat Ohio State last year to make the playoff. Baylor has been pretty disappointing this season at 4-3 so that looks like an awful pick. But Pitt and Texas A&M? These are just awful. Pitt is 4-3 and with the loss of Kenny Pickett and Jordan Addison, no one expected an undefeated season which is what's needed in the ACC. No one. And A&M? They are 3-4 and would have had to get through both Alabama in their division and Georgia. No one felt that was going to happen. We see right through this Desmond.