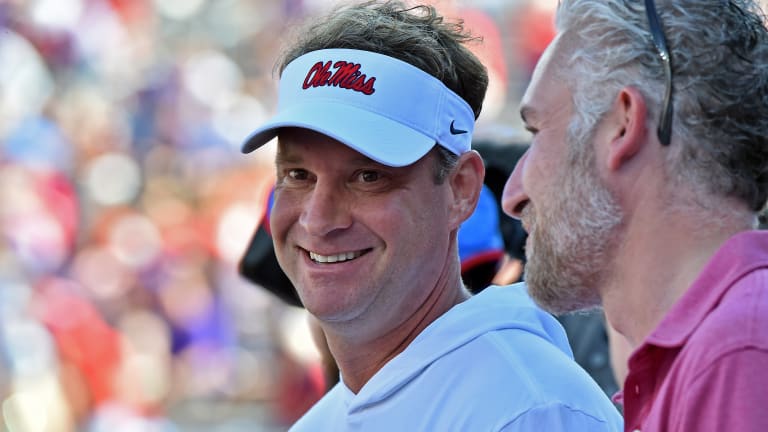 Five Coaches That Fit Their Schools Best
Which coaches fit like a glove?
Sometimes, a school hires a coach that doesn't quite make sense culturally (ahem, Brian Kelly and LSU.) Here's five coaches you can say the exact opposite about.
---
1. Sam Pittman & Arkansas
Sam Pittman fits in Arkansas perfectly. He has that grit that hog fans love. Pittman looks like an Arkansas Razorback. He has also done great on the field. The former Georgia staffer took over a team that was 8-28 in the three seasons before his arrival. He went from 3-7 in 2020 to 9-4 in 2021. It only took him two seasons to turn that program around, and I don't think he's stopping anytime soon. I believe Arkansas will keep getting better as long as Pittman is around.
---
2. Kirk Ferentz & Iowa
It seems like Kirk Ferentz has been with Iowa forever. He became the head coach back in 1999 and is still going strong. Ferentz recruits' kids from Iowa that other programs have overlooked and has been very successful in that approach. He has only missed out on a bowl game three times and has led the Hawkeyes to six double-digit win seasons. Last season was another example, with ten wins and a Big Ten Championship appearance. I could see Ferentz coaching in Ames for another 20 years.
---
3. Kirby Smart & Georgia
Kirby Smart bleeds red and black. He played there in the 1990s and rides for his alma mater. He also loves winning football games. After winning eight games in his first season in 2016, Kirby and the Dawgs have won at least 11 games. Minus the shortened 2020 season, where they went 8-2. He has taken Georgia to the College Football Playoff twice and won the 2021 National Championship. Georgia loves Kirby Smart, and he loves them, so I can see this relationship being successful for a long time.
---
4. Shane Beamer & South Carolina
Shane Beamer has been a great fit at South Carolina so far. He brings some much-needed hype and energy to that program. He managed to get transfer QB Spencer Rattler and TE Austin Stogner from Oklahoma, which is good because they did not have a quarterback last season. Being said, Beamer still led the Gamecocks to a 7-6 record in 2021 and a bowl game win against UNC. A big step up from the 2-8 record in 2020 and 4-8 in 2019. Beamer is changing the culture in Columbia, and he is changing it for the better.
---
5. Lane Kiffin & Ole Miss
Lane Kiffin fits in with Ole Miss's party school feel. He is a funny, easygoing coach that feels like he could be in a frat in Oxford. Don't get me wrong, Kiffin is all business with his football team. After going 5-5 during the covid season, he led the Rebels to a ten-win season last year. Ole Miss didn't win more than six games between 2016 and 2020, so this was a big deal. I look for Kiffin to keep Ole Miss relevant and help them keep improving.