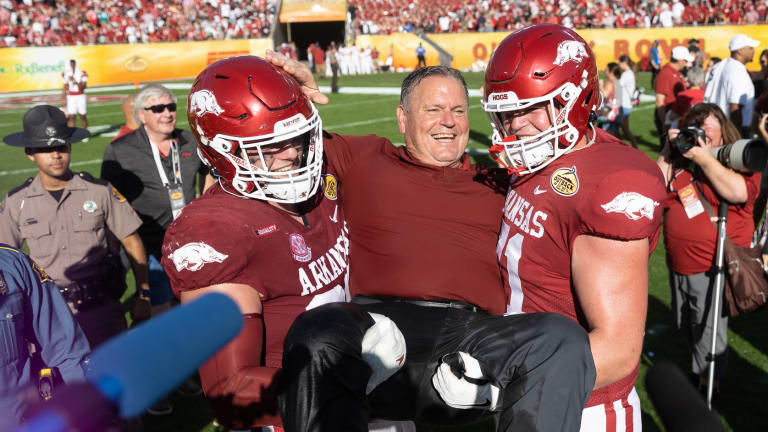 Staff Picks: Cincinnati vs Arkansas
The staff at Mike Farrell Sports chooses sides in the non-conference showdown.
Cincinnati became the first G5 team to make the college football playoff. The Bearcats lost many key players to the draft and will have a sizable test against the Razorbacks in Fayetteville. Below are the Mike Farrel Sports Picks for this Week 1 matchup. 
---
Mike Farrell- Arkansas 
The Razorbacks will win this battle at home. 
---
Cory Lemer- Arkansas 
Cincinnati has lost two straight games to SEC opponents, and the Razorbacks will dominate the rebuilding Bearcats. 
---
Matt Perkins- Arkansas
Cincinnati has lost many key players on both sides of the ball. I can not imagine they will be able to match the physicality of the Arkansas O-line. The Bearcats always fight, but the Razorbacks are tougher.
---
Timothy Bailey- Arkansas
Cincinnati's last two losses were against Alabama and Georgia. While Arkansas is not Alabama or Georgia, they will still win due to the lost talent of the Bearcats. 
---
James DeCarlo- Cincinnati 
Cincinnati and Arkansas are one of my favorite matchups this week. I can honestly see this game going either way. I think Luke Fickell and the Bearcats pull off the upset. 
---
Kyle Golik- Arkansas
Arkansas wants to slam the door on the CFP crashers. There is a legit dogfight to get an NY6 game, assuming 2 SEC teams make it. Arkansas will win. 
---
Unnamed Source-Arkansas
KJ Jefferson has got that dog in him. Arkansas players were crying after beating the brakes off Texas A&M last year. Losing to Cincy would be a step back. I think Arkansas can beat anyone if healthy this year. Cincy lost many of its best players to the draft. Arkansas returns many starters and brings in a few stud transfers. Cincy couldn't hang with the SEC last year, and I doubt anything has changed. Give me the Hogs, 42-24.
---
Luke Brumm-Arkansas 
Cincinnati has lost a lot of production, leading to an easy Arkansas win. 
---
Noah Dzik- Arkansas
I believe KJ Jefferson and the Razorbacks will expose what the Bearcats lost on defense. Arkansas will win and cover.
---
Paul Wangsmo- Arkansas
KJ Jefferson is a great QB leading to an Arkansas win. 
---
James 1-0
Cory 1-1 
Mike 1-1
Kyle 1-1
Matt 1-1
Unnamed Source 1-1
Shayne 1-1
Noah 1-1
Paul 1-1
Luke 1-1
Tim 0-2