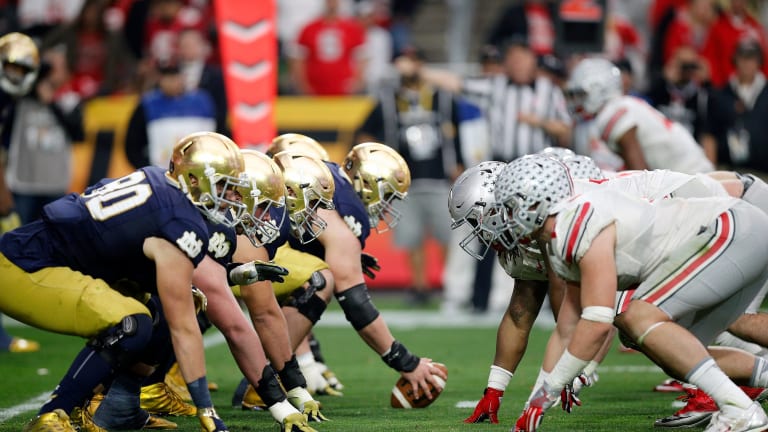 MFS Staff Picks: Ohio State vs Notre Dame
The staff at Mike Farrell Sports preview the big matchup in Columbus.
---
The Marcus Freeman Era officially starts at Notre Dame. The 5th-ranked Fighting Irish take on the 2nd-ranked Buckeyes in Columbus on September 3rd at 7:30 ET. Below are the Mike Farrell Sports staff picks for the Week 1 matchup.
---
Mike Farrell- Ohio State 
Ohio State will roll Norte Dame with their offensive tempo. 
---
Cory Lemer- Ohio State
The Buckeyes have one of the top WR rooms in the country, along with a top RB. I struggle to believe the Freeman Defense can stop all this firepower.
---
Timothy Bailey- Ohio State
Both teams have struggled in big games like this in the past. The difference is the Buckeyes have Jaxon Smith Njigba, and Notre Dame does not. I predict that Ohio State is the victor in a close game. 
---
Matt Perkins- Ohio State
The Buckeyes are 2+ touchdown favorites at home for a good reason. They have the best offense in the country, while I expect the Irish to struggle offensively other than Michael Mayer. Ohio State should put up big points, winning 45-20. 
---
Unnamed Source- Ohio State
The Buckeyes have a deep and talented offensive roster. I expect there to be some growing pains early on with their new defensive scheme. Notre Dame could capitalize on this fresh defense, but with a new QB running their offense I struggle to see the Irish getting over the hump this season. Give me the Buckeyes 48-27.
---
Luke Brumm- Ohio State 
Ohio State is going to run away with this game. The Irish are on the road with a first-year head coach and a new QB. They will not be ready for the electric Buckeyes offense. 
---
James DeCarlo- Ohio State 
This matchup will be a statement game setting the tone for Ryan Day's team season. The first-year HC Marcus Freeman has started well in the offseason. Regardless, starting with a road game against the Buckeyes is not one I see them winning. 
---
Noah Dzik- Ohio State 
Offensive firepower will lead Ohio State to a home-opening win. 
---
Paul Wangsmo- Ohio State
Ohio State has one of the best offenses in College, leading to an easy Ohio State win. 
---
Kyle Golik-Norte Dame 
I feel the Irish can upset the Buckeyes. Both sides are familiar with each other. Ohio State is loaded, but they always start slow. They won because the teams they played in weren't that good. 
---
Shayne Pickering- Ohio State
The Ohio State offense will force Norte Dame to have to keep up. That gives the Buckeyes the edge statistically. Ohio State pulls away in the second half and starts the season on a high note. 
---
James 1-0
Cory 1-1 
Mike 1-1
Kyle 1-1
Matt 1-1
Unnamed Source 1-1
Shayne 1-1
Noah 1-1
Paul 1-1
Luke 1-1
Tim 0-2