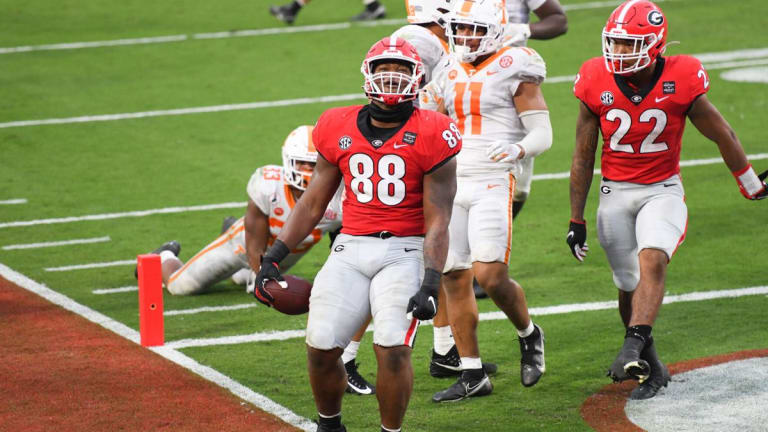 Staff Picks: Oregon vs Georgia
The 2021 national champion Georgia Bulldogs look to continue their dominance against the Oregon Ducks. Former UGA DC Dan Lanning will make his head-coaching debut against his former team. The game is at 3:30 ET and will be in Mercedes Benz Stadium in Atlanta. Below are the Mike Farrell Sports staff picks for this Week 1 matchup.
---
Mike Farrell- Georgia
This game will not be close, and Georgia will destroy Oregon by 24. 
---
Cory Lemer- Georgia
The Bulldogs lost many key players on the defensive side of the ball; however, Oregon does not have the offense to expose those holes. 
---
Matt Perkins- Georgia 
Georgia and Oregon is the biggest Week 1 game. Georgia lost many players on defense. Players like Jalen Carter and Nolan Smith will look to fill holes and continue the dominant Bulldog defense. At the end of the game, the Bulldogs will pull away and win 31-13. 
---
Timothy Bailey- Georgia
Let me be blunt if Oregon were to win this game, it would be nothing less than shocking than the win they pulled off in Columbus last year. Lighting will not strike twice. Dawgs win in a virtual home game. 
---
Unnamed source- Georgia Dawgs
Last year, Oregon marched into Columbus and stole a win against Ohio State. Oregon is not afraid to play in a hostile road environment. Dan Lanning knows what Georgia brings on offense and defense. His schemes will reflect his experience with the Bulldogs. Is Georgia the more talented team? Yes. Does that matter? Also yes. Oregon should have a schematical advantage in this matchup. Bo Nix has something to prove in what is likely his last shot to bring down the Dawgs. I like the experience Oregon has on defense. I'd expect a close game highlighted with a few big plays. Can lightning strike twice on the opening week for Oregon? I don't think so. Give me the Dawgs, 35-31.
---
Luke Brumm-Georgia 
The Dawgs will show everyone they still have a great defense and give Bo Nix problems for a fourth straight year. Georgia wins and maybe even covers the spread. 
---
Kyle Golik-Georgia 
This game will be a defensive battle, with each team scoring four times.
---
James DeCarlo- Georgia 
Bo Nix has experienced losing to Kirby Smart. Playing in Georgia and beating the defending national champions does not seem believable for Dan Lanning's debut. 
---
Paul Wangsmo- Georgia 
Georgia still has a lot of firepowers left from last year's team, leading them to an easy win in Atlanta. 
---
Noah Dzik- Georgia
Bo Nix clashes heads with former SEC rival Georgia. I think this game will be fun and explosive. The Dawg's defensive line will control the game and propel Georgia to a close win. 
---
James 1-0
Cory 1-1 
Mike 1-1
Kyle 1-1
Matt 1-1
Unnamed Source 1-1
Shayne 1-1
Noah 1-1
Paul 1-1
Luke 1-1
Tim 0-2