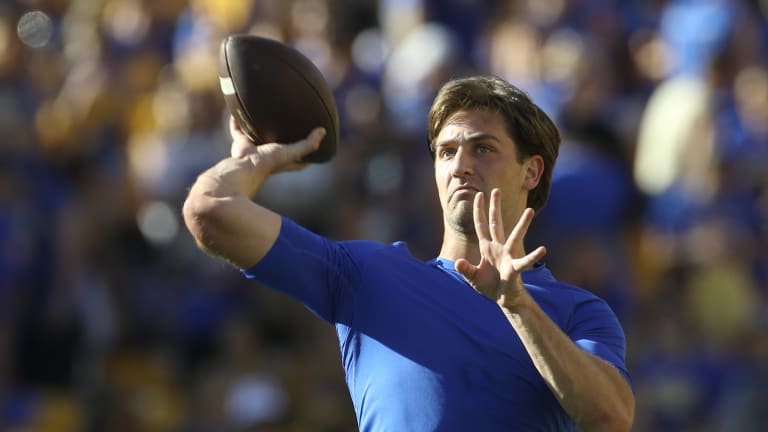 Staff Picks: The Backyard Brawl
For the first time since 2011, the Backyard Brawl is returning. The 105th edition of the game will feature former USC Signal callers Kedon Slovis and JT Daniels. The 17th-ranked Panthers open as the favorite for the game, which will be played in the newly named Acrisure Stadium in Pittsburgh at 7 p.m. ET Thursday night. Below are the Mike Farrell Sports staff picks for this Week 1 matchup.
Mike Farrell- Pittsburgh 
Pittsburgh has a better defense and o-line, and Kedon Slovis is better than JT Daniels. 
Cory Lemer – Pittsburgh 
The Panther's defense should be able to handle the West Virginia offense; however, both offenses struggle with new signal callers leading to a 41-35 Pittsburgh win. 
Timothy Bailey – West Virginia 
Big 12 play for the Mountaineers can go either way this year, but in this matchup of former USC signal callers, Timothy will take WVU. West Virginia has been hungry for this game for years and is trending upwards with HC Neal Brown. 
Luke Brumm – Pittsburgh 
The Panthers are home for this matchup and are the better team. Slovis will do pretty well, and Pitt overall is a better team. Panthers by Seven. 
Kyle Golik – Pittsburgh
West Virginia is a mess. Last season WV was competitive in rivalry games. The Panthers will pull away and win this game. 
Paul Wangsmo – Pittsburgh 
The Pitt defense is elite this year and returns many starters from last year. This game is also being played in Pittsburgh, giving the Panthers a home-field advantage. 
Noah Dzik – Pittsburgh
West Virginia lost RB Leddie Brown to the NFL, massively decreasing production. The Pittsburgh offense brings in Kedon Slovis and keeps most of their starters, leading to a Panthers win. 
Shayne Pickering – Pittsburgh
Pittsburgh loses Kenny Pickett and Jordan Addison; however, Kedon Slovis and Konata Munford can help replace production. The offense should still produce at a high level giving the Panthers the overwhelming win.
Unnamed Source – West Virginia 
Kedon Slovis was better than JT Daniels at USC. Pitt has a better defense and receiving core. West Virginia's defensive line should match up well against Pitt's run game. Historically this game has been competitive regardless of how good both teams are, including tons of upsets. Despite the built-in home-field advantage, I expect Pitt to get WV's best effort. While it is an illogical outcome, give me West Virginia 27-21. "Mountaineer nation, let's ride." - JT Daniels
Matt Perkins – Pittsburgh
West Virginia will not be able to move the ball efficiently against Pittsburgh's defense. Calijah Kancey and Habakkuk Baldonado are too good on the defensive side of the ball. Slovis has shown he can produce consistently at a high level. I like the Panthers at home by two touchdowns. 
James DeCarlo- Pittsburgh 
The Back Yard Brawl should be a fun game with former USC QBs dueling it out. Slovis is more polished than Daniels, which should be the difference in a Panthers win. 
Prediction Records
Unnamed Source- 1-0 
Cory- 0-1
Mike- 0-1
Kyle- 0-1
Matt- 0-1
Tim- 0-1 
Paul- 0-1 
Noah- 0-1
Shayne- 0-1
Luke- 0-1
James- 0-0