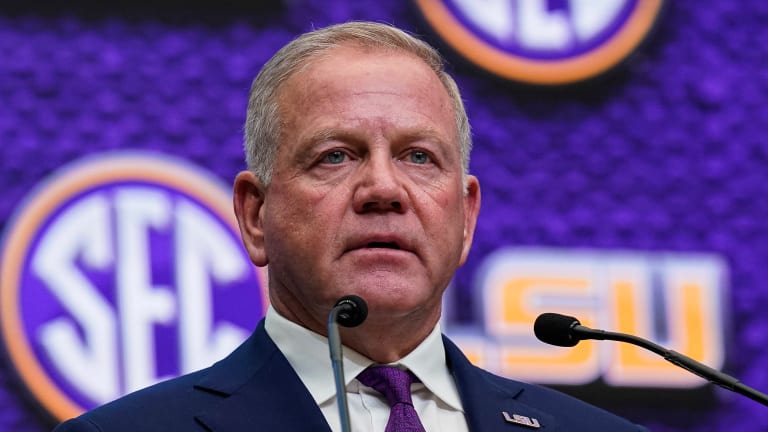 Staff Picks: LSU vs. Florida State
On a rare Sunday-night, college football matchup, the Florida State Seminoles head into the cajun territory to face the LSU Tigers. Playing in Lil Wayne's hometown, the Tigers are sure to have the crowd behind them at their second home, the New Orleans Superdome. Below are our staff picks for the outcome of this primetime matchup. 
---
Derek- Florida State
For tonight's game, I've got to take Florida State. Despite a lackluster passing game against Duquesne, I think the Seminoles ground game, defense, and momentum can close the gap and take home a narrow victory.
---
James DeCarlo- LSU
FSU and LSU. This game is an easy pick for me, as I am a big proponent of SEC trumps all. I️ like Jordan Travis and think he can be an X-factor in the game, but I️ do not believe it will be enough to beat the Tigers. Essentially a home game at the Superdome, I️ think Brian Kelly will come out ready to play. Although he never formally announced his starting QB, I expect Jayden Daniels to get the nod. I️ really like Daniels, as he was dangerous and displayed his potential while at Arizona State.
---
Adam- LSU
I got LSU in a close contest. I believe the tigers will control the line of scrimmage over the course of four quarters. FSU keeps it close, but the offensive line and defensive line play ultimate gives LSU the edge, in my opinion. 28-24, Tigers.
---
Matt Perkins- Florida State
I am very conflicted about this game. If I had to place a bet on this game, I would take the under. Currently, it's at 50, and I would be shocked if both of these teams scored more than 20 points. Florida State already has a game under their belt, but they struggled with Duquesne. The Bayou Bengals, on the other hand, are playing their first game under new head coach Brian Kelly, and half of their roster feels like transfers, so they are a complete wild card. Gun to my head, I will take the Noles (gulp) 20-17.
---
Tim Bailey- Florida State
The game could go either way, but I think Mike Norvell gets a much-needed victory, and Brian Kelly continues his documented struggles with the Seminoles. 
---
Unnamed Source- LSU
This game is going to be a fun matchup. I believe that LSU has the potential to be a great team this year. There are too many unknowns about this team to feel confident right now. Florida State isn't much better. They are likely better than last season, and their D-line could give LSU trouble. This year is do-or-die for coach Norvell and FSU. The almost-home-field advantage will work in LSU's favor. I like the upside of FSU's offense in this game, but not as much as the ceiling of LSU. The Tigers will be ready to kill in the electric environment in New Orleans. Give me the Tigers, 42-10. 
---
Michael- LSU 
LSU is playing in their backyard, and beating LSU at home is a tall task for the Seminoles. Brian Kelly will have the Tigers looking completely different offensively, and the Seminoles will leave wondering if giving Norvell another year was the right call.
---
Mike- LSU
I like LSU in a close one here because they will be playing a pseudo-home game, and I do not believe in FSU just yet. 
---
Luke- LSU
I believe LSU will get the win in New Orleans on Sunday. Brian Kelly and his team will be motivated and basically playing a home game. LSU has talented WRs, and I expect Ojulari to be big on defense. I am taking LSU to win 21-13, with Brian Kelly getting a win in his first game as LSU coach.
---
Cory- LSU
While Jordan Travis and FSU seem to have a solid team this year, Brian Kelly will win in his debut. I do not think the FSU defense can keep up with playmakers like Jayden Daniels, Jack Bech, and Kayshon Boutte.