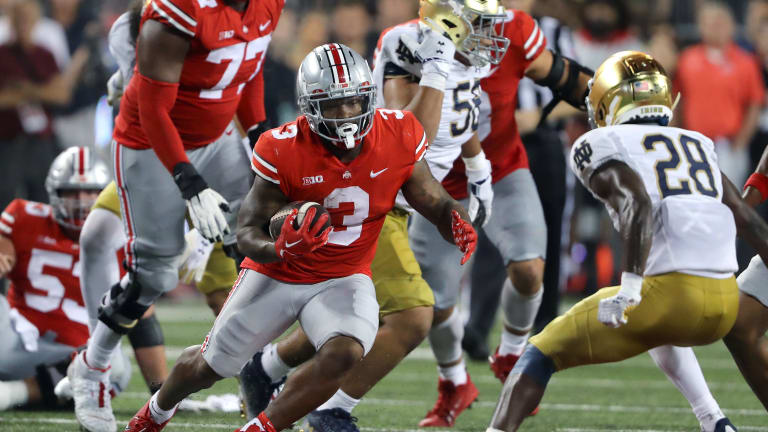 The OSU's National Recruiting Prowess
Following a decade of dominance both on the field, and in recruiting ranking, today we take a look a what has made the Ohio State University such a dominant force on the recruiting trail. 
---
Over the last decade, The Ohio State Buckeyes have established themselves as a football powerhouse and perennial National Championship Contender. The Buckeyes have been one of the best on the field and in recruitment rankings for a long time. It is not a mystery why Ohio State has been successful. They have had 157 players drafted in the NFL since 2000. It's not rocket science; producing lots of NFL talent leads to wins. Well, this article is going to be about HOW the Ohio State Staff have been able to recruit at such a high level and WHY they have been able to land recruits all over the country.
---
How?
One of the reasons Ohio State has been so successful is they have thrived in recruiting nationwide. A lot must go right to be a perennial national championship contender. Many schools have put money into their programs to maintain competitiveness. Factors such as Facilities, Coaching Staff, and NIL potential play a role in the decisions for top prospects. However, it seems clear the most important factor in the recruiting process for the nation's top prospects has become the potential to play at the pro level and what school will develop them into a future NFL Draft Pick. Elite high school players want to make a lot of money.
Ohio State has been a model of consistency on the field for the better part of two decades. As mentioned earlier, The Buckeyes have the highest number (157) of players drafted in the NFL since 2000. While Alabama has a few more first-round picks (39-34), Ohio State can say they are the best program in the country at producing NFL Draft Picks. Believe it or not, that statement holds weight in the mind of the top high school players.
Since Ryan Day's tenure at Ohio State is recent, we must go further back to understand. After the Jim Tressel era ended in Columbus, Ohio State AD Gene Smith hired Urban Meyer to return the program to title contention.
---
On the back of his success on the recruiting trail, Meyer led the program to its first national title since 2002, winning the first college football championship in 2014. Meyer established a football factory, recruiting some of the best classes in the country yearly and developing high-level prospects into NFL Draft Picks. Meyer never had a class rank outside the top 5 nationally, with multiple recruiting classes finishing No.2 (247). In turn, Ohio State saw immense success on the field, losing no more than two games at any point of the Meyer Era. Insane. Fast Forward to 2022, and Ohio State has maintained that level of success. After spending two years as a QB Coach in the NFL (Eagles and 49ers), current Head Coach Ryan Day joined Urban Meyer's staff as the co-Offensive Coordinator and QB Coach in 2017. After spending two years learning how the machine runs in Columbus, Urban Meyer selected Day as his successor when he resigned in 2019. One would assume Urban would choose not only an elite coach but a coach who could continue the level he established on the recruiting trail, and Day was up to the challenge.
Under Ryan Day, Ohio State has not put together a class outside the Top 7. In his first class, Day hauled in the 7th ranked class in 2019 with two future first-round picks in Jameson Williams and Garrett Wilson. While also landing Justin Fields in the transfer portal. Day has only improved, following up with the 5th class in 2020, 2nd in 2021, and 4th in 2022 (247). Ohio State has consistently secured some of the best-recruiting classes in the country.
---
WHY?
Now that we have established how Ohio State is such an attractive destination for recruits, it is time to focus on why Ohio State has experienced sustained success in identifying, recruiting, and developing great football players.
Ryan Day assembled a staff with coaches who are excellent recruiters. WR Coach Brian Hartline is not only one of the best position coaches in the country but among the best recruiting tool. He recently coached three first-round NFL Draft picks in Jameson Williams, Garrett Wilson, and Chris Olave, with Jaxon Smith-Njigba poised to be the 4th. Off it, Hartline recently landed recruitments from 5-Star WR Brandon Inniss and top-60 WRs Noah Rogers and Carnell Tate. Oh, and he is a former 7-year NFL vet. Hartline is one of the most valuable assistant coaches in the country. On the defensive side, Secondary Coach Tim Walton only joined the program in January, leaving the NFL after serving as a CB Coach. Walton has already landed a pair of high 4-star CBS in Calvin Simpson-Hunt and Kayin Lee to help bolster the secondary that has had its issues in recent years. If you want to be an NFL player, is there anyone better to learn from than a longtime NFL vet and a longtime NFL coach?
Ohio State also has one of the best player personnel departments in the country. General Manager of Player Personnel Mark Pantoni is among the best in the nation at identifying talent. Pantoni and his staff excel at scouting the physical traits in recruits that Ohio State coaches can develop into difference makers.
---
So Now We Have Established two things.
1. Ohio State is the best in the country at producing NFL draft picks this century
2. Ryan Day is an excellent Head Coach who assembled a world-class staff
---
Being one of the premier places in the country to play college football, the Buckeyes have been able to recruit nationally. Of the 20 commitments in their 2023 recruiting class, only seven come from Ohio. While Ohio has significant high school talent, in recent years, Coach Day and his staff have transitioned to focusing heavily on players who fit their system, regardless of location. Consistently, Ohio State has been able to recruit top prospects from outside of its footprint. A factor could be that historically competitive programs have had problems of late. Programs such as USC, Texas, and Miami struggling in recent years has seen top players go away from home. Since 2019, Ohio State has landed multiple 5-star or top-100 players from California, Texas, Florida, Washington, Missouri, Pennsylvania, Georgia, North Carolina, and Arizona (247).
What is holding them back? Why have they been unable to win a national championship since 2014?
Welp, in short, the answer is simple. Alabama. To be the best, you must beat the best, and Ohio State has not done that since 2014. What is interesting to note, in the most recent study I found, according to 247 sports in October 2021, Ohio State ranked 18th in recruiting spending. If you are a Buckeye fan, you are happy with where the program is. However, the yearly expectation in Columbus is at MINIMUM a CFP Playoff appearance, and most fans would expect them to play for a national title. If they have found this much success recruiting specifically out-of-state, what could they do if they ranked among the highest in recruitment budgets? Ohio State needs to spend the money to keep up with the rest of the college football elites. If they can get over the hump and bring home their first title since 2014 may depend on it.
---