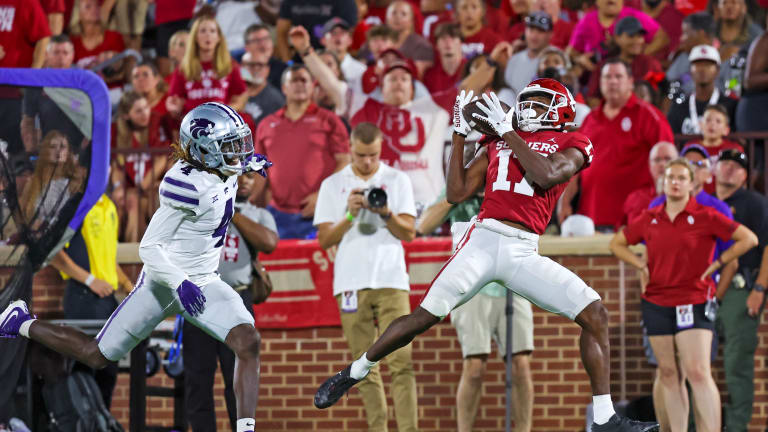 Biletnikoff Power Rankings: Week 4
The Fred Biletnikoff Award is presented to the most outstanding receiver each year. The award was created by the Tallahassee Quarterback Club in 1994, with Penn State WR (and current Wisconsin OC) Bobby Engram taking home the inaugural award. Pittsburgh WR Jordan Addison won the award last year and is looking to become the third receiver to win the trophy in back-to-back seasons. 
---
Outside Looking In (Alphabetical Order)
Brock Bowers, Georgia
Roderic Burns, North Texas
Jacob Cowing, Arizona
Daewood Davis, Western Kentucky
Grant DuBose, Charlotte
Zay Flowers, Boston College
Zakhari Franklin, UTSA
Xavier Hutchison, Iowa State
Charlie Jones, Purdue
Cedric Tillman, Tennessee
---
Top 3
#3 Ali Jennings III
 Junior, Old Dominion
Week 4 Stats: 4 receptions, 140 yards (35.0 YPC), 1 TD
Season Stats: 24 receptions, 559 yards (23.3 YPC), 5 TD
Ali Jennings once again was unstoppable. My main concern for Jennings is the level of competition he plays. Ali has played one game against a team that ranks in the top 50 for passing yards allowed, and that was week one against Virginia Tech. While Jennings had a solid performance that game, not playing challenging defenses like the others in the top three hurts him, in my opinion. 
---
#2 Jordan Addison
Senior, USC
Week 4 Stats: 3 receptions, 42 Yards (14 YPC), 1 TD
Season Stats: 21 receptions, 337 yards (16 YPC), 6 TD
USC struggled for the first time this year. Oregon State held the Trojans to just 17 points and forced USC to turn to the running game. Addison's stats were affected by this; however, he managed to have a solid day and haul in the game-winning touchdown late in the 4th. If I didn't have questions about Jennings, Addison would still be at third; however, Addison has shown what he can do against the top defenses, giving him the nod here. USC will face Arizona State this week, and I expect Addison to bounce back.
---
#1 Marvin Mims
Junior, Oklahoma
Week 4 Stats: 4 receptions, 87 Yards (21.8 YPC), 1 TD
Season Stats: 18 receptions, 397 yards (22.1 YPC), 3 TD
Marvin Mims is the new #1. Despite the loss against Kansas State, Mims had a solid performance with 87 yards and one touchdown. Mims is the favorite for this award, in my opinion, and will have a tough fight with Jordan Addison for the hardware. While Mims doesn't have the best stats, he is leading the Oklahoma receivers in yards this season and is yet to have a bad game.
Ali Jennings drops to third. The Old Dominion star falls on my list due to concerns about the level of competition he plays.
Cedric Tillman could be replaced as a contender soon. The Vols WR suffered an ankle injury against Akron and did not play in the win against Florida. There is hope Tillman will be back on October 8th against LSU.
Players like Brock Bowers, Xavier Hutchison, Charlie Jones, and Jacob Cowing are making a case to be put in the top three and could become new finalists as soon as next week.