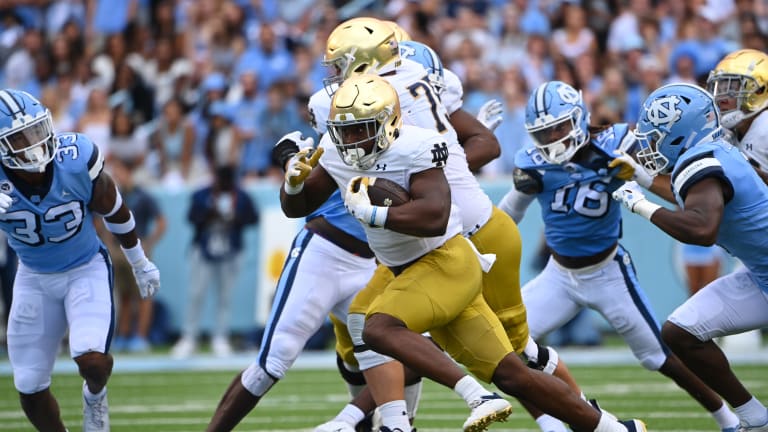 Breakout Players from Week 4
Who showed up in a big way?
TE Luke Schoonmaker – Michigan
Everyone knows that the Michigan running game with Blake Corum is lethal, but can the passing game continue to improve to make the offense more balanced? Schoonmaker's performance on Saturday, with a career-high seven receptions for 72 yards and one touchdown, will at least cause future defensive coordinators to spend some extra time during game prep to account for the reliable tight end.
WR Ja'Corey Brooks – Alabama
While a couple of wide receivers were added through the transfer portal, one of the few questions coming into this season for the Tide was if any of the returning players would rise to the occasion at the position. That may have been answered on Saturday when Ja'Corey Brooks totaled six receptions for 117 yards and two touchdowns. With games coming up against Arkansas, Texas A&M and Tennessee, will Brooks become the consistent and reliable threat that the Tide need?
LB Bralen Trice - Washington
The Huskies offense has been the story through the first four games of the season, but if they really want to make a statement this season, the defense will need to continue to improve. Trice's performance on Saturday against Stanford could go a long way in accomplishing this. Finishing with five tackles, three tackles for a loss and two sacks, he has proven himself to be a big-play threat in 2022, which makes him one to watch as Washington heads into the meat of their schedule.
TE Baylor Cupp – Texas Tech
After signing with Texas A&M as a bigtime recruit, injuries derailed any chance of success for Cupp in College Station. He then decided that he needed a change of scenery which resulted in a transfer to Texas Tech. And on Saturday, college fans were finally able to see the potential that made him such an important recruit coming out of high school when he totaled four receptions for 65 yards and one touchdown during a come-from-behind victory over Texas.
RB Audric Estime – Notre Dame
There has been a lingering question regarding the Irish backfield since the end of last season, but Estime's performance on Saturday against North Carolina may have finally but an end to that. With 134 yards and two touchdowns on 17 carries, and 35 carries over the last two games, it looks as though Notre Dame may have found their workhorse for the remainder of the 2022 season.
DB Charles Arnold – Coastal Carolina
After redshirting last season, Arnold had his best collegiate game on Thursday night at Georgia State with a team leading nine tackles, to go along with his first two interceptions, for the undefeated Chanticleers.