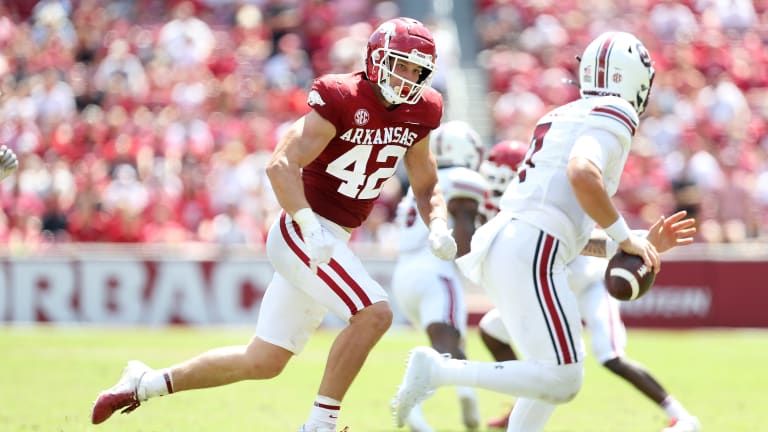 Butkus Award Power Rankings: Week 4
The Butkus Award, instituted in 1985 by the Orlando Athletic Club, is awarded annually to the best High School, College, and Professional Line-Backer. Oklahoma LB Brian Bosworth became the first recipient of the award and the award's first two-time winner. Georgia LB Nakobe Dean is the most recent recipient after having 72 tackles, six sacks, and two interceptions and leading the Bulldogs to the National Championship.
Outside Looking In 
Ben Bywater, BYU
Jack Campbell, Iowa
KD Davis, North Texas
Tommy Eichenberg, Ohio State
Nick Jackson, Virginia
Mikel Jones, Syracuse
Anfernee Orji, Vanderbilt
DeMarvion Overshown, Texas
Luke Reimer, Nebraska
Trenton Simpson, Clemson
Butkus Award Top 3
#3 Tyrice Knight
Senior, UTEP
Week 4 Stats: 7 tackles
Season Stats: 44 tackles, 5 TFL, 1 INT, 1 forced fumble, 1 PBU
Knight was again impressive against Boise State. The senior had seven tackles and was all over the field disrupting plays during the game. Due to his performance, Knight stays in the top three for the second week in a row. However, isn't clear of the pack yet, as many listed contenders are close to the top three.
---
#2 Daiyan Henley
Senior, Washington State
Week 4 Stats: 8 tackles
Season Stats: 38 tackles, 8.5 TFL, 4 sacks, 1 INT, 2 forced fumbles
Henley, like Knight, had another solid performance racking up eight tackles in a close loss against Oregon. The Washington State senior made and disrupted plays all over the field, helping him to stay in second this week.
---
#1 Drew Sanders
Junior, Arkansas
Week 4 Stats: 4 tackles, .5 sacks
Season Stats: 32 tackles, 7 TFL, 6 sacks, 2 PBU, 2 forced fumbles
The Alabama transfer continues to turn heads for the Razorbacks. In my opinion, Sanders is in his own tier when looking at these top three. Despite the loss to Texas A&M, Drew was a wrecking ball on defense and made countless plays in an attempt to stop the Aggie's offense. Drew is the Butkus favorite and needs to continue this pace in order to win the award.
---
Welcome to the Butkus contenders, Tommy Eichenberg. The Ohio State senior erupted against Wisconsin and made the case to be on this list. The top three didn't change this week. All three performed at a solid level and will keep their spots for the time being.