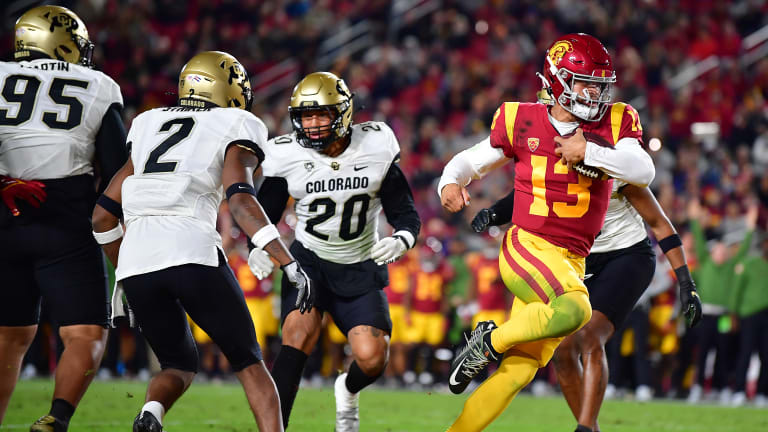 CFP and NY6 Predictions Following Week 11
Updated New Year's Six Projections
Sugar Bowl – Tennessee vs Kansas State  
I still have Tennessee heading to New Orleans for the Sugar Bowl, this time against Kansas State. K-State has looked good for most of the season, and if they win, they will make the Big 12 Championship. I have them losing to TCU in that one and joining the Vols in Louisiana. I would say that Tennessee would come away victorious right now, but I would have to see who sits out for Tennessee. 
Rose Bowl – Michigan vs Oregon
Michigan stays in the Rose Bowl this week, playing against Oregon. The Ducks lost a close one against Washington last week that knocked them out of Playoff contention. This would be a fun matchup and I think Michigan beats Oregon and wins its first Rose Bowl since the 1997 season. 
Orange Bowl – Alabama vs Clemson 
I have the same matchup as last week in the Orange Bowl as well. Alabama and Clemson both stay put after winning last weekend. Clemson beat Louisville and the Tide beat 11 Ole Miss in a great game that came down to the wire. I have Alabama winning this matchup that we are used to seeing in the CFP. 
Cotton Bowl – LSU vs UCF
LSU remains in the Cotton Bowl and will face the Golden Knights of UCF. I had Tulane here last week, but UCF beat them to take the top group of five spot. They are currently ranked 20th, with Tulane and Cincinnati closely behind them at 20 and 25 respectively. Central Florida has beaten both of those teams, so I see them making a New Year's Six game. I do have them losing, however. I see LSU getting revenge from 2018 and beating UCF easily. 
CFP Semifinals and Championship Game
Peach Bowl – 1 Georgia vs 4 USC 
I still have Georgia at number one and USC at four instead of Oregon. It is just hard for me to believe that a one-loss, Pac-12 Champion, USC doesn't make the CFP. I know Tennessee fans will be mad at me, but that's just what I think. Anyways, I think USC would be outmatched and Georgia would win. 
Fiesta Bowl – 2 Ohio State vs 3 TCU 
I still have Ohio State and TCU both winning out and making the CFP. TCU has been the surprise team of the season and Ohio State is right where we expected them to be. I see this game being closer than a lot of people think, but I still have Ohio State moving on to the natty. 
National Championship – 1 Georgia vs 2 Ohio State 
My National Championship stays the same again. I got Georgia and Ohio State battling it out for the title. Both are still undefeated and looked dominant last weekend. Georgia travels to Kentucky this week and the Buckeyes head to Maryland. If I had to choose right now, I would still take Georgia to win.