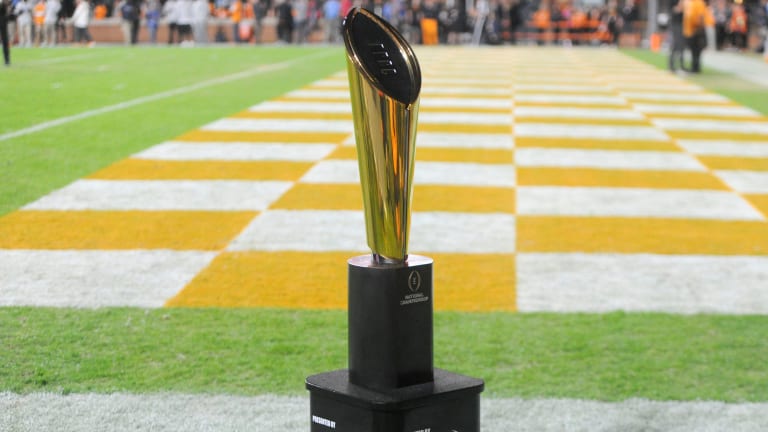 CFP and NY6 Predictions Following Week Ten
By: Luke Brumm
The Field
Sugar Bowl – Tennessee vs Texas 
I have moved Tennessee down from the College Football Playoff to the Sugar Bowl. I see Oregon winning out and making the CFP over the Vols because of their Pac-12 Championship. This would be a matchup of the UT schools. Texas would make it after finishing runner-up in the Big 12. I see Tennessee winning this one handily if this happens. 
Rose Bowl – Michigan vs USC 
I still have Michigan and USC in the Rose Bowl. The more these two teams play, the more I feel like the Wolverines would blow out the Trojans. Michigan looks very good, but I still see Ohio State getting revenge. So Michigan will have to settle for the Rose Bowl. 
Orange Bowl – Alabama vs Clemson 
This is usually a Playoff matchup, but this time it happens to be the Orange Bowl. Clemson's loss to Notre Dame looks to have knocked them out of the Playoff picture for now. The same is the case with Alabama's loss to LSU last weekend. I would have Alabama winning in this one. 
Cotton Bowl – LSU vs Tulane 
These two teams stay put. I had this in-state matchup last week and I have it again. LSU continues to look like an NY6-caliber team and Tulane is still the highest-ranked GO5 team. I would have LSU in a blowout if these two teams played today, but there is still a little way to go before the season is finished. 
---
CFP Semifinals 
Peach Bowl – 1 Georgia vs 4 Oregon  
This would be a rematch of the Chick-Fil-a Kickoff game and it would be played in the same stadium. I see Georgia winning out and winning the SEC, and I see Oregon doing the same and winning the Pac-12 over USC. Unfortunately for Ducks fans, I see this game ending very similarly to the first one. Georgia is too physical and talented for Oregon to compete. Plus, Georgia owns Bo Nix. 
Fiesta Bowl – 2 Ohio State vs 3 TCU 
I have Ohio State and TCU both winning out and making the CFP. Ohio State looked shaky against Northwestern, so this game could be closer than some people may think. I'd still take the Buckeyes to win in a close one.
National Championship – 1 Georgia vs 2 Ohio State 
My National Championship stays the same as last week. The only difference is that Georgia is now number one and Ohio State is two. These are the two best teams in the country in my opinion. I still have the Dawgs coming away with the win and repeating as champions.