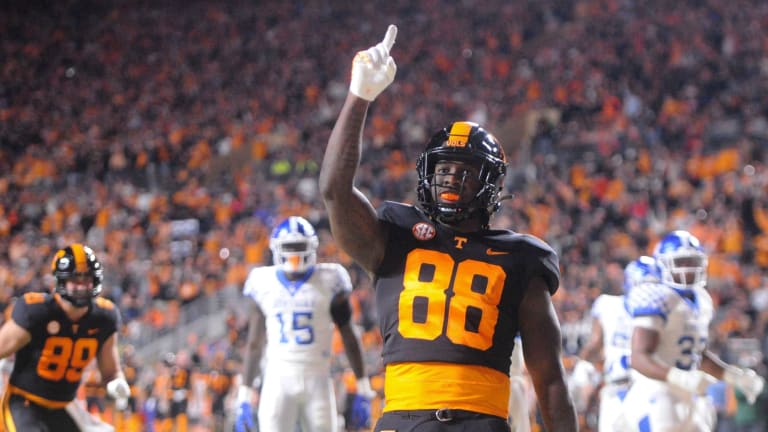 CFP Ranking Show Preview & Predictions
The first College Football Playoff rankings of the year are being released tonight at 7 pm on ESPN. We will get our first look inside the minds of the committee and see what they think about the top teams in the country.
---
You have Georgia, Tennessee, and Ohio State that could be ranked number one, and many credible people have made their case for each one of these teams to be ranked there. Georgia is undefeated with a 46-point win over a current top-ten team and the defending national champions. Tennessee has surprised everyone this season. They are undefeated and beat Alabama in a crazy game a few weeks ago. Then you have Ohio State. They are also undefeated and are coming off an impressive win this past weekend at Penn State.
---
After those top three teams, you have Michigan, Clemson, and TCU as the other three unbeaten teams. Michigan just beat instate rival Michigan State by a lot and Clemson had a bye week last weekend. TCU has been the other surprise team this season. They are currently undefeated and are looking really good. Alabama is the top one-loss team in the country with Oregon, USC, UCLA, and Ole Miss right behind them.
With that being said, here are my predictions for the first rankings show:
---
1. Georgia
I believe they will give Georgia the top spot in the first rankings. They still haven't lost yet and almost all of their wins have been by double digits.
2. Tennessee
I give Tennessee the nod over Ohio State for the two spots. Their win against Alabama and the dominance they showed against LSU and Kentucky put them above Ohio State.
3. Ohio State
The Buckeyes come in at number three. They continue to improve every week and have looked unstoppable at times.
4. Michigan
I have Michigan over Clemson and TCU here at four. Their run game is elite and they simply look like a better team than both the Tigers and Horned Frogs.
---
First two teams out
5. Clemson
6. TCU
Clemson and TCU are the first two out in my opinion. Clemson keeps winning and TCU squeaks in over Bama because I think the committee will value their unblemished record.
---
The rest of the top ten
7. Alabama
8. USC
9. Oregon
10. Ole Miss