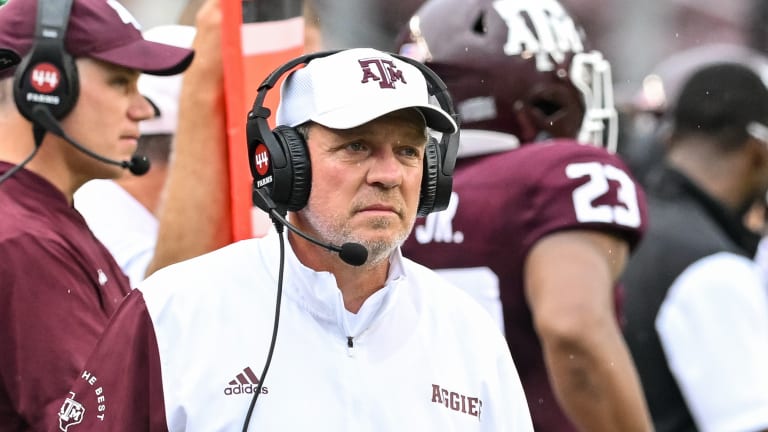 Coaches on the Hot Seat Heading Into 2023
This article dives into some coaches who could face the hot seat next season following underwhelming seasons in 2022.
---
Jimbo Fisher – Texas A&M 
This one is pretty obvious, I think. You can't underperform that poorly and not improve the next season. Jimbo Fisher had all the talent in the world and just signed the best recruiting class ever. His offensive system is outdated and needs a rehaul. It's not like he has been great in the years prior either. In his five years in College Station, his records by year are 9-4, 8-5, 9-1, 8-4, and then 5-7 this season. Aggie fans have too high of expectations to be losing four or five games on average a year. Texas A&M has all the money in the world, they are located in arguably the most talent-rich state in America and play in the best conference in the country. With the talent they have, they should be winning 11 or 12 games at least. If things don't improve drastically, expect a conversation about Jimbo Fisher getting the boot. 
---
Neal Brown – West Virginia 
I am honestly a bit surprised that Neal Brown hasn't already been let go in Morgantown. He has been there four years and has not won more than six games in a season. West Virginia is a university that is used to having above-average football teams, not just average. The Mountaineers have usually produced eight-to-eleven-win seasons. West Virginia has missed out on a bowl game in two out of Brown's first four seasons. That's not good enough and West Virginia fans know this. If he continues like this, it might only be a matter of time before they move on. 
---
Jeff Hafley – Boston College 
Boston College had an abysmal year in 2022. They went 3-9 and 2-6 in conference play. Jeff Hafley is another coach who hasn't cracked more than six wins since he has been at his current school. The Eagles went 6-5 and 6-6 in the past two seasons, so this was a degression. Boston College fans had some optimism heading into this season as well. This was an overall disappointment and not something that can continue if Jeff Hafley wants to remain the head man in Boston. 
---
Pat Fitzgerald – Northwestern 
Pat Fitzgerald has been at Northwestern forever. He has been coaching the wildcats since 2006. He has been average for the most part but seems to have a really good season every few years and is able to keep his job. I don't know if I see that happening this time. Fitzgerald has never had two consecutive seasons this bad, and this season was his worst on record at Northwestern. Last season was tied for his second-worst at 3-9. Northwestern isn't a powerhouse school that is a top spender in college football, but 1-11 won't cut it. If Northwestern doesn't make a bowl game next season, I believe Fitzgerald is shown the door.