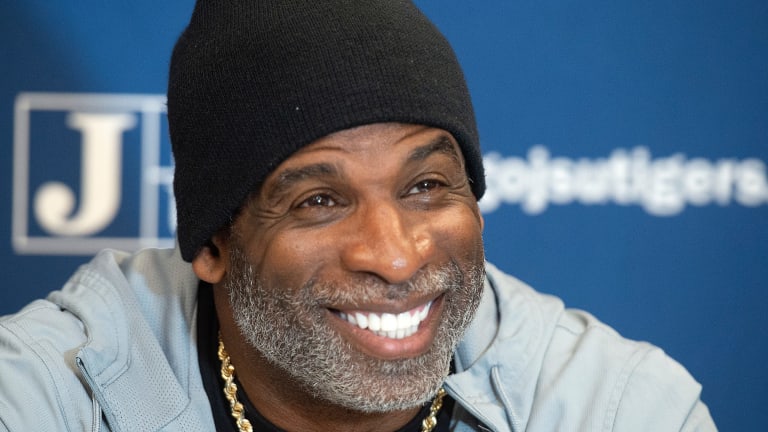 Deion To Colorado? Georgia's Next Great RB? Addressing Rumors from Week 13
Rumors make college football enjoyable, whether it is a potential coaching change or a star entering the transfer portal. The "what if" keeps college football entertaining year-round Today, we look at five rumors circulating the college football world.
---
1. Deion Sanders To Colorado?
The coaching carousel is one of the craziest times of the off-season. Last year we saw Lincoln Riley pack up his bags and head west to coach USC. This year NFL HOF Deion Sanders could be next to make a crazy coaching change. After coach Luke Fickell left for Wisconsin, many were quick to link Coach Deion Sanders to the position. A few days ago, it was revealed Sanders could be down to three schools Colorado, USF, and Cincinnatti. It is rumored Deion has excepted the Colorado job, and they are waiting until Sunday to make it official, but It doesn't make sense. In my opinion, Sanders would be a better fit at USF or Cincinnati. I see coach Sanders leaving for a better job, but I am unsure where he could land. I am sure wherever he goes, he will succeed. 
---
2. DJU To SoCal?
It is safe to say the DJ Uiagalelei era at Clemson has not lived up to the hype. The former 5-star has struggled as a starter in two years and has been replaced multiple times by 5-star freshman Cade Klubnik. Cade will likely be the starter next year, meaning DJ should test out the portal. Matayo Uiagalelei, the younger brother of DJU, is a 5-star ATH in the 2023 class, and many believe they are a package deal and will land at UCLA. With DTR playing in his last season as a Bruin, this makes logical sense, and I hope DJU transfers and can revive his career at UCLA. 
---
3. Is Ryan Day Stuck On Third Base?
Since 1999 only two Ohio State coaches have lost consecutive games to Michigan. They are John Cooper and Ryan Day. In three years against the Wolverines, Day has a staggering 1-2 record against his rivals. The Buckeyes have all been crowned the favorites in those three matchups. With Day's recent embarrassing loss, is he on the hot seat? Ohio State fans have called out Day for the past two seasons of losing to their rival and failing to make the CFP, but I still think Day is far from the Hot seat. There are only a handful of coaches who could fill the position better, and they are all locked in with big contracts with other schools. I think Day can be on the hot seat in the future, but for now, it is crazy to think a coach with a 45-5 record in 5 years should be replaced.
---
4. Georgi's Next Great RB?
Former 5-star RB Trey Sanders entered the transfer portal earlier this week. Trey committed to Alabama as part of the 2019 class but dealt with injuries constantly and never saw the field. In the south, Georgia is known for producing RBs, and with Sanders looking to make an impact, could he transfer to the Dawgs? This makes complete sense since he would be moving closer to home and would be able to compete for a starting role on a competing team right away. While it is still early, and many colleges will push for the touted RB, I would not be shocked to see Trey Sanders as a Georgia Bulldog next year. 
---
5. Nyckoles Harbor To Georgia?
5-Star ATH Nyckoles Harbor is the most touted prospect in the 2023 class. Harbor is believed to be deciding between South Carolina, Michigan, LSU, Georgia, and Miami. Harbor has one prediction for South Carolina from four months ago, but a lot has changed. It is rumored now that Georgia is in the mix. Georgia is capable of landing the prospects they want. While we don't know much about his recruitment lately, Georgia is a team to watch here, but I would say teams like South Carolina, Maryland, and Michigan are still in his top three.