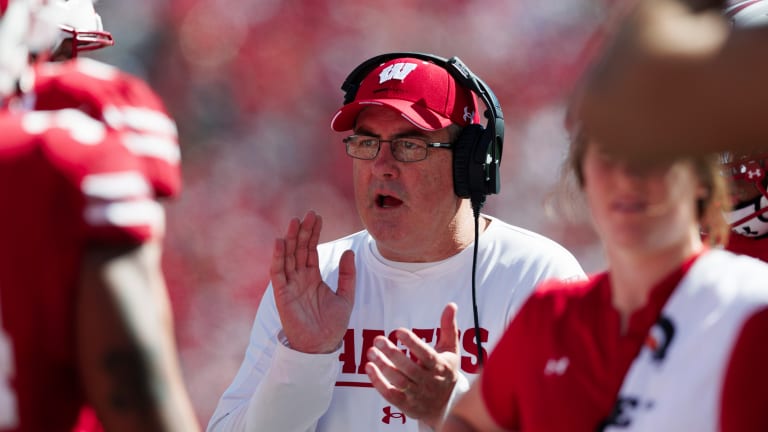 Five Reasons Wisconsin Was Right to Fire Chryst
Expansion, Recruiting, Resistant To Change, Lack of Success, and Potential Right Man justify Chryst firing
Following a humiliating loss to Illinois over the weekend, Wisconsin athletic director Chris McIntosh and the Wisconsin administration shocked the college football world Sunday evening when they terminated Paul Chryst after a 2-3 start to his eight season in Madison. 
While Chryst won over 70% of games, won three Big Ten West division championships, two Big Ten Coach of the Year honors, and two New Year's Six bowl games, it was the ingredients projecting a downward spiral that led to his shocking termination. 
"Obviously, want to express my thoughts to Paul Chryst and his family. An outstanding coach here in the Big Ten for a number of years, not only as a head coach, but then also as a coordinator. A very good friend of mine and someone I have the utmost respect for," said Northwestern head coach Pat Fitzgerald ahead of his matchup with Wisconsin at Ryan Field this week. 
Big Ten football elder statesman Iowa head coach Kirk Ferentz also chimed into the Chryst firing, "Disappointed but not surprised," Ferentz said, via Hawkeye Insider. "I think it's the fifth one this season, right? The toll has mounted. ... It just dawned on me there's two border states where there's changes, and I hadn't thought about it in those terms. You know, it's the business we're in, and we all know that. We all signed up for it. We all know that."
With emotions mixed on the subject, especially from Wisconsin running back Braelon Allen, let's give you five reasons Wisconsin was justified moving on from Chryst.
---
#5 The Additions of Southern Cal and UCLA
While Southern Cal and UCLA don't begin participation in the Big Ten until 2024, all you need to do is look at how effective both Lincoln Riley and Chip Kelly are at the moment, with both Los Angeles teams undefeated so far this year. We know that those two schools will not be joining the east, so they'll be joining the Badgers in the West.
With Wisconsin beginning to trend downward, their additions will only make Wisconsin's climb that much tougher and with the standard is competing for Big Ten championships, not firing Chryst moves them closer to the middle of the pack of their own division.
---
#4 Resistance to Change
Anyone who has intimately followed the Chryst era in Wisconsin will tell you one of Chryst's greatest strengths was his unwavering loyalty but it was also that unwilling to waver on key loyalties or adapt to change is what dealt Chryst in. 
Offensively, it was Chryst who became a rising star in the industry with the dynamic Badger offense led by Russell Wilson in 2011 that averaged 44.6 points per game. 
What Chryst wasn't able to do was find the followup to Wilson in Madison when he returned in 2015. 
His scoring offenses typically were in the bottom half of the country in five of his seven full seasons: 
| Year | Points Per Game | National Rank |
| --- | --- | --- |
| 2015 | 26.8 | 81 |
| 2016 | 28.4 | 67 |
| 2017 | 33.8 | 28 |
| 2018 | 29.7 | 62 |
| 2019 | 34.1 | 23 |
| 2020 | 25.1 | 89 |
| 2021 | 25.4 | 85 |
| 2022 - first 5 games | 29.8 | 72 |
As one agent told Jesse Temple of The Athletic about Wisconsin program and quarterbacks, "They don't know what it looks (like) to win any other way, that clouds the progress of the program. They've had some good passers. But with the exception of Russell Wilson, (the fans) don't know what a good quarterback looks like."
His approach to quarterback play wasn't the only thing that needed updating either. 
Former Wisconsin recruiting coordinator Saeed Khalif, who took a similar position at Michigan State in 2021 described the lack of resources afforded to him in Madison. Khalif mentioned he has 12 people in his department sharing the workload and other programs like Penn State, Ohio State, and Michigan all list over 10 individuals working in various recruiting capacities in their department. 
McIntosh allowed Chryst to determine what was ideal for his department allowing Eric Johnson to move into the role temporarily until finding an ideal fit. Johnson had a similar role in Iowa and had last worked the role nearly a decade ago. 
Chryst would decide to use a very archaic method and did not adjust to the times here which has been one of the many key reasons of Wisconsin's recruiting decline.
---
#3 Recruiting Mismanagement
Dovetailing with No. 4 is the mismanagement of the recruiting department. It is one thing not to change with the times, it is another thing to completely mismanage key recruiting situations. 
One of the major recruiting snafu's was the recruitment of a late blooming four-star linebacker Jimmy Rolder out of Marist in Chicago. Rolder fits one of Wisconsin's traditional bread and butter in recruiting: the blue chipper everyone overlooks and passes on. 
Rolder at the time of his visit to Camp Randall only had offers from Cincinnati, Ball State, and Illinois. Usually when a recruit arrives on campus, the school is trying to roll its red carpet out and treat the prized recruit to an experience that will lead them to a commitment. The problem was when Rolder arrived on campus, no one knew who he was. No one talked to him while he was on the visit. When Wisconsin finally realized who he was, they offered him but it was too little too late as Michigan saw the potential Rolder had and now he is impacting the Wolverines this year as a true freshman. 
Chryst believed in that recruiting can be decentralized and evenly spread out to his staff, they lead to many overlooks and not able to keep up with the competition. 
According to a source to Temple for The Athletic, 
"Recruiting has changed so much in the last two years, the best way I can describe it is he was really outdated in his recruiting approach. I think he kind of was stuck in the old age of recruiting in the 1990s when you just wrote letters and only interacted with kids when they came to campus. For the eight months, no one really took the bull by the horns and it kind of just floundered. No one knew what to do."
This is what led to the two prized Class of 2022 four-star in-state offensive linemen Carson Hinzman (Ohio State) and Billy Schrauth (Notre Dame) to go out of state, something that is a key foundation to the Wisconsin program.
These tactics are key reasons why a program who seemed to be in the Top 25 in recruiting from 2016-2019 are now hovering in the mid 50's range nationally now.
---
#2 The Mark Richt Corollary
It's hard to deny Chryst's place in Wisconsin football history. 
He won 72% of his games overall, won three Big Ten West division championships, three New Year's Six game appearances winning two, two-time Big Ten Coach of the Year, winner of six of seven bowl games, and had as many 10 win seasons as The Godfather himself Barry Alvarez: 

The issue Chryst had is the same reason Georgia fired Mark Richt, he simply didn't win the big games he was supposed to. 
During his time, Chryst: 
Lost all three Big Ten Championship Game appearances including the 2016 game versus Penn State where the Badgers had a 28-7 lead at one point
Went winless in five games against Ohio State, with the result becoming progressively worse each time
Finished with a record of 5-13 against Power 5 teams that finished with 10 or more wins
Even his New Year's Six Bowl appearances you could criticize. Wisconsin defeated Western Michigan in the Cotton Bowl, one of those games that Wisconsin was in a no win situation - you win, you are supposed to and if you lose that would have been a bigger story. 
The Orange Bowl against Miami, ironically against Richt, Miami's season had already collapsed and Wisconsin played a game it was supposed to. 
The 2020 Rose Bowl, grant you mired in a controversial pass interference call at the end of the game where the Badgers get that first down, who knows, but again the Badgers had a fourth quarter lead, outgained Oregon (322 to 204) in total offense and time of possession, (Wisconsin possessed for 38 minutes) and still lost. 
Chryst is just like Richt, a very good coach but one that couldn't get a program over the top.
---
#1 The Kirby Smart Solution
Sometimes you got to know your time and place, when you do you have to execute. 
When it became evident that Kirby Smart was looking to move on from Alabama and become a head coach, Georgia knew it had to make a move. 
For Wisconsin, the odds on favorite is Jim Leonhard. Leonhard is another lifelong Badger, former three-time All-American safety at Wisconsin, spent a decade in the NFL, and has been on Chryst's staff in Madison since 2016, assuming the role of defensive coordinator in 2017.
Under Leonhard's direction, the Badgers have finished in the Top 10 of scoring defense in five of Leonhard's six full seasons.
Much like how Georgia understood, that Smart was aggressively pursued by Virginia Tech, Wisconsin knows Leonhard is a very hot commodity and Barry Alvarez alludes to it in the video below of an NFL job he was the lead candidate for.