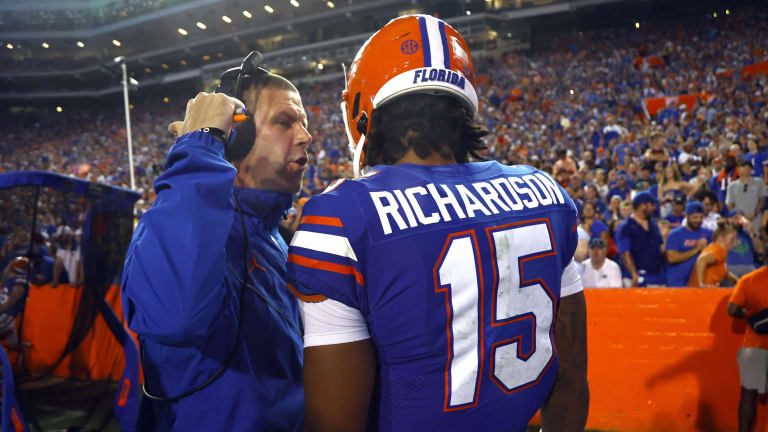 Five Suprise Storylines from the 2022 Season
Do you recall these five teams' surprise seasons?
The 2022 season was one of the craziest of all time. TCU with a first-year coach made the National Championship, Tulane went from 2-10 to 12-2 with a Cotton Bowl and American Championship, and Kansas made it to a bowl game. On the other side, Texas A&M and Miami were both division title contenders who went 5-7. Alabama went 10-2 and lost to Tennessee for the first time in forever. But you already knew that. What about the stories you forgot?
---
Billy Napier's Hot Start at Florida
Let me take you back to September 3rd, 2022. Florida hosted defending Pac-12 Champion and seventh-ranked Utah in a rocking swamp. Anthony Richardson scored with 1:25 left, and Amari Burney picked off Cam Rising in the end zone. The Billy Napier era started with an ear-popping BANG, but the Gators couldn't keep up the hype. Florida responded by losing to Kentucky at home, nearly lost to 1-11 South Florida at home, and lost to Tennessee. Florida had many opportunities to win another big game but lost all of them. The Gators were 6-4, coming off a blowout over South Carolina, and had a chance to finish with a solid 8-4 record. Instead, the Gamecocks took their momentum and Florida ended with losses to Vanderbilt, Florida State, and a blowout against Oregon State. Now with Jaden Rashada potentially de-committing after NIL (and other) issues, September 3rd, 2022 seems like a distant memory to Florida.
---
Baylor and Oklahoma State Disappointed
The teams who made the Big 12 championship were expected to be title contenders again in 2022. Per the Big 12 media preseason predictions, Baylor was expected to repeat, and Oklahoma State had the third most votes. Oklahoma State looked the part, starting 5-0 before losing to TCU in double-overtime. Two weeks later, the Kansas State game is when the Cowboys' season died. They were embarrassed 48-0 and closed the season by losing five of six games. Down in Waco, the Bears were inconsistent all year. They started 3-1 before losing two in a row to Oklahoma State and West Virginia. However, the Bears bounced back and won three straight. Like the Cowboys, Baylors' season fell apart after being embarrassed against Kansas State 31-3. They also nearly beat TCU before losing on a last-second field goal. After these heartbreaking losses, Baylor lost two more and finished the season 6-7. Nobody thought the two Big 12 championship finalists would finish .500. The crazier part is how rarely it's discussed.
---
Eastern Michigan's historic season
The Eastern Michigan University Eagles just won their second bowl win in program history and finished with the second most wins. They also went into Sun Devil Stadium and got a coach fired. Outside of the big win in Tempe, the Eagles played great in close games with a 5-1 record in such games. They also ended the year on a four-game week streak which included a win over San Jose State in the Famous Idaho Potatoes Bowl. Chris Creighton has quietly turned around an otherwise pathetic program. Eastern Michigan had 12 combined wins in the five years before Creighton was fired. He has made five bowl games in his last seven years and has EMU on its best stretch in program history.
---
Syracuse Starts 6-0
Entering 2022, the Orange were expected to stay home for bowl season for their fourth season in a row and finish last in the ACC Atlantic. It only took them six games to go bowling and a miracle season looked to be in the making. Syracuse already had a game-winning touchdown by Orande Gadsen II against Purdue and a top-25 win over North Carolina State. The Orange defense was relentless, and Sean Tucker and Garrett Shrader led an effective ground game. In game seven, Syracuse was up 21-10 in Death Valley but could not close and Clemson would come back to win 27-21. Injuries and a more difficult schedule caused Cuse to lose four more and fall back into irrelevance. The Orange beat Boston College and made the Bad Boy Mowers Pinstripe Bowl against Minnesota but lost 21-28 in that game to finish 7-6. A very forgettable finish for an otherwise fantastic start for Syracuse.
---
App State's Fall Off
Appalachian State finished 2021 with a 10-4 record, their eighth straight winning season after joining the FBS, and their fifth ten-win season. Since their upset over Michigan in 2007, App State has been a dominant team in the FCS and consistently has been good in the Sun Belt. Heading into 2022, the expectations were high again. The Mountaineers would be immediately tested against future ACC Coastal Champion North Carolina but lost a thriller 63-61. They immediately responded by traveling to College Station, collecting 1.5 million dollars, holding the football for 41:29, beating #6Texas A&M, and ruining the Aggies' college game day. The following week against the future Sun Belt Champion in Troy, the Mountaineers won on a last-second Hail Mary, and fans flooded the field. The week after, App State took a 28-3 lead over fellow FBS upstart James Madison. Like the Falcons, they couldn't hold on and most people stopped following the Mountaineers after that. App State finished 6-6, but because they played two FCS teams, they were ineligible for a bowl.