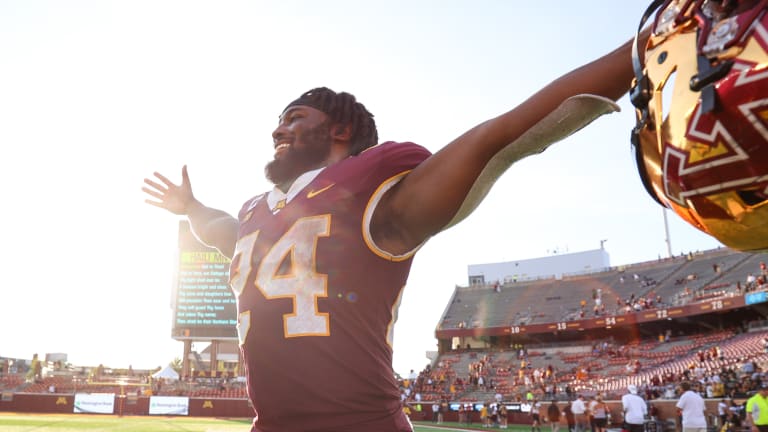 How Golden Are The Gophers?
Through four games, Minnesota is turning a lot of heads
For many prognosticators, the Big Ten West preseason predictions were between three teams: Wisconsin, who, over the past 25 seasons, have been the most consistent team in the Big Ten West, Iowa, who went to the Big Ten Championship Game last season returned a lot of key starters, and Purdue, who went 9-4 last season for Jeff Brohm and returned Aiden O'Connell who most saw as the best Big Ten quarterback outside of C.J. Stroud of Ohio State.
Fast forward four weeks into our season, and Wisconsin has some key offensive injuries and quarterback Graham Mertz is a significant liability, Iowa seemingly forgot how to play offense, and Purdue is one dimensional and lacks a good pass rush they enjoyed a season ago.
Rowing the boat into the Big Ten West race has been PJ Fleck's Minnesota Golden Gophers who are the most recent team to exploit Mel Tucker's Michigan State Spartans 34-7 in East Lansing.
Minnesota entered the polls for the first time this season at No. 21 and at 4-0, they seem destined to dictate the 2022 Big Ten West race, so how golden are they?
---
Three Reasons The Gophers Are Pure Gold
1. Tanner Morgan
Morgan had a career day against Michigan State finishing 23 for 26 passing for 268 yards and three touchdowns with a QBR of 97.5. For the season, Morgan has been playing at an elite level this season completing 77.2% of his passes for 886 yards and seven touchdown passes. His 88.7 QBR is currently fifth in the nation.
Morgan has been reunited with offensive coordinator Kirk Ciarrocca who was the mastermind of the offense that Morgan clicked with in 2019. After Ciarrocca's departure to Penn State, Morgan's completion percentage dropped nearly 10%. The veteran quarterback is clearly more effective in Ciarrocca's scheme, as evidenced by his 15-2 career under him.
2. Dominance on both sides of the ball
Minnesota has taken care of business on both sides of the ball in dominant fashion.
The Gophers offense is in the Top 5 nationally in:
Total Offense Per Game (No. 3 - 543.3)
Total Yards Gained (No. 5 - 2,172)
Average Time of Possession (No. 1 - 40 minutes)
Third Down % (No. 1 - 78.8%)
Rushing Offense (No. 2 - 294.5 yards per game)
First Downs (No. 1 - 126)
They are in the Top 11 in:
Passing Efficiency (No. 7 - 184.68)
Points Per Game (No. 11 - 45.8)
Team Completion Percentage (No. 6 - 73.4%)
The Gopher defense has been just as effective, they are No. 1 in the country on Third Down Defense (14.3%), No. 2 in First Downs Allowed (43), No. 2 in Passing Yards Allowed Per Game (126), No. 1 in Total Defense (187.8 yards per game), and No. 2 in Scoring Defense (6.0 points per game).
This sort of dominance will bode well in the Big Ten West with so many teams have holes.
3. The schedule
Outside of visiting Penn State in October and potentially their season-ending battle for Paul Bunyan's Axe in Madison, the Gophers should be favored in all of their games.
What should make the Gophers hopeful is they beat Penn State in 2019. The same backfield that started that game - Tanner Morgan at quarterback and Mohamed Ibrahim at running back - will be starting this one as well. Minnesota will be hoping to repeat their 31-26 upset from that day.
Wisconsin is a main rival and they always seem to figure it out during the season and should be clicking on both sides of the ball.
10-2 is not out of the question for the Gophers and depending what they do in State College and in Madison will determine if they go to Indianapolis but also a potential New Year's Six bowl.
---
Three Reasons The Gophers Are Fools Gold
1. Soft schedule so far
Their dominance has not been against the toughest of competition, and that is reflected by their 113th out of 130 ranked schedule. This will be a reason if the Gophers are undefeated as the College Football Playoff rankings start to come out, the Gophers will be outside looking in.
2. Lack of explosiveness on offense
Even with the Gophers out scoring the opposition 183-24 and having 86 plays of ten or more yards, they have had only two plays go for 40 or more yards and rank 100th in the nation in offensive marginal explosiveness. 
The ability to burn the opposition big is key when the competition increases and is key when much more talented defenses can cover the Gophers in short and intermediate gains where they have feasted this season.
3. Lack of an elite pass rush
With only seven total sacks on the season, the Gophers have not gotten to the quarterback. The Gophers are not in the Top 50 for sacks or quarterback pressures. This is a giant red flag when you start talking about being mentioned amongst the best in the nation.
---
Conclusion
This team eerily reminds me of the 2015 Iowa Hawkeyes who went undefeated in the regular season but lost the Big Ten Championship Game against Michigan State and the Rose Bowl against Stanford.
Minnesota is in a situation where it should go at minimum 10-2 but they have a schedule where they can beat Penn State in Happy Valley, the Nittany Lions are currently 98th in offensive success rate and 97th defensive success rate. If Minnesota controls the ground they get that win. Wisconsin might be their toughest opponent to conclude the season but the question will be outside of Braelan Allen, who can help Graham Mertz offensively?
Minnesota has an excellent shot at a New Year's Six bowl berth if they take care of their business where they should and win in Happy Valley or Madison.