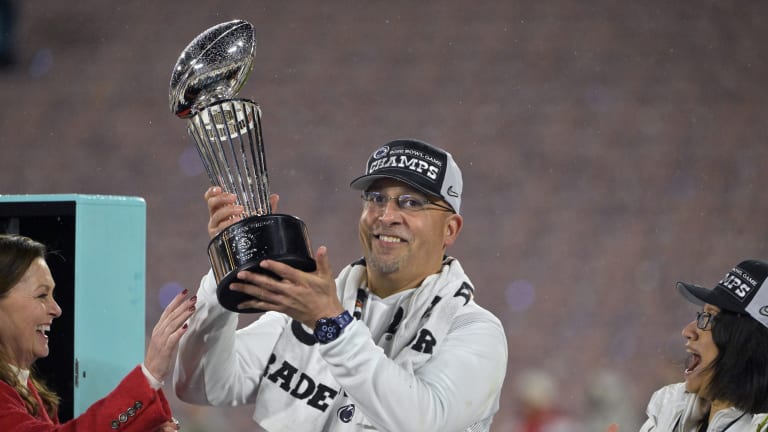 Is It Time to Buy James Franklin Again?
After a dominating Rose Bowl win over Utah capping an 11 win season and Top 10 ranking, is Penn State back under Franklin?
Penn State was entering a very promising 2020 season. 
It capped the 2019 campaign with a Cotton Bowl win, but more importantly, the Nittany Lions realized how elite of a disruptor Micah Parsons could be, and Journey Brown seemed to be the next in line of great running backs for Penn State. 
The roster also consisted of future first-rounders Jahan Dotson and Odafe Oweh, potential first-rounder Joey Porter Jr., and future pros in Pat Friermuth, Jaquan Brisker, Michael Menet, Will Fries, and countless others
As Penn State was getting ready for a potential championship season in Happy Valley, the world got rocked by the COVID-19 pandemic and arguably no team got impacted harder than the Nittany Lions. 
Parsons opted out to prepare for the NFL Draft amid COVID restrictions, Brown had to medically retire, and as the season unfolded key Nittany Lions like Friermuth and Oweh either opted out or had season-ending injuries that crippled the Lions to their first losing season since 2004. 
The 2021 season started fast with the Nittany Lions going 5-0 and making the previous season look like an aberration. 
In a top-four matchup at Iowa, injuries to quarterback Sean Clifford and defensive tackle PJ Mustipher derailed the Nittany Lions that day, but the rest of the season they would drop six for their final eight games.
Entering the 2022 season, the Nittany Lions since Minnesota upset in 2019 was 14-13, and the questions surrounding James Franklin, who was awarded a lucrative contract extension in November 2021, it was a make or break for him.
The Nittany Lions delivered for Franklin in 2022 to the tune of an 11-win season, a sure Top 10 ranking in the polls, and a Rose Bowl win, his third New Year's Six bowl win at Penn State since 2017. 
With a giant bounce-back season, why should you buy or sell Penn State with James Franklin?
---
Three Reasons to Buy
---
#1 He Has The Right Staff
One of the core components that made Penn State a dangerous threat in the Big Ten between 2016 and 2017 was Franklin was surrounded by excellent assistants, especially on the offensive side of the ball. 
On those staffs, Franklin had future head coaches in Joe Moorhead (Mississippi State), Ricky Rahne (Old Dominion), Brent Pry (Virginia Tech), Charles Huff (Marshall), two future Broyles Award-winning assistants in Joe Brady and Josh Gattis, as well as two future SEC defensive coordinators in Tim Banks (Tennessee) and Sean Spencer (Florida). 
Following the 2017 season, most of the high-end offensive minds left Penn State and leaving Franklin to change coordinators multiple times and really identify coaches at all levels on his staff to find. 
The odyssey on the offense has been the toughest. 
Landing former Oklahoma State offensive coordinator Mike Yurcich has helped tremendously and paid dividends in the recruitment of Drew Allar. 
After Charles Huff left Penn State for Mississippi State with Moorhead, Penn State needed to find that dynamic recruiter and running backs coach that helped usher in a new golden age of Penn State running backs. 
Franklin identified Ja'juan Seider and has developed himself as one of the top recruiters in the nation. 247 ranks Seider No. 5 in the recruiter rankings in the country. 
Entering his third year coaching the offensive line, Phil Trautwein really needed to show progress as the offensive line play had been on a decline leading into his hiring and poor in his first two seasons. 
The Nittany Lions in 2022 was able to find balance offensively because of the improved play in the offensive line as prospects Juice Scruggs and Olu Fashanu NFL scouts are salivating over. 
Franklin's staff reclamation project hit a critical junction last offseason when Pry took the Virginia Tech job. 
Pry had been a stalwart and loyal lieutenant of Franklin's and finding the right defensive coordinator was imperative for Franklin. 
Penn State made a splash hire by bringing in the much-maligned former Miami Hurricanes head coach Manny Diaz.