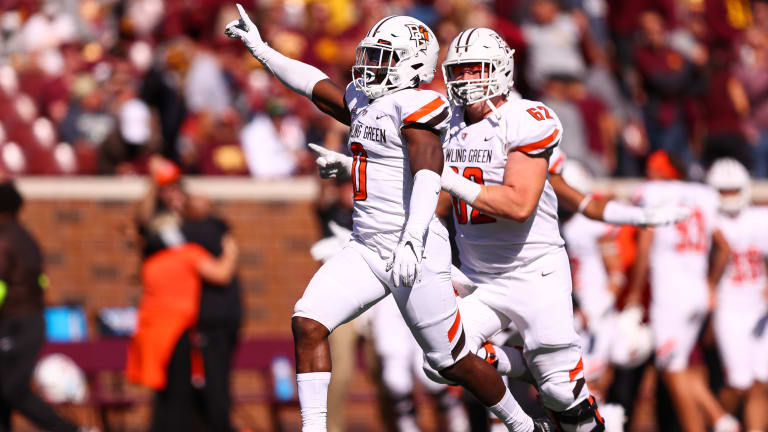 Jim Thorpe Award Power Rankings: Week 4
The Jim Thorpe Award, named after Jim Thorpe, has been awarded annually to the top defensive back in college football since 1986. The Oklahoma Sports Hall Of Fame selects the winner by a vote amongst select members. Baylor DB Thomas Everett became the first recipient of the trophy, and Cincinnati DB Coby Bryant became the most recent recipient after an impressive season with the Bearcats.
---
Outside Looking In
Jordan Battle, Alabama
Cole Bishop, Utah
CJ Brown, Northern Illinois
Jalen Catalon, Arkansas
Dorian Jackson, Western Michigan
Quindell Johnson, Memphis
Antavious Lane, Georgia State
Riley Moss, Iowa
Andrew Mukuba, Clemson
Gabriel Taylor, Rice
Top 3
#3 Jordan Anderson
Senior, Bowling Green
Week 4 Stats: 4 Tackles, 1 Pass Deflection
Season Stats: 20 Tackles, 3 Pass Deflections, 1 Interception
Anderson keeps his #3 spot after an impressive game against Mississippi State. The Mike Leach air raid is a dangerous offensive scheme that has torn up the SEC since Mike Leach's hiring. In a loss, Anderson managed to hold his own and limit the damage the air raid could do when he was in coverage. Mississippi State is the toughest team Anderson will play this year, and his performance Saturday gave me confidence he can hang in there this year.
#2 Gervarrius Owens, Senior, Houston
Week 4 Stats: 1 Tackle
2022 Stats: 23 Tackles, 3 Pass Deflections, 1 Interception
Owens is coming off his worst performance of the season against Rice. Last week, I viewed Owens as a step ahead of Anderson, and now I feel they could switch places. I won't be doing so today. While Owens had one tackle, he still disrupted plays and kept his receivers locked down most of the game. Owens will need to have a bounce-back performance against Tulane to stay at #2.
#1 Ji' Ayir Brown, Senior, Penn State
Week 4 Stats: 4 Tackles
2022 Stats: 19 Tackles, 2 Pass Deflections, 1 Sack, 1 Interception, 1 Forced Fumble
Brown, in my opinion, is a level ahead of the top three. Brown has dominated the competition this year. The Penn State defense has allowed 16.5 points per game to start the season, and Brown is part of why they are so good. Brown is a lockdown player this season and should be considered the early favorite for this award.
Gabe Taylor became the 11th contender as a late addition last week, and he continues to impress as he moved closer to the top three this week. Malaki Starks was removed from the contender's list this week. The first-year Georgia star was replaced by Taylor, as I view him as a future finalist who does not have the stats to win this year.
The top three stayed the same after week four. Anderson made a case to be moved to #2 this week and should make this top-three race intriguing.