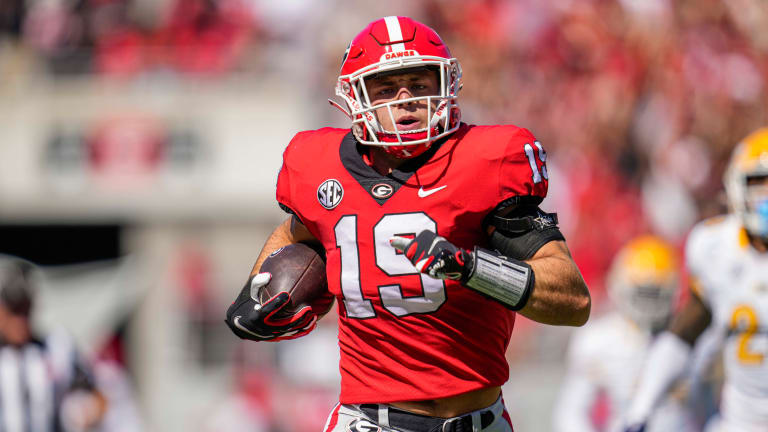 John Mackey Award Power Rankings: Week 4
The John Mackey Award is a trophy presented annually to the Best TE in the country. The award was established in 2000 by the Nassau County Sports Commission. Purdue TE Tim Stratton was the first recipient of the prestigious award after having 58 catches and 605 yards. Colorado State TE Trey McBride received the trophy last year after an impressive season racking up 90 catches for over 1,100 yards receiving. The change in numbers between the two shows how much the TE position has changed in college football.
---
Outside Looking In
Gavin Bartholomew, Pittsburgh
Payne Durham, Purdue
Theo Johnson, Penn State
Trey Knox, Arkansas
Grant Musgrave, Oregon State
Ja'Tavion Sanders, Texas
Christian Sims, Bowling Green
Brevyn Spann Ford, Minnesota
Brenton Strange, Penn State
George Takacs, Boston College
---
Top 3
#3 Michael Mayer
Junior, Notre Dame
Week 4 Stats: 7 receptions, 88 yards (12.6 YPC), 1 TD
Season Stats: 22 receptions, 233 yards (10.7 YPC), 3 TD
Last week Mayer had an abysmal ten yards on two catches against California. But he bounced back this week, having a solid game against Mack Brown and the Tar Heels. The third-year player had his best performance since week two against Marshall and is making a case to move up into the top two. 
There are a few concerns I have about the Norte Dame TE, however. Against challenging defenses this year, Mayer has struggled. With games like USC and Clemson on the schedule, He needs to perform to stay on this list.
#2 Dalton Kincaid
Junior, Utah
Week 4 Stats: 4 receptions, 66 yards (16.5 YPC), 2 TD
Season Stats: 16 receptions, 240 yards (15 YPC), 4 TF
Like Mayer, Kincaid also had a bounce-back week against Arizona State. Before the game, he had two touchdowns. Kincaid matched that, adding another two to the stat sheet. He is holding steady at #2 on this list but will need to continue having solid performances throughout the season. This week will be challenging for Utah as they face Oregon State, who eliminated the passing game and forced the Trojans to run the ball.
#1 Brock Bowers
Sophomore, Georgia
Week 4 Stats: 5 receptions, 60 yards (12 YPC), 2 carries, 77 yards, 2 TD
Season Stats: 15 catches, 276 yards (18.4 PYC), 2 TD, 3 carries, 82 yards, 3 TD
Brock Bowers may be the best pass catcher in college football. In my opinion, Bowers is the reason Georgia won this weekend. Surprisingly, the Bulldogs, who were 40+ point favorites, played closely against Kent State. Every highlight I watched from the game is a Brock Bowers run or catch; he is unstoppable. Bowers may have this award already won; however, college football is unpredictable, and only time will tell.
If you like betting, I suggest putting a dollar on Brock Bowers to win the Mackey Award. While you won't win much, you will be able to brag that you won and collect a profit.
There were no changes in the contender's list or top three this week as no one is currently replaceable. I expect a player or two to be removed from the contender's list in the upcoming weeks.