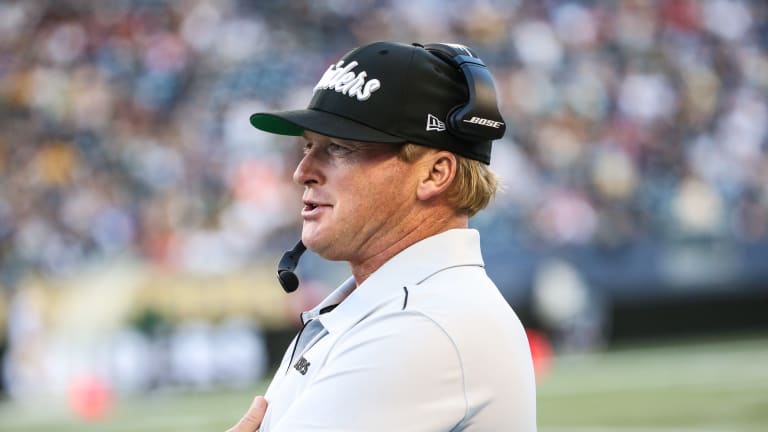 Jon Gruden to Tampa? Braelon Allen to Michigan? Addressing Rumors from Week Ten
Rumors make college football enjoyable, whether it is a potential coaching change or a star entering the transfer portal. The "what if" keeps college football entertaining year-round Today, we look at five rumors circulating the college football world.
---
1. Jon Gruden To Tampa
The Jeff Scott era at USF was tragic. In 30 games with the Bulls, Scott managed to win just four games prompting the team to terminate his contract mid-way through the season. One name for the job that struck out was former Raiders coach Jon Gruden. Gruden coached 15 years in the NFL, compiling 117 wins and 1 Super Bowl. Gruden to Tampa makes sense since he coached the Buccaneers from 2002-2008 and led the team to the super bowl in his first year. Gruden is a solid HC who won consistently with below-average rosters. Recruiting is the only concern here for me, but I feel a former NFL coach can pull enough talent to create a solid roster. 
---
2. Braelon Allen To Michigan?
The transfer portal has brought some crazy team switches in the past few years, for example, Jordan Addison to USC. The past week Wisconsin star RB Braelon Allen has found himself in the middle of one of these rumors. USC and Michigan have reportedly reached out to the star RB to see if he is interested in transferring. Braelon replied to the rumor last night and had this to say.
"Only thing I can say for me is 'On, Wisconsin.' As long as coach (Jim) Leonhard is here, that's where I'll be."
I find it hard to believe he transfers regardless of a coaching change; however, this is something to keep an eye on as Jordan Addison shot down similar rumors last offseason. 
---
3. Barion Brown leaving Kentucky?
Kentucky pulled a star in their 2022 recruiting class with WR Barion Brown. The true freshman has been electric for the Wildcats this year on both special teams and offense. This morning rumors broke pointing towards the star WR transferring due to NIL which would be a massive blow for many colleges. I am 50/50 on this rumor. While I believe Brown is happy with the Wildcats, it would not shock me to see his name entered when the season comes to a close. If he transfers, teams like Alabama and Tennesee should be at the top of his board based on how well they pushed for his original commitment. 
---
4. Caleb Downs To Columbus?
Five-star safety Caleb Downs committed to Alabama before the season over teams like Ohio State and Georgia. With Alabama underperforming and the Tide's defense struggling recently, is it possible Downs de-commits from Alabama? Before his commitment, Ohio St held a massive lead for the talented safety before the Tide swooped in and stole him. Downs will be visiting the Buckeyes this weekend for the Indiana game. While I believe it is possible in the future, it seems unlikely, especially since Nick Saban rarely loses a commitment. 
---
5. Is Jake Garcia Leaving South Beach?
The former 4-star QB from the 2021 class has backed up Tyler Van Dyke for the past two years. With both QBs struggling under new HC Mario Cristobal, is it time for them to take advantage of the transfer portal? Jake Garcia committed to USC before Miami and had multiple predictions for Nebraska, who could use his talents to pair with a new HC. I believe Garcia will transfer and become a valuable asset to his team next year.