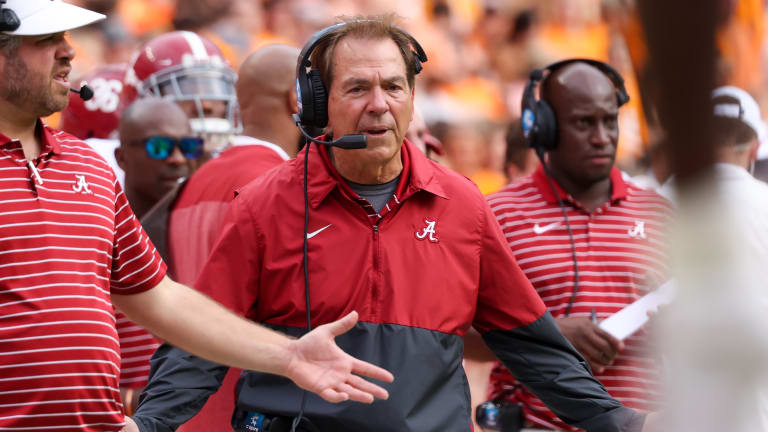 Kiffin To Auburn? Changes In Tuscaloosa? Addressing Rumors From Week 12
Rumors make college football enjoyable, whether it is a potential coaching change or a star entering the transfer portal. The "what if" keeps college football entertaining year-round Today, we look at five rumors circulating the college football world.
1. Changes in Tuscaloosa?
Under Head Coach Nick Saban, Alabama has reigned supreme in college football. This year has been very different than past years. For starters, Alabama has struggled as the favorite this season which is traditionally unheard of with Saban at the helm. Alabama also lost their first game to Tennessee in 15 years and a road game to LSU which the offense looked horrible. Many former players have also noted this Alabama team looks undisciplined. 
With everything circulating the Alabama program this year, could Nick Saban bring in new staff for the 2023 season? I believe he does. While Pete Goulding and Bill O'Brien are solid recruiters, their skills have yet to show on the field this season. Every name is a candidate for a school like Alabama, and if the Tide let both walk, I wouldn't be surprised to see a big-name coach join the staff for a year before accepting a Head Coaching job elsewhere. On the defensive side, Alabama needs a coordinator to bring them back to the Kirby Smart Era defense. I believe Saban will at least let one walk this offseason in hopes to save the Tide's dynasty.
2. Lane Kiffin To Auburn?
Lane Kiffin is one of the top college coaches currently and leads Ole Miss to a top offense each year. Could Lane Kiffin leave Ole Miss? Personally, I think this rumor is hilarious. Lane Kiffin built Ole Miss into an SEC West contending team in just a few years, and leaving now would make no sense. Unlike Ole Miss, Auburn is second fiddle when it comes to football in the state of Alabama, making recruiting against their in-state rival harder than at Ole Miss, which easily laps Mississippi State on the recruiting trail. Many experts believe Coach Kiffin is waiting for the Alabama job once Coach Saban retires and if that is true, taking the Auburn job ruins any chance he currently has at that. I believe Coach Kiffin declines Auburn and leads Ole Miss for years to come. 
3. Malik Bryant To Florida?
A few weeks ago, touted QB Jaden Rashada shocked the college world and flipped his commitment to Billy Napier and the Gators. Since he flipped, recruiting experts have wondered who could be next. 4-Star LB Malik Bryant's name has circulated lately with these rumors. Bryant is from Orlando, Florida, and heavily considered the Gators before his commitment to Miami. Bryant addressed these rumors on social media recently, denying these rumors and securing hope in Miami fans everywhere. Despite the poor season from the Canes, I find it very unlikely Malik Bryant flips unless a coach is fired. Bryant has made clear the 305 is his future home.
4. Kadyn Proctor To Eugene?
Kadyn Proctor, the best OT recruit in the nation, committed to Iowa over the likes of Alabama and many others and has seemed to be locked in since. Proctor took a visit to Oregon last week, and rumors began swirling. While it looks likely Proctor will stay with the Hawkeyes as they are known for producing linemen, the Ducks are still in the hunt until pen goes to paper on signing day.  
5. Is the Aggies Historic Recruiting Class In Trouble?
Jimbo Fisher and Texas A&M pulled the best recruiting class in history. Since the emergence of the transfer portal, we have seen sophomores enter the portal for more playing time each year, and while it is not uncommon, there has never been a projected high volume of players leaving a school after one year. After Alabama secured the previous #1 class, three players transferred for a fresh start. 
The difference here is Texas A&M is sitting at 3-7 after ten games and looks completely lost as a football team. Jimbo Fisher has lost this Aggies team, and I predict we will see more than three players enter the portal this offseason. The good news for the Aggies is I see many star players staying this offseason. WR Evan Stewart, QB Connor Weigman, and DL Shemar Stewart are three young stars I see sticking with Jimbo Fisher despite a dreadful first year in College Station.