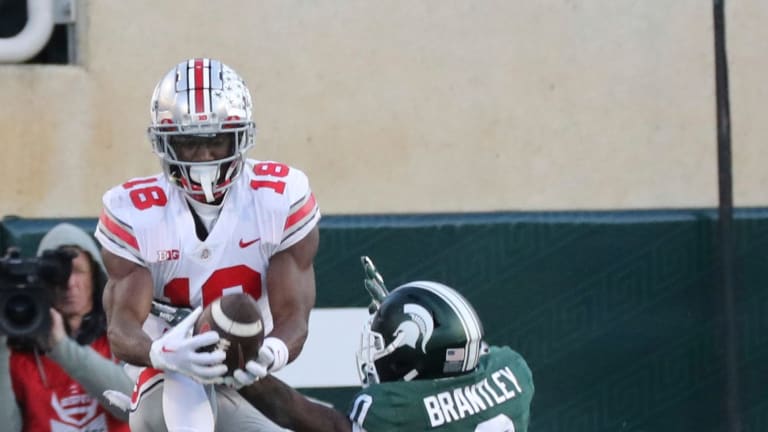 Big Ten Power Rankings -- Spartans embarrassing
Where the Big Ten stands midway through 2022
No. 1 Ohio State
The Buckeyes look like the most complete team in the conference. Quarterback C.J. Stroud took advantage of Alabama quarterback Bryce Young's injury in the Heisman Trophy race by going 21 for 26 361 yards passing and six touchdowns, putting him at the top of most power rankings at the mid-season mark (although Hendon Hooker may have something to say about that.) 
With a highlight catch by Marvin Harrison Jr. received some praise by someone very familiar with the receiver: 
No. 2 Michigan
On its second of many Big Ten Noon kickoffs, the Wolverines offense wasn't firing on all cylinders in a 31-10 win at Indiana. They had a scare when Mike Hart seemed to suffer a seizure on the sidelines and then lost another lineman in Trente Jones was taken off the field via stretcher. 
Jim Harbaugh said after the game it was a high ankle sprain. Quarterback JJ McCarthy seems to be settling in at quarterback after going 28 for 36 for 304 yards and three scores. Running back Blake Corum continues to demonstrate why he is amongst the best backs in the conference. 
No. 3 Penn State
The Nittany Lions were idle this week and will need to clean up a lot from the Northwestern game that took place in a monsoon in Beaver Stadium. It goes without saying the Nittany Lions will need the best from quarterback Sean Clifford in Ann Arbor, as well as their pair of talented freshman running backs Nicholas Singleton and Kaytron Allen. 
Clifford this season leads Power 5 Quarterbacks in red zone completion percentage at 92.9%. The last Nittany Lion win on the road versus a Top 10 opponent was at Ohio State in 2008. 
No. 4 Illinois
This year's surprise team in the league continues to win. Maybe 9-6 slugfests don't turn heads, but they could have been 6-0 right now. 
Chase Brown is the nation's leading rusher and averages the second-most rushing yards per game (146.5) in the FBS. A win versus Minnesota increases their chances to go to Indianapolis.
No. 5 Purdue
They survived the Maryland game, and right now along with Illinois, the Boilermakers have a chance to go to Indianapolis. With the Big Ten West all over the place, and this week a rejuvenated Nebraska program with bowl aspirations won't be an easy task. 
No. 6 Maryland
The Terps will want to take advantage of a limping Indiana squad after losing a classic 'over the hump' game against Purdue this weekend. Maryland has had a couple of these opportunities since joining the conference in these types of games but they haven't delivered yet.
No. 7 Minnesota
I am still high on the Gophers, this is a very talented team, they just need to prove it against someone reputable. Illinois is a great opportunity to do that and they still control their destiny to go to Indianapolis.
No. 8 Wisconsin
I'll grant you it was Northwestern, but Graham Mertz looked like a 5-star quarterback and these have been games where he hasn't shined brightest. He's now the only signal caller in Badger history with multiple five touchdown games.
A great way to kick off the interim era of Jim Leonhard, something that may likely become a full time gig if they continue to perform like they did on Saturday.
No. 9 Nebraska
In the Scott Frost era, they lose that Rutgers game. Down 13-0, they showed character to get the win and even their record. The bowl game opportunity is in sight for Big Red.
No. 10 Iowa
Live look at Brian Ferentz's playbook: 
No. 11 Indiana
The Maryland game for both programs is a defining one. Can Maryland move up a tier in the bowl structure, winning a game like this they go from Tier 1 to Tier 2 bowl. For the Hoosiers getting to a bowl is a huge momentum swing for the Tom Allen era.
No. 12 Michigan State
This isn't what Spartan fans expected. They don't win the battle of the line of scrimmage on either side of the ball. They cannot run the ball or defend the pass. This is a season where Mel Tucker can play spoiler still with a talented roster.
No. 13 Rutgers
The Nebraska collapse is another example of the Scarlet Knights not able to get over the hump. That was a golden opportunity and inch closer to bowl eligibility. Indiana follows the bye week and another chance to win a fourth game. 
No. 14 Northwestern
The quarterback issue is plaguing the Wildcats and the chants for Jack Lausch will only get louder.